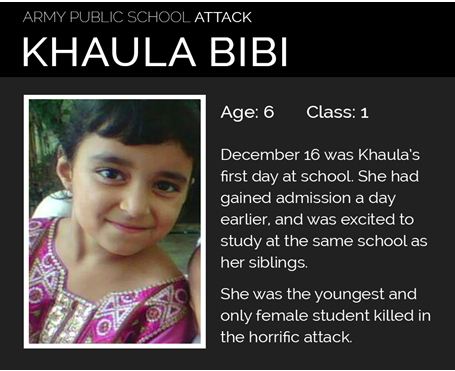 Muhammad Asif Hassan Dilsoz, Skardu
Hey meet me, my name is KHAULA BIBI. I spent 9 months attached with my mother, that was pleasure time for me as I used to walk with her everywhere she used to nurture me with rich diet, Although I was single but I was attached to my mother by soul and by body. I thought that was my life but when I came to new world I was welcomed with smile and celebrations. I was welcomed by each and every soul. I found everyone around me so kind, loving and affectionate. I paid bundle of thanks to Allah Almighty for blessing this lovely world. Single drop of tear in my eye was more than enough to get attention of my parents. I grew up slowly under the affection of my mother, my father saved single penny to facilitate me. The most excited moment of 6 years life for me and my parents was to enroll me in school. Pair of small black shoe, a graceful uniform, few books, note books and box having pencil and sharpener were all my valuable assets. It was morning of 16th December 2014 I woke earlier then my normal routine, my mom gave me bath and my father kissed my forehead. It took few minutes for me to take my breakfast in excitement. Time came to say Good bye to mom, my mom hugged me for long time and said Bye,,,,,,
I saw green flag rising in morning assembly at APS. I recited Dua and again thanks to Allah for this blessings. I introdced myself in class, even within few hours I got dozen of friends sharing chocolate, biscuits and toffees with me. Suddenly I heard a big bang, students started crying. I was confused what to do in such situation I just started calling my mom but within few seconds something crossed through my body I saw my body bleeding, it took few minutes for me to move from this world to my real destination………..
I cried, I begged to Allah please don't send me back in world of blind people. I begged to Allah for justification to innocent bloods of my fellows as the Earth has no justification for right and wrong. I begged to Him for safety of parents and all other people from bullets coming towards them due to their faith, religion, cast, color, sect and language conflicts. I knelt down before Him and requested for peace in whole world. I expressed the pain I got when a bullet shattered my chest and prayed to Allah to save all people from injustice. I complained to Allah Almighty against the silence of people on our and others death. I complained to Allah Almighty against those who pretends to be sincere and use brutal logics on helpless, blood bathed death bodies. I also complained against all those who turned blind eyes on massacres and genocides, whose thoughts are nothing other than slum of prejudice,,,,,,,,  I wish I hope and I pray that people come out from the shell of difference in faith, religion, cast, color, sect, language and feel the pain of all as their own pain, give shoulder to cry, join hand against any type of terror act.
Meet me on social media: https://www.facebook.com/asif.hassan.330