The tale of People's Party and Gilgit-Baltistan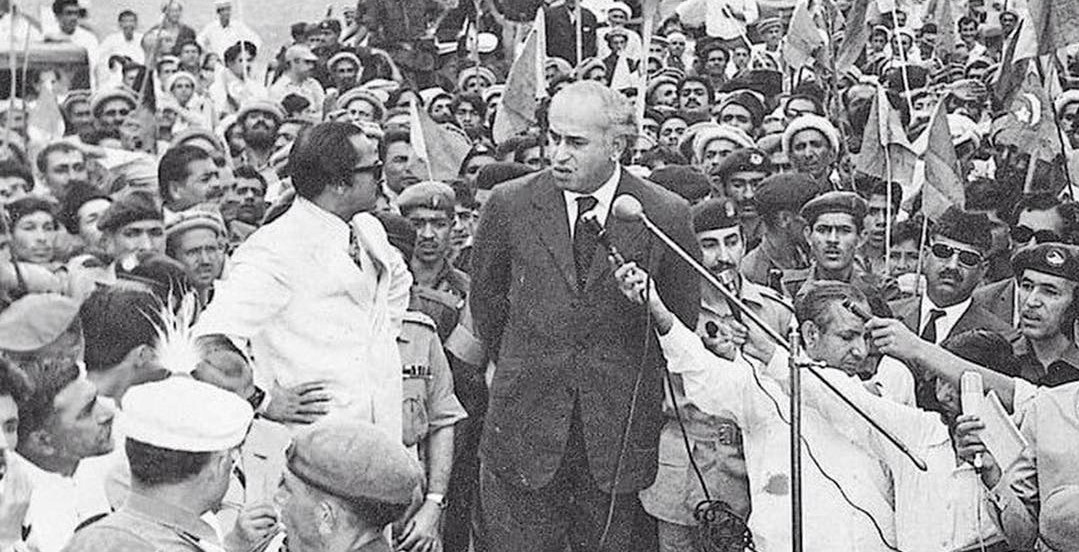 Sultan Madad
A section of people in Gilgit Baltistan had attached hopes with Bilawal Bhutto Zardari's Gilgit visit. It was specially more so given his projected image in the media as a radical democrat. To the utter disappointment of many, it proved futile. His speech at Gilgit Shahi Pologround was nothing more than the repetition of the off the beaten rhetoric heard for over four decades.
BBZ said that PPP gave political rights and freedom to the people of GB. He gave credit to ZAB, BB and AAZ. If Bhutto had given political rights and freedom from bureaucratic rule of FCR then what had left behind for BB to give. Similarly, if BB had given us our rights, as she too claimed, what did Zardari give us. If all three were so kind with us, then what is there for the young trainee neta to bestow upon us in future.
Let's examine these claims. Zulfiqar Ali Bhutto was considered a saviour by many. The fact is that he damaged our international status by bargaining with India in the Shimla agreement and accepting Kashmir dispute as a mutual issue between the two countries. This change in stance put Kashmir Dispute off the UN table. Internally, while he without legitimate authority abolished the princely states, he did not give GB a democratic system alternatively. Instead, he strengthened and expanded the cruel bureaucratic control by installing a seemingly elected body NA Advisory Council. It was a completely powerless body under the authority of Commissioner. The myth of subsidy on certain edible items busts easily if compared with the subsidy given in the Indian administered JK. It was also during Bhuttos tenure that Gilgit administration put in abeyance the State Subject Rule and opened gates for non-locals to usurp lands and local resources and import sectarianism.
In 1994 Muhtarama Benazir Bhutto's government bestowed "adult franchise" a LFO wherein a complete provincial setup of bureaucracy was installed over our heads while political representation was so weak that they could not elect their head of the body (chief executive/ chairman of the NA Council as it was called then). That body was not even at par a municipal body. Zardari ordained the name of Gilgit Baltistan and for one more time we were give the pulp-less fruit of provincial setup. This time again the authority of legislation, all revenue generating economic resources and natural resources were held firmly in the hands of Islamabad. Ironically the government is provincial assembly is legislative (but cannot change the heavenly ordained governance order) and the judiciary is autonomous but all this without a constitutional support. The former PMLN government has further screwed up the local administration in a recent amendment in the order. The executive order of Islamabad in the name of President of Pakistan can be revoked or changed with one stroke of prime minister. We have seen in the recent ridiculous drama of judicial authority how democratic and well laid down this order is.
The hand of PPP is stained with the blood of 11 August 2011 Aliabad Hunza carnage in which IDP father and son were shot straight bullets for peaceful protest demanding the promised compensation. Instead of booking and bringing the culprits to justice, judicial enquiry report was hidden from public and hundreds of IDPs were arrested and tortured. 12 people including Iftikhar Hussain and Bab Jan have been sentenced lifelong imprisonment.
BBZ in his Gilgit debut could not demand the release of nonviolent political prisoners who are the prisoners of conscience. He similarly failed to condemn the arbitrary use of terrorism laws against the political workers instead of proscribed terrorist organizations. Above all he had nothing to say about the infected wound of colonial rule in GB. He presented no blue print of a democratic system of autonomous rule in his speech. Although he has vaguely promised "haq e hakimiat" and haq e milikiat", something PPP has snatched away from the indigenous population in the blatant violation of State Subject Rule in the 1970s. Let us see how PPP rectifies its own wrongdoing.