Khushroi Khick Photography Competition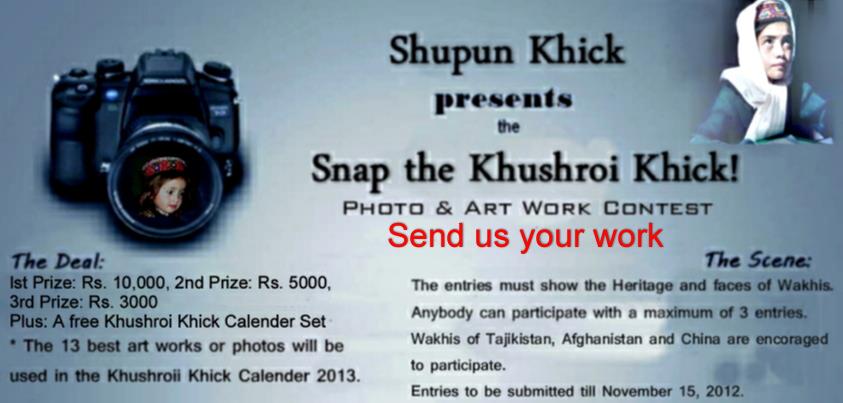 The SHUPUN KHICK (facebook Group) proudly announces its First Photo/Art Work Contest for a very Noble Cause
CAUSE: Saving our Beautiful Wakhi Heritage and Helping our beautiful future generations through books, pens and pencils
DEADLINE: Closing date for submissions is the November 15th 2012.
ENTRY to the competition is FREE. Participants should be a member of Shupun Khick from Pakistan, Tajikistan, China, Afghanistan or elsewhere. Eligible participants must be an individual and agree to abide by Shupun Khick terms and conditions.
PHOTO SUBMISSIONS
Each Participant can submit up to three photographs. The photograph must be in-boxed to me on Facebook or sent on this this email: muhammadali.shupun@gmail.com. Any photograph submitted must be the participants own work. The photo must be a digital & originate in JPEG format. The admin will post individual photo without the name of the photographer. Digitally manipulated photographs will be automatically disqualified.
Very Important
Do not include your name in the picture (i.e. in the frame or in the picture itself) or in the caption or title for the image. These images will not be eligible!
THEME
Heritage and faces of the Wakhi people (Xiks).
SUBJECT
We are looking for striking digital images of Wakhi people dealing with nature, highlighting the diversity of Wakhi people on Earth. Your images may show animal behaviours, plant life, natural landscapes, weather or people interacting with nature, man & nature, man's impact on nature.
AGE GROUPS
Adults (15 years old and up)
CONSENT & COPYRIGHT
The Participants must be the sole author and owner of the copyright. By entering your photograph into the competition, you grant to use your images for promotion of Wakhi culture and Heritage.
Photo Specs

Uploaded Photos must be saved as JPEG
Files for upload must be no larger than 1 MB
JUDGING
Submitted Photographs will be selected by the group members as per the competition Rules. Those who will get maximum likes will be the winners (1st, 2nd & 3rd). Selected Photography will be announced in this group after November 15th, 2012.
From these photographs will then be selected top 13 photographs according to the likes for the Khushroi Khick Calenders 2013.
WINNERS AND RUNNERS-UP
Ist Prize: Rs. 10,000, 2nd Prize: Rs. 5000, 3rd Prize: Rs. 3000 (will also receive a free calendar set)
Prize distribution after November 15th, 2012