Stop linking every act of violence in Gilgit to sectarian tussle, appeal Masajid Board members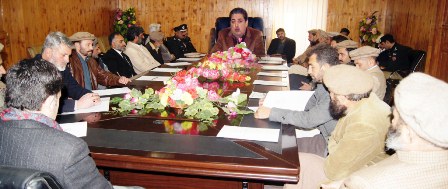 Our Correspondent
Gilgit, December 20: Those linking each act of violence and murder in Gilgit city to sectarian issues are either ignorant or their intentions are malafide.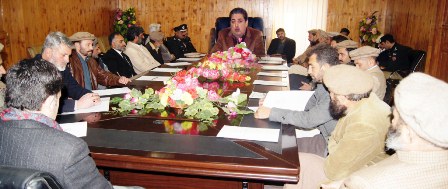 These views were expressed by Masajid Board members in Gilgit during a joint meeting with the parliamentary peace committee, also attended by the Gilgit-Baltistan Chief Minister, Syed Mehdi Shah.
They also said that sectarian hatred has spread in the society during the last three decades and it will take more years to overcome the issue. They pledged to continue playing an active role in restoration of peace and harmony in the region.
Mehdi Shah said that as a politician he prefers dialogue but all options are on the table to establish writ of the government. He warned of stern action against miscreants.
The Chief Minister also said that the number of vehicles rented by the government for Internal Security (popularly called IS vehicles) will be reduced to only five and gradually all the expenditures in the name of IS vehicles will be zeroed.
He appreciated the Masajid Board members for playing an important role for peace and harmony in the region during the worst of times.