Pakistan Resolution Day celebrated in Chitral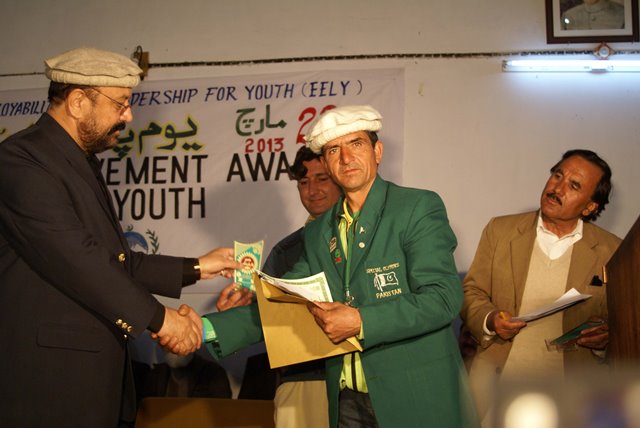 Gul Hammad Farooqi
Chitral, March 23:  73rd Pakistan Resolution day was celebrated in Chitral today. In this connection a flag hoisting ceremony was held at Deputy Commissioner Office.
A function was also held at Commerce College hall Chitral under the leadership of Deputy Commissioner Rahmatullah Khan Wazir.  The ceremony was started with the recitation from the Holy Quran students of different schools also presented Naath sharif.   Some Students delivered speeches on the importance of this day and objectives of independence of Pakistan.  Professor Abdul Sami and other intellectual highlighted Pakistan Resolution and its importance.  The speakers stressed upon the young generation to defense the country at every cost. They said that unfortunately we not success in our aim for which purpose this country was came into being and still we depend upon American loans causing for damaging our dignity.
 Addressing the ceremony Deputy commissioner Rahmatullah Wazir said that independence is a gift from the Allah Almighty and we should honor and respect it. He said that Allama Iqbal and other pioneers passed a resolution of Pakistan on 23rd March 1940 for creation of Pakistan and after that Pakistan came into being in 1947. He said that we face different internal and external challenges and we should to enhance our mutual harmony and never allow anyone to disturb our exemplary peace.  He said that we should to support each other and to participate in any social activities for development of the country.  Fatiha Hwani was also offered for the soul of Army colonel and other soldiers who were died in a road accident on their way from Chitral to their homeland.
Senior journalist and well-known poet Muhkamuddin , Jehangir Jigar and other also presented poems on relevant topic.  Some students also presented tableau on this occasion inscribing the message of importance of Pakistan day. At last cash awards and prizes were awarded to students who perform excellently.  Awards were given to students and heroes of Chitral by non-government organizations. A large number of students,  teachers, Assistant Commissioner and officers of district administration were also present on the occasion.