Disaster Awareness Day celebrated in Chitral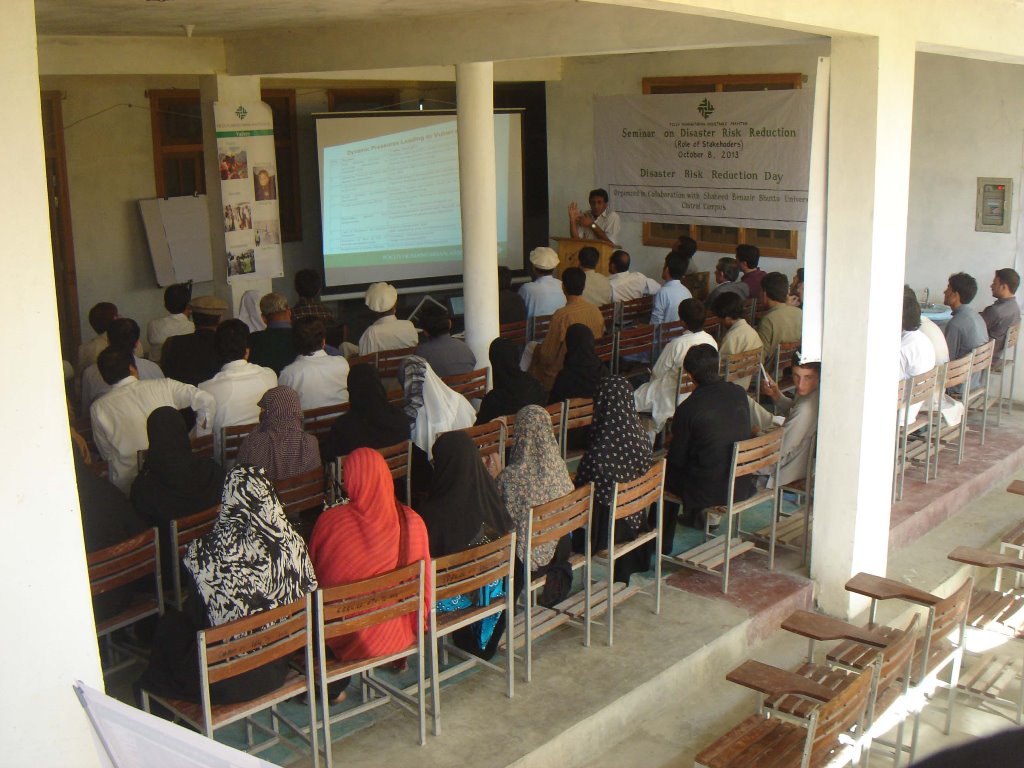 Gul Hammad Farooqi
Chitral, October 8: Disaster Risk Reduction Day was observed today by Focus Humanitarian Assistance Pakistan in collaboration with Shaheed Benazir Bhutto University Campus Chitral at the university campus.
Addressing on the occasion experts said that Chitral is in red zone for disasters and any time a heavy earth quake can occurred causing for human loss on large scale if we not prepared earlier. They said that national disaster risk reduction day is being observed every year since the 8th October 2005 earthquake killed almost 80,000 people, including almost 17000 school children.
Regional Program Manager Focus Humanitarian Assistance for Pakistan Amir Muhammad briefed stakeholders in his presentation that housing structure of Chitral is very vulnerable and building code must be implemented here to bound the people for adopting precautionary measurement during construction of buildings. He said that right material and standard quality coupled with skills can reduce human and property loss in case of any disaster.
Muhammad Karam Manger Aga Khan Planning and Building Service disclosed that according to latest research and survey of seismology Chitral is in red zone and these shocking plates are only 10 kilometers from surface. Inappropriate building can cause human loss at a very large scale, he said. He briefed the participants how to construct their house/buildings and how can they save their lives in case of earthquake with the help of projector. He Further added that in Japan earthquake occurring 8 to 9 rector scale but there is very less number of human loss because of adopting these techniques during construction building for minimizing losses.
Masood Anwar head of computer science department of SBBU briefed the participants and highlighted importance of these techniques and methodology of building code to reduce risk and losses. The speakers urged the provincial government to implement building code in the region.
Muhammad Afzal president Namdaar Aga Khan regional council, Sultan Mahmood regional Program Manger Hashoo foundation, Zuhran Shah and Lal Khan also spoke on the occasion. Miss Fatima Shah, Karishma Hassan and Nadia Khan students of eagle eyes education institution also delivered their presentation on natural disaster and calamity. The participants also stressed on preparing of strategy of action plan on disaster risk reduction and building code. Hence there was no officer from district administration on the occasion.
A large number of students, teachers, intellectuals, social workers and representatives of civil societies participated in the seminar. Earlier that an awareness walk was also held in this regard.