Gilgit: Nawaz Sharif says work on Bonji Dam will be started soon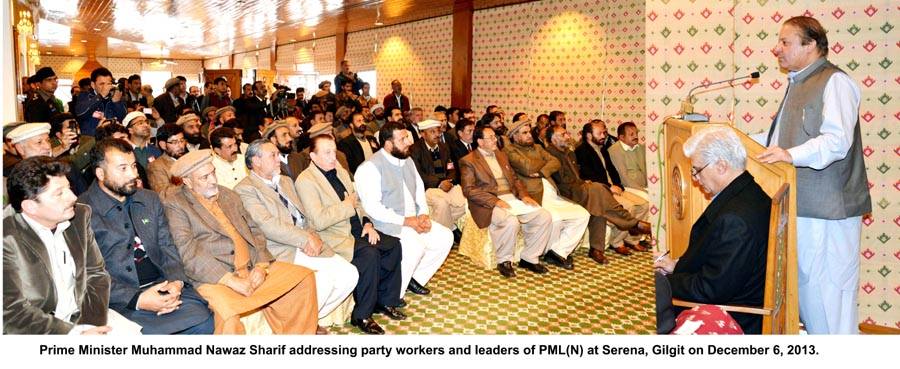 Gilgit, December 6: Prime Minister Mian Muhammad Nawaz Sharif has said that the master mind of the Nanga Parbat Base Camp carnage has been arrested along with his 11 accomplices. He also said that a fully equipped and fully operational police force will be established in the region to protect it from terrorists and miscreants.
He was addressing PMLN workers today at a local hotel.
The Prime Minister further said that 100 billion rupees worth of loan scheme is being launched which will also be available in the Gilgit-Baltistan region. He said that the funds allocated for development should not go in the wrong hands. Loans up to 2 million rupees will be given to youth falling the 21-45 age bracket, he added.
The Prime Minister also said that Gilgit-Baltistan will soon become a part of the prosperous Pakistan.
He also announced the establishment of a Cardiac Center in Gilgit, to help the patients locally.
The PM also said that work on the Diamer-Bhasha dam will be started very soon, to be followed by the construction of Bonji dam, which is being constructed 50km north of the Diamer Dam, on the Indus River.
Earlier, on his arrival in Gilgit city , the PM inaugurated the newly constructed terminal of the Gilgit Airport. The terminal is a state of the art establishment offering modern services for domestic and other travelers and tourists. He is accompanied by Federal Minister Birjees Tahir, MNA Marvi Memon and MNA Captain (r) Safdar.
The premier is scheduled to preside over a meeting of the GB Council, after which he will pay an aerial visit to the dammed Hunza River near Attabad.