8 seats to be added to GBLA, Gojal sub-division on the cards, says Mehdi Shah
PT Correspondent
Hunza, June 13: Chief Minister Syed Mehdi Shah has said that proposal has been moved to create additional 8 seats in the Gilgit-Baltistan Legislative Assembly. He said that if the eight seats proposal is not accepted by the federal government, at least three seats will be increased, including one for Gojal (Hunza), one for Ghizar and one for Ghanche. He also said that Gojal subdivision will be established very soon in the Hunza-Nagar district. The Chief Minister also said that he will visit Gojal Valley soon.
The Chief Minister made these statements while addressing party workers in Aliabad, Hunza, where he had stopped for breakfast early today. On arrival, he was greeted warmly by party workers who also raised slogans to welcome their leader.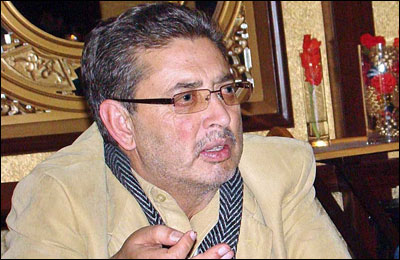 The Chief Minister said that instructions have been issued to release funds for the people affected by the expansion of Karakuram Highway. He also said that loadshedding will come to an end with the completion of projects in the Hunza Valley.
It is pertinent to note that it was the second visit (the first one being only two days back) of the CM to the Hunza Valley since the fateful day of the 11th of August 2011, when police had murdered two protesting Internally Displaced Persons (IDPs0 in Aliabad, while trying to disperse them and clear the road for the Chief Minister's motorcade.
The murder of the IDPs, father and son, had sparked violent protests and several office buildings had been put on fire by angry protesters. In reaction, the government had registered cases under the Anti-Terrorism Act (ATA) against dozens of the locals who continue to suffer till date.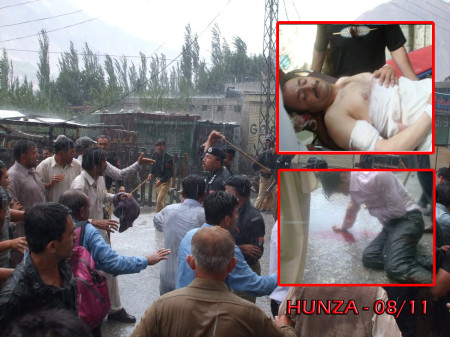 Responding to a question, the CM said that the government will make efforts to finish the ATA cases. He also promised to visit Hunza Valley soon to participate in the traditional Ginani Festival.
The Chief Minister also said that all vacant positions in the District Headquarters will be filled on the basis of merit.
He admitted that the Attabad landslide disaster was a huge challenge for the government.
Speaking later at a public gathering, the Chief Minister said that the Gilgit-Baltistan region cannot keep depending on Islamabad for finances. He said that mechanism are required to strengthen the region's government by creating revenue streams.
The Chief Minister has been touring Hunza-Nagar for the last three days, as the government's tenure draws to an end in Gilgit-Baltistan.
Some are calling it an effort to mobilize support for the upcoming elections.