In the Shadow of Glacial Lakes, Pakistan's Mountain Communities Look to Climate Adaptation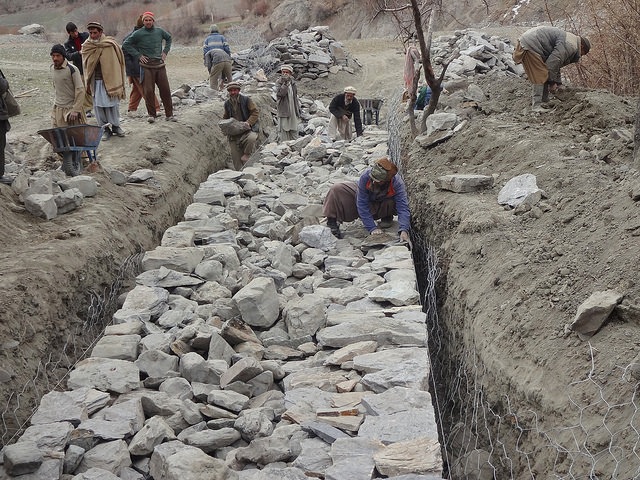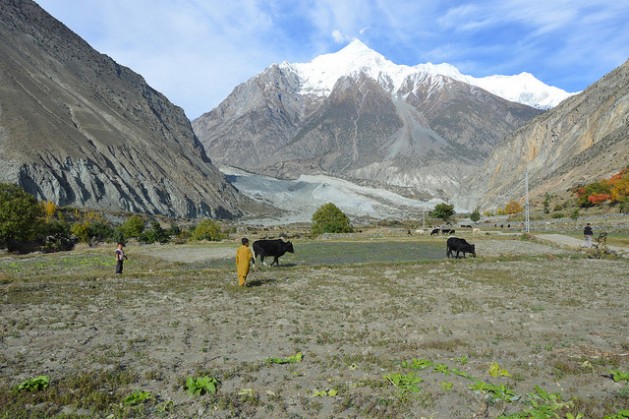 By Saleem Shaikh and Sughra Tunio
Khaliq-ul-Zaman, a farmer from the remote Bindo Gol valley in northern Pakistan's Khyber Pakhtunkhwa province, has long lived under the shadow of disaster.
With plenty of fertile land and fresh water, this scenic mountain valley would be an ideal dwelling place – if not for the constant threat of the surrounding glacial lakes bursting their ridges and gushing down the hillside, leaving a trail of destruction behind.
"Zahid Hussain, field officer for the climate adaptation project in Bagrot, told IPS that 16,000 of the valley's residents are vulnerable to GLOF and flash floods, while existing sanitation and irrigation infrastructure has suffered severe damage over the last years due to inclement weather."
There was a time when families like Zaman's lived in these distant valleys undisturbed, but hotter temperatures and heavier rains, which experts say are the result of global warming, have turned areas like Bindo Gol into a soup of natural hazards.
Landslides, floods and soil erosion have become increasingly frequent, disrupting channels that carry fresh water from upstream springs into farmlands, and depriving communities of their only source of fresh water.
"Things were becoming very difficult for my family," Zaman told IPS. "I began to think that farming was no longer viable, and was considering abandoning it and migrating to nearby Chitral [a town about 60 km away] in search of labour."
He was not alone in his desperation. Azam Mir, an elderly wheat farmer from the Drongagh village in Bindo Gol, recalled a devastating landslide in 2008 that wiped out two of the most ancient water channels in the area, forcing scores of farmers to abandon agriculture and relocate to nearby villages.
"Those who could not migrate out of the village suffered from water-borne diseases and hunger," he told IPS.
Now, thanks to a public-private sector climate adaptation partnership aimed at reducing the risk of disasters like glacial lake outburst floods (GLOFs), residents of the northern valleys are gradually regaining their livelihoods and their hopes for a future in the mountains.
Bursting at the seams
According to the Pakistan Meteorological Department (PMD), there were some 2,400 potentially hazardous glacial lakes in the country's remotest mountain valleys in 2010, a number that has now increased to over 3,000.
Chitral district alone is home to 549 glaciers, of which 132 have been declared 'dangerous'.
Climatologists say that rising temperatures are threatening the delicate ecosystem here, and unless mitigation measures are taken immediately, the lives and livelihoods of millions will continue to be at risk.
One of the most successful initiatives underway is a four-year, 7.6-million-dollar project backed by the U.N. Adaptation Fund, the United Nations Development Programme (UNDP) and the government of Pakistan.
Signed into existence in 2010, its main focus, according to Field Manager Hamid Ahmed Mir, has been protection of lives, livelihoods, existing water channels and the construction of flood control infrastructure including check dams, erosion control structures and gabion walls.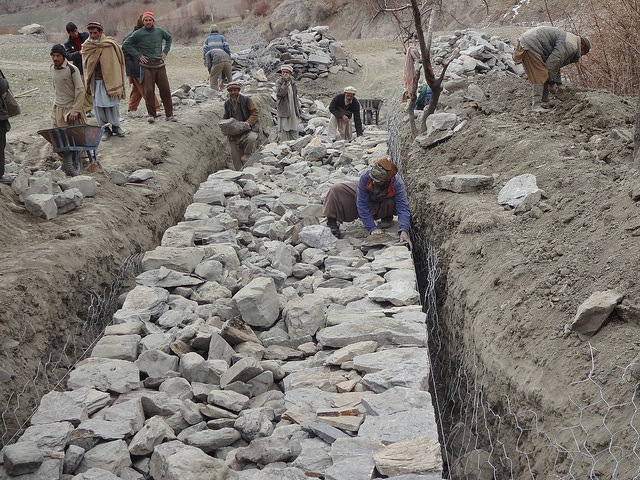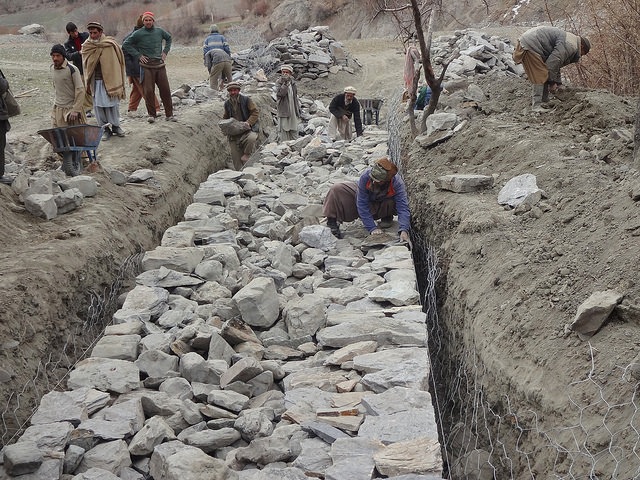 The project has brought tremendous improvements to people here, helping to reduce damage to streams and allowing the sustained flow of water for drinking, sanitation and irrigation purposes in over 12 villages.
"We plan to extend such infrastructure in another 10 villages of the valley, where hundreds of households will benefit from the initiative," Mir told IPS.
Further afield, in the Bagrot valley of Gilgit, a district in Gilgit-Baltistan province that borders KP, NGOs are rolling out similar programmes.
Zahid Hussain, field officer for the climate adaptation project in Bagrot, told IPS that 16,000 of the valley's residents are vulnerable to GLOF and flash floods, while existing sanitation and irrigation infrastructure has suffered severe damage over the last years due to inclement weather.
Located some 800 km from Pakistan's capital, Islamabad, Bagrot is comprised of 10 scattered villages, whose population depends for almost all its needs on streams that bubble forth from the Karakoram Mountains, a sub-range of the Hindu Kush Himalayas and the world's most heavily glaciated area outside of the Polar Regions.
Residents like Sajid Ali, also a farmer, are pinning all their hopes on infrastructure development that will preserve this vital resource, and protect his community against the onslaught of floods.
An even bigger concern, he told IPS, is the spread of water-borne diseases as floods and landslides leave behind large silt deposits upstream.
Preparing for the worst
Just as risk reduction structures are key to preventing humanitarian crises, so too is building community resilience and awareness among the local population, experts say.
So far, some two million people in the Bindo Gol and Bagrot valleys have benefitted from community mitigation schemes, not only from improved access to clean water, but also from monitoring stations, site maps and communications systems capable of alerting residents to a coming catastrophe.
Khalil Ahmed, national programme manager for the project, told IPS that early warning systems are now in place to inform communities well in advance of outbursts or flooding, giving families plenty of time to evacuate to safer grounds.
While little official data exists on the precise number of people affected by glacial lake outbursts, Ahmed says, "We can safely say that over 16,000 have been displaced, and remain so even after several months."
Over the past 17 months alone, Pakistan has experienced seven glacial lake outbursts that not only displaced people, but also wiped out standing crops and ruined irrigation and water networks all throughout the north, according to Ghulam Rasul, a senior climatologist with the PMD in Islamabad.
The situation is only set to worsen, as temperatures rise in the mountainous areas of northern Pakistan and scientists predict more extreme weather in the coming decades, prompting an urgent need for greater preparedness at all levels of society.
Several community-based adaptation initiatives including the construction of over 15 'safe havens' – temporary shelter areas – in the Bindo Gol and Bagrot valleys have already inspired confidence among the local population, while widespread vegetation plantation on the mountain slopes act as a further buffer against landslides and erosion.
Scientists and activists say that replicating similar schemes across the northern regions will prevent unnecessary loss of life and save the government millions of dollars in damages.
Source: GLOF