Sir Sultan Mahomed Shah Aga Khan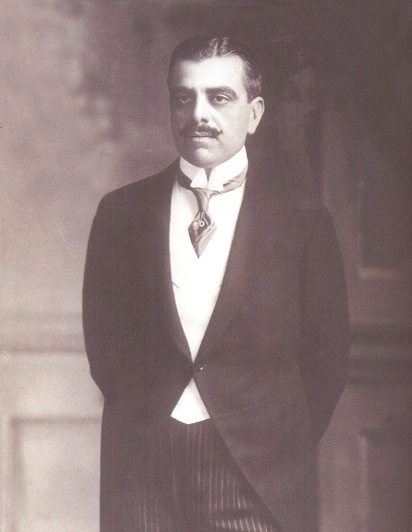 Written by: Shabnoor Abdulnabi
2nd November 2015 marks the birth anniversary of Sir Sultan Mahomed Shah Aga Khan, a visionary leader who helped the Muslims of India triumph over centuries of illiteracy and poverty. It would be fair to say that without a leader like Sir Sultan Mahomed Shah Aga Khan, the dream of a homeland for the Muslims of India might never have turned into reality.
Sir Aga Khan ascended to the throne of the Ismaili Imamat when he was just 7 years old. He was deprived of the paternal solicitude of his father but his mother ensured that he was not only given the  religious  and  oriental  education, which  his  position  as  a  religious  leader  of  the  Ismailis  made  indispensable,  but  a  sound European  training too. The  blending  of the  two  systems  of  education  produced  a Muslim  leader fit for both the  sacerdotal  functions  which  pertained  to  his  spiritual  position and  for  the social  duties  required of him. Hence, not only was he a master of the knowledge of Quran, Hadith and oriental languages but also acquired proficiency in subjects like Theology & Philosophy.
Sir Aga Khan stepped forward to awaken the political conscience in Muslims at a time when the whole Muslim nation in South Asia was in the doldrums. As early as 1911 when the Aga Khan was asked to preside over the Mahomedan Educational Conference held in Delhi he pointed out that the clearest way through which the decay of political power of the Muslims of India could be halted was to lay the foundation of the great central Muslim University at Aligarh. He personally took part in the campaign to collect funds for Aligarh University and went from door to door to ask for contributions. These words sum up his dedication to the cause:
"As a mendicant, I am now going out to beg from house to house and from street to street for the children of Muslim India."
He also donated a generous amount of Rs. 100,000 to the fund. Overall he was able to collect Rs.3 million and succeeded in laying the foundation of Aligarh University. He also served as its first chancellor. He envisaged Aligarh University as "an intellectual and moral capital" for Muslims, a university which would "preach the gospel of free inquiry, of large-hearted toleration and of pure morality".
Sir Sultan Mahomed Shah Aga Khan also encouraged the Muslims of the subcontinent to educate their daughters. He said in 1945 that "Personally, if I had two children, and one was a boy and the other was a girl, and if I could afford to only educate one, I would have no hesitation in letting the girl pursue higher education."
He had in fact started laying the groundwork for this decades ago when he established the first Aga Khan School in Gwadar in 1905. During the 1940s, he further expanded the school system and established Aga Khan Schools in the remote, mountainous areas of Gilgit-Baltistan. Sir Aga Khan also established many hospitals and health centres across Pakistan.
Today the legacy of Sir Sultan Mahomed Shah is being carried forward all over the world by his grandson Prince Karim Aga Khan who is the 49th Imam of Ismaili Muslims. All institutions established by Sir Sultan Mahomed Shah are continuing their noble work to this day under the umbrella of the Aga Khan Development Network. Sir Sultan Mahomed Shah laid foundations for progress in the fields of education and health more than a century ago and today, a network of 160 schools is operating under the Aga Khan Education Service, Pakistan, and 65 per cent of the students in these schools are female. Aga Khan Health Service also operates a not-for-profit health care network in the country, while the Aga Khan University Hospital in Karachi stands as an icon of quality healthcare and education in Pakistan.
"It was from him, Sir Sultan Mahomed Shah Aga Khan, that I inherited my present role in 1957. I also inherited from him a deep concern for the advancement of education – especially in the developing world. These two topics – education and development – have been at the heart of my own work over the past fifty years…"
His Highness Prince Karim Aga Khan, Annual Meeting of the International Baccalaureate, 2008
Sir Sultan Mahomed Shah breathed his last on July 11, 1957 and was laid to eternal rest at Aswan, Egypt. In addition to his outstanding services to the world, he has left behind an autobiography of his life entitled "Memoirs of Aga Khan – World Enough and Time", which is a thorough expression of his 80 years of a full life.