Reviving Hunza Traditional Music
Hunza, December 16: In an attempt to empower people through active participation in art and culture activities, Hunza Traditional Music School successfully completed training of 25 youth in traditional instruments of Rubab & Xegini.
Meanwhile the second batch of trainees have started two-month training on traditional instruments Dhool, Damama and Surnai (Shahnai). The project is being implemented by Hashoo Foundation (HF) in partnership with the Centre for Culture and Development (CKU) through its local partner Hunza Arts and Culture Council (HACC).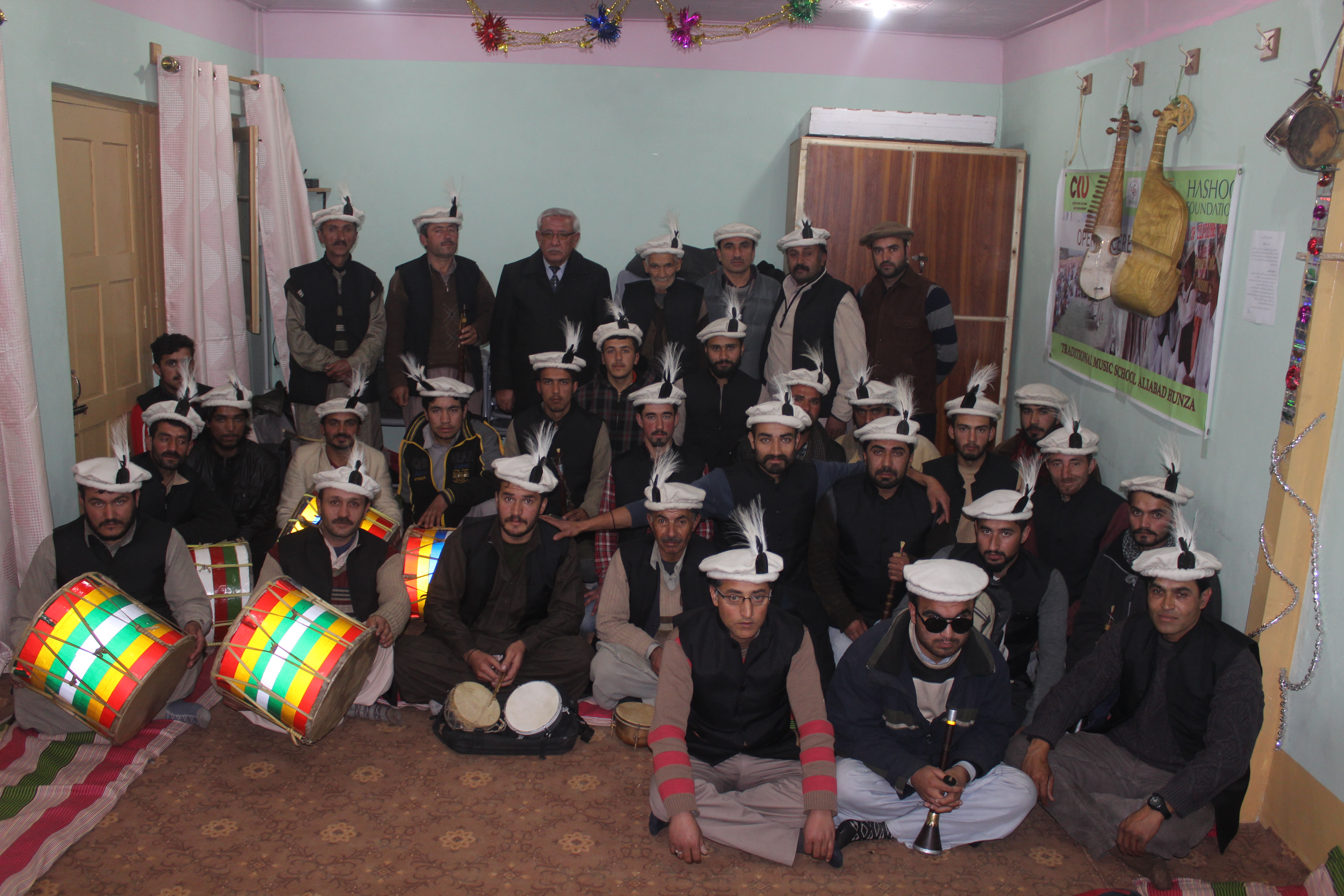 The training will be conducted by the most senior and experienced, 96 years old, veteran musician Ustad Gohar Ali. He is affiliated with this field since 1931. He has performed in the courts of Mirs of Hunza. His presence in traditional music school is inspirational for young trainees and at this age imparting training to 27 trainees for 3 hours in chilling weather of Hunza valley is true manifestation of his love for music. He will train the youth in century old tunes which are now almost obsolete. There were specific musical tunes for local rituals like bride leaving home, arrival of groom, cultivation of new crop, harvesting tunes etc. Ustad Gohar Ali will revive this ritual tunes and the project team will also record it.
The other three music trainers, Ustad Shams for Surnai, Ustad Karim of Surnai and Ustad Rehmat of Damama have professional experience of more than 20 years. Their life long experience is instrumental in transferring indigenous knowledge of traditional music to young generation.
Marking the significance of the occasion, BJ Shams, RPM-Hashoo Foundation (HF) said that the day is historical for all music lovers of Hunza that veteran trainers, maestro of their field, have joined hands with CKU and HF to revive, propagate and flourish traditional music of Hunza. These absolute tunes will be revived so that the new generations know the richness of local culture. "It is not a matter of two months, these musical classes are attempt to create social harmony among people and music could be used as messenger of love, peace and harmony, he added. "
Ustad Goha Ali said that he feels great honor to perform as a master trainer. He will try his level best to transfer his experience to new generation of musicians, he added. He thanked CKU and HF for honoring this profession and regarded the opportunity as landmark for their family of musicians.
Sardar Ali Khan, President Hunza Arts & Culture Council thanked CKU, HF and master trainers for their endeavors to promote the musical culture of Hunza.
The occasion was honored by veteran musician by playing traditional music.
Music Trainees of First batch were also invited to perform and record their views on music training.