Integrated regional efforts required to heal air quality in South Asia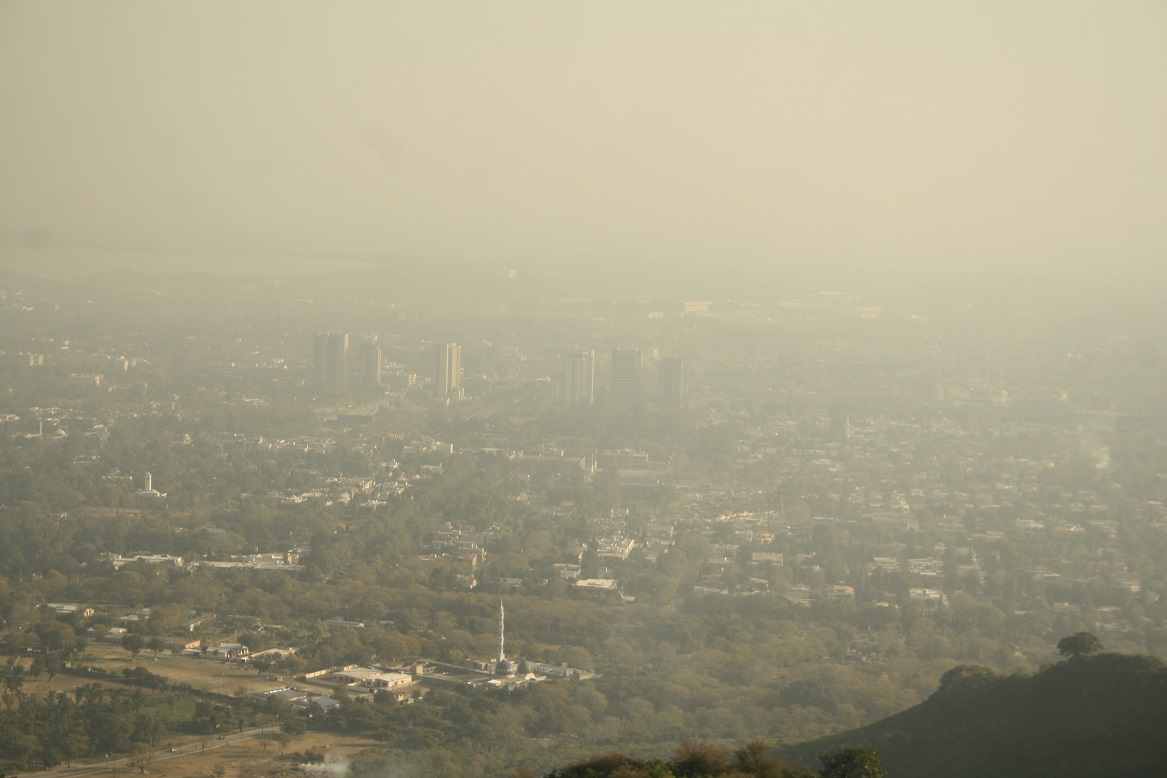 By: Ahsan Jamil
Islamabad: "As many as 45 brick kilns in surrounding areas of Islamabad have closed down after close monitoring by Pakistan – Environmental Protection Agency (Pak-EPA) and found guilty of violating the regulations prescribed by the agency and discharging greenhouse gases like carbon dioxide, toxins such as black carbons and other hazardous components polluting the city`s air," Zahid Hamid, Federal Minister for Climate Change apprised parliamentarians during a National Assembly session held few weeks ago, according to a news report published in The Nation newspaper.
It is reported that almost 82 brick kilns were being operated in the vicinity of Rawalpindi-Islamabad.  Most of which have designs that date back hundreds if not thousands of years and thus burn highly polluting fossil fuels that emit significant levels of black carbon and other harmful pollutants into local communities and the atmosphere.
It is pertinent to note down that brick kilns are one of the large sources of air pollution in addition to emissions from vehicles which are also on rise in the capital territory due to increasing migration trends in the city.
The shutting down of brick kilns has spurred agitation amongst the owners of brick kilns who are demanding compensation from the government.
Air quality index of Islamabad -federal capital of Pakistan is continuously on the decline as evident by intensifying smog, mist, and haze, carbon monoxide, carbon di oxide, PM2.5 due to increasing vehicle and industrial emissions, dust particles get suspended in atmosphere, and when sunlight interacts with them, ozone is formed at surface level that accounts for variety of health problems including chest pain, coughing, throat irritation, and congestion. It can worsen bronchitis, emphysema, and asthma.
While standing on top of Monal, the viewpoint at Margalla hills peak, I was disappointed after realizing that my day was wasted big time as my purpose was killed to have a hawkeye view of the city in the chilled winter season.
Ironic is the fact that Ministry of Climate Change's (MoCC) screams sound "Meow" to various public organization like Capital Development Authority (CDA) who turn deaf ear to notices pertaining to following the environmental regulations before start of a project. The Islamabad highway project is a recent example, in which CDA failed to produce prior Environmental Impact Assessment (EIA) report  to MoCC and brutally chopped down hundreds of trees on the sidelines of the main express highway in Islamabad.
Similarly, National Agricultural Research Council (NARC) managed to get a narrow escape from CDA after getting stay order from the supreme court. In other case, NARC would have to surrender 1400 acres of agricultural land to CDA to construct a housing scheme there.
In the name of development, environment of Islamabad and at large Pakistan is compromised and MoCC looks helpless in such a drastic situation where "might is right" rule is practiced.
How can dwellers of twin cities forget an 11 month psychological torture during the Metro Bus Project construction last year? The time when most of the major routes were choked, only dust had the freedom to roam freely without barriers. Even healthy youngsters were unable to complete a statement without a cough.
Is debarring brick kilns a prudent move? 45 brick kilns make 54 percent of the total kilns in the city that is 87 as mentioned earlier. While greater percentage is violator of environmental laws. Was there any effort being initiated to shift the old designs of brick kilns to modern, fuel efficient, and environmental friendly designs prior to their closure?
Steel mills presence in the industrial zone of Islamabad also accounts for a major aggregate of emissions. According to a study, I-9 sector of Islamabad, Faizabad station at the junction of Rawalpindi-Islamabad were the most polluted points because of presence of steel mills in the sector, and diesel fuel burning on congested artery of Faizabad.
Another study by researchers from Comsats Institute of Information Technology on "Land use change detection in the limestone exploitation area of Margalla Hills National Park (MHNP), Islamabad, Pakistan using geo-spatial techniques" has identified that uncontrolled limestone exploitation in Margalla hills is directly affecting the environment of the city and If both the LS exploitation and urbanization keep on increasing with the same rate, then environment of the study area would be rigorously polluted.
"Due to unregulated crushing and exploitation of limestone and rapidly increasing urbanization, Islamabad has lost more than 15% of vegetation covered area in a matter of 20 years," Mubashir Riaz Khan, the lead researcher told.
The air quality deterioration is a chronic challenge that has intensified in the South-Asia region over the past few decades. Analysis of World Health Organization (WHO) on outdoor air pollution in cities data reveals that, from a global sample of 381 developing-country cities, 19 of the 20 with the highest annual mean concentrations of PM2.5 are in South Asia.
Karachi has the most polluted air amongst Pakistani cities in the sample, with PM2.5 annual mean concentration of 117 ug/m3 (5th most polluted city in the World), with Rawalpindi not too far away with 107 ug/m3  (standing 7th on list).
"The good news about air pollution challenge is that unlike other environmental challenges, it is not a permanent problem. Once polluting sources are shut down air quality improves.  This needs the right policy interventions as has been shown by many of the countries in the World," Arnico Panday, Senior Atmospheric Scientist, International Center for Integrated Mountain Development (ICIMOD) told journalists during a media training workshop held in Kathmandu, Nepal in the month of November 2015.
"20-25 years ago, Mexico City had probably the worst air pollution in the world where ozone exceeded WHO standards 90% days of the year and air pollution led to 70,000 causalities due to respiratory illnesses. While still polluted, Mexico City today is much more livable, with pollution levels often below WHO standards. This was made possible by a series of policy interventions, shutting down of oil refinery, introducing sulfur diesel, and use of Catalytic converters, and especially using air quality monitoring data to evaluate the effectiveness of policy interventions," he added while urging South Asian countries to a similar approach, but with a more regional and integrated focus in order to clean up the air in the whole region.