Businesses from Gilgit-Baltistan participate in Dawn Agri Expo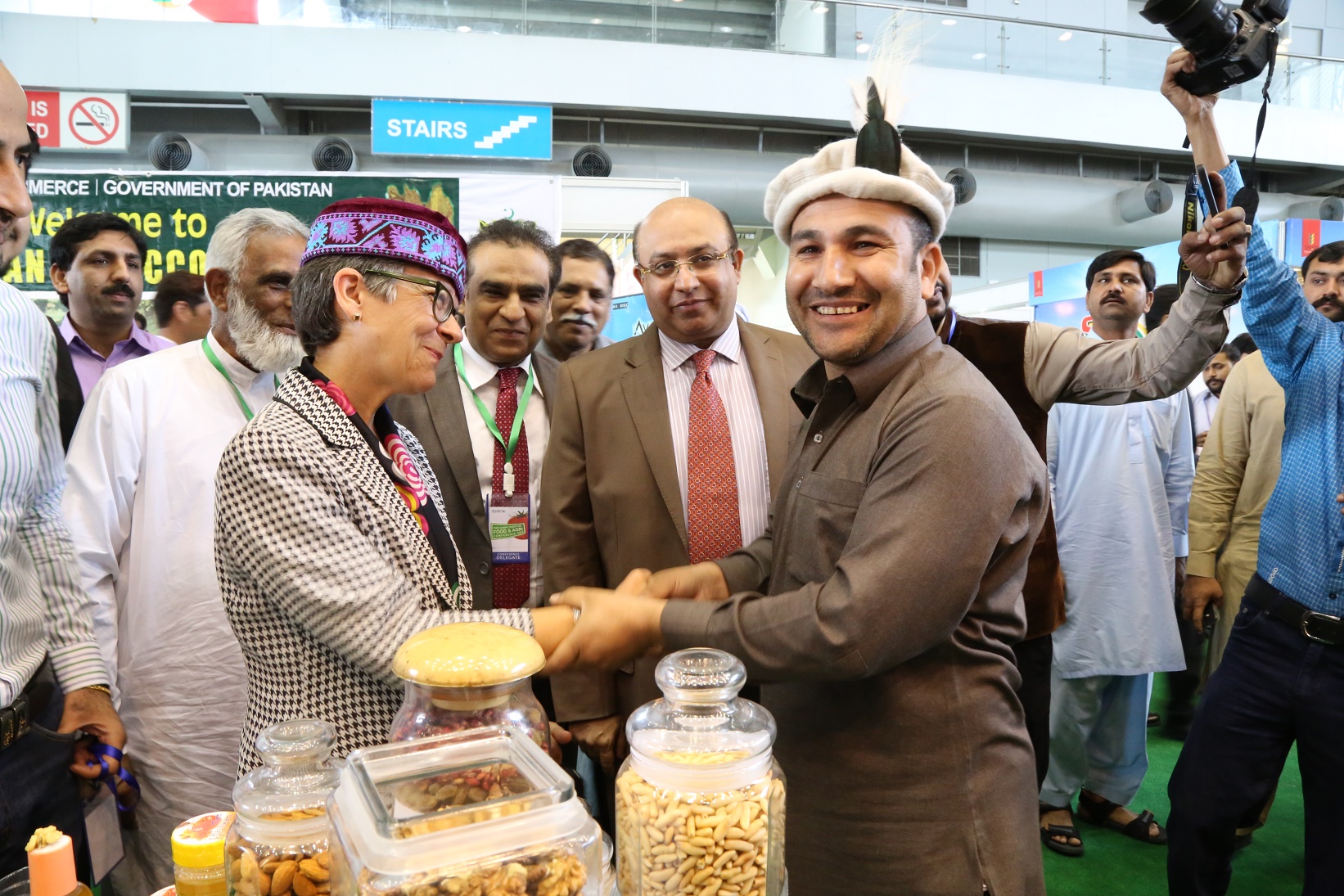 LAHORE: Fruit businesses from border areas of Pakistan exhibited today at the Dawn Food and Agri Expo showcasing how better connecting remote fruit farmers and businesses to major urban markets is making local fruit and fruit products more competitive in Pakistan and for export.
The Market Development Facility, Australia's flagship private sector development programme in the Asia-Pacific region is supporting several fruit businesses improve supply chains through better processing of fruit products and distribution from remote areas.
Australia's High Commissioner to Pakistan, Ms Margaret Adamson said Australia is keen to support initiatives that can improve Pakistan's economic growth. "Through partnerships with businesses in the horticulture sector, we create a triple win," she said.
"It improves the quality and types of products, increases competitiveness of these products, and most importantly, helps farmers in remote regions improve their productivity and livelihoods."
Large quantities of fruit produced in areas such as Baluchistan, Gilgit Baltistan (GB), Chitral and areas of KPK, are wasted or sold below premium prices due to large distances from demand in big cities, inadequate distribution methods and regional processing and value addition.
MDF is assisting several businesses in GB invest in local fruit processing and help them to connect with demand in Pakistan's cities and for export abroad. This support ranges from assistance in instituting better fruit handling so less is wasted to upgrading facilities and obtaining certifications to comply with international certifications.
Exhibiting at the Dawn Expo, Hashwan Dry Fruit Company is based in Gilgit and is setting up a facility to process dry fruits in the area – targeting domestic and international markets. More Gilgit-based businesses mean farmers can sell more of their produce and receive better prices.
In Baluchistan, Baluch Hamza Brothers Date Company is expanding its date processing capacity. Varieties of dates are grown in Panjgur district of Baluchistan, but limited processing means that supermarkets and road-stalls in Lahore and Karachi are flooded with imported varieties.
"Through MDF support, I can now buy more dates from farmers in Panjgur," said Muhammad Jan, the CEO of Baluch Hamza Brothers Date Company who is also promoting their products at the Food & Agri Expo. "Because of this, I will be supplying dates to supermarkets in Lahore and Karachi this year," he said.
MDF is a multi-country private sector development program funded by the Australian Government, currently operating in Fiji, Timor-Leste, Pakistan, Sri Lanka and Papua New Guinea.
In Pakistan, MDF works in Dairy and Meat, Horticulture and Leather sectors. MDF is working with 21 small and large business in Pakistan. MDF's work through to June 2017, will result in over USD 40 million in additional income benefitting 165,000 men and women, including 7,800 full time jobs.