Blacksmithery: A fast fading traditional occupation in Gilgit-Baltistan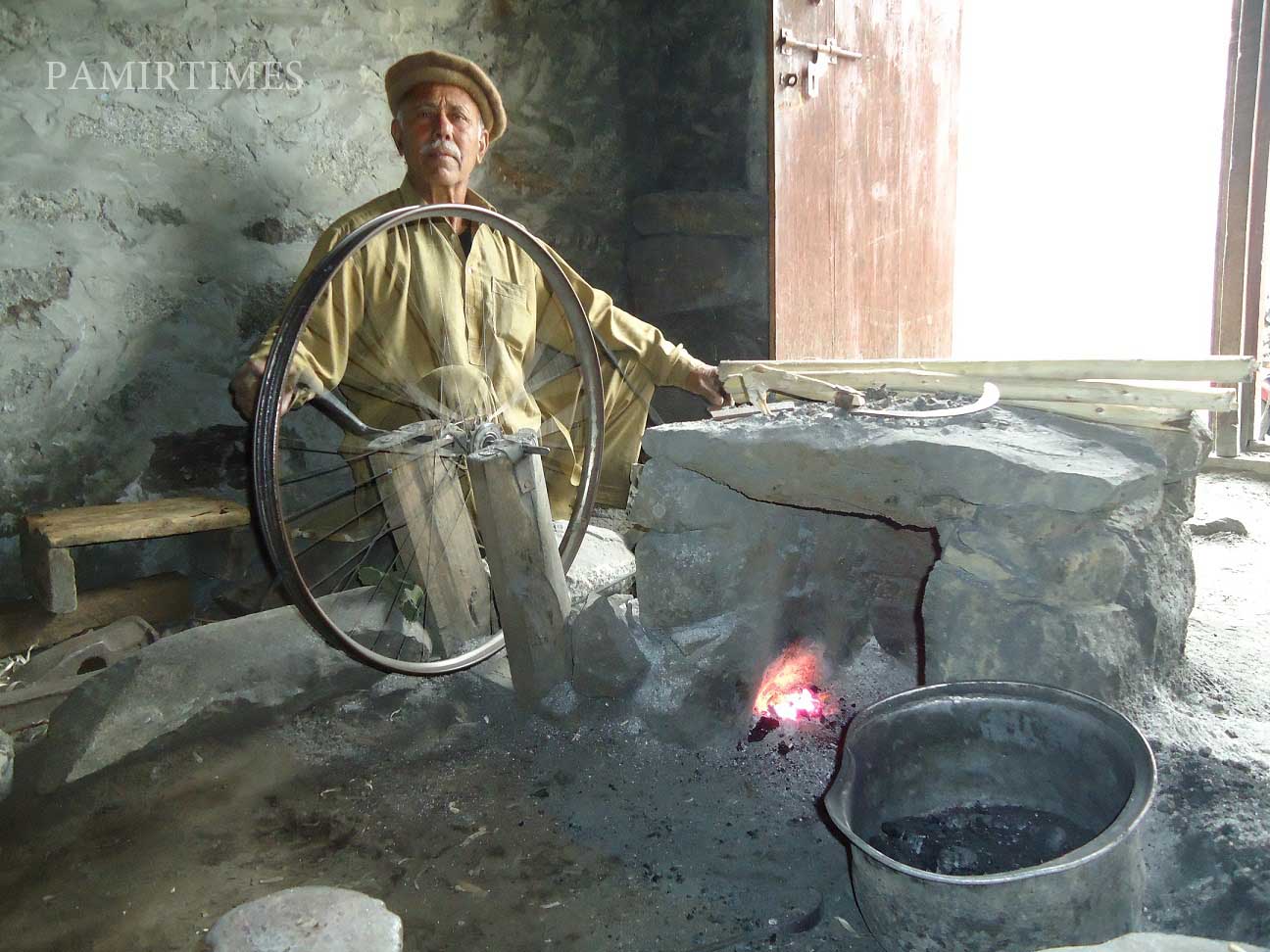 By Noor Akbar Gohar
63 years old Shakur Khan is working as a blacksmith for last 49 years at main Bazar Sherqila, capital of former principality of Punial and the largest village of Ghizer district of Gilgit-Baltistan.  He was 14 when he started to work as a blacksmith. It came to him as an inherited profession from his ancestors who practiced it for centuries. There are 7 blacksmith shops in Sherqila run by people of his own family tree.
Shakur Khan belongs to Domaki community whose arrival in the mountains of Gilgit-Baltistan is traced back to centuries by historians. Right from the outset, this community practiced the job of blacksmith, metal workers, musicians, and artists. These practices transferred from one generation to the next as main source of livelihood.
It is the only racial community inhabiting almost all valleys of Himalaya, Karakuram and Hindukush mountains of Gilgit-Baltistan. No other racial community is as spread all over the region as this community. This community is found in all parts of Gilgit-Baltistan, also found beyond the borders of Gilgit-Baltistan. Members of this community produced different tools, both of iron and wooden, on which practice of crop farming, livestock farming, horticulture and all other economic activities of locals depended.
They repaired and often manufactured pitchfork, spades, rakes, axes, ploughing tools for crop farmers. Horse shoes for horse keepers, also local sports goods for Royal sports of polo. Traditional drums, trumpet, sitar, and other musical instruments of different kinds were made and played to entertain people in the event of wedding, polo competition, festivals and rituals and other celebrations. They manufactured swords, knives, bow and arrow and other articles of warfare of ancient times.  Thus, they mastered in manufacture of tools of almost all needs of life of the people inhabiting these mountains to the north of Pakistan.
They still manufacture musical instruments, deal with metal work and perform numerous other important roles in the social and economic life. It will not be an exaggeration to say that this community added colour and meaning to the society of Gilgit-Baltistan.
In the Past, people lived a difficult life in Gilgit-Baltistan due to the rugged mountainous terrain, which made availability of iron scarce as a raw material for manufacture of goods of different needs. Ready-made and finished goods were not easily available either.
According to local blacksmiths and metal workers, different pieces of broken iron tools were heated to the melting point and mixed up to make different useful articles in the past. Iron was also brought from down country but that reached here was meagre both in quality and quantity.
In Punial Tehsil of Ghizar district, the work of blacksmith has been attached with local customs. A traditional agreement binds the local residents and the blacksmith together. According to the custom, the agricultural and domestically needed articles are repaired and manufactured as per need of the people in return for 40 kg maize corn on annual basis. The residents are also traditionally bound to provide coal for the blacksmiths.
Until recently, the work of blacksmithing continued with full vigour for centuries. All villages used to have had small blacksmith factories where people got tools of different needs manufactured and repaired. But this traditional blacksmithing is becoming a lost profession on fast track in the region. As time passes, those who practiced it as an inherited profession are abandoning it.
According to Shakur Khan, his work has lost its former charm and attraction for the new generation of his community as people buy agricultural and domestically needed tools directly from the market .Goods of different needs are easily available in the market in huge variety and quantity, thanks to modern transport facilities.
Mechanization of agriculture has also contributed to decrease in the demand of the locally manufactured goods of agricultural use. Likewise, modern workshops with welding facilities are also putting the repairing of the tools, from domestic to agricultural use, by traditional blacksmiths to the wall.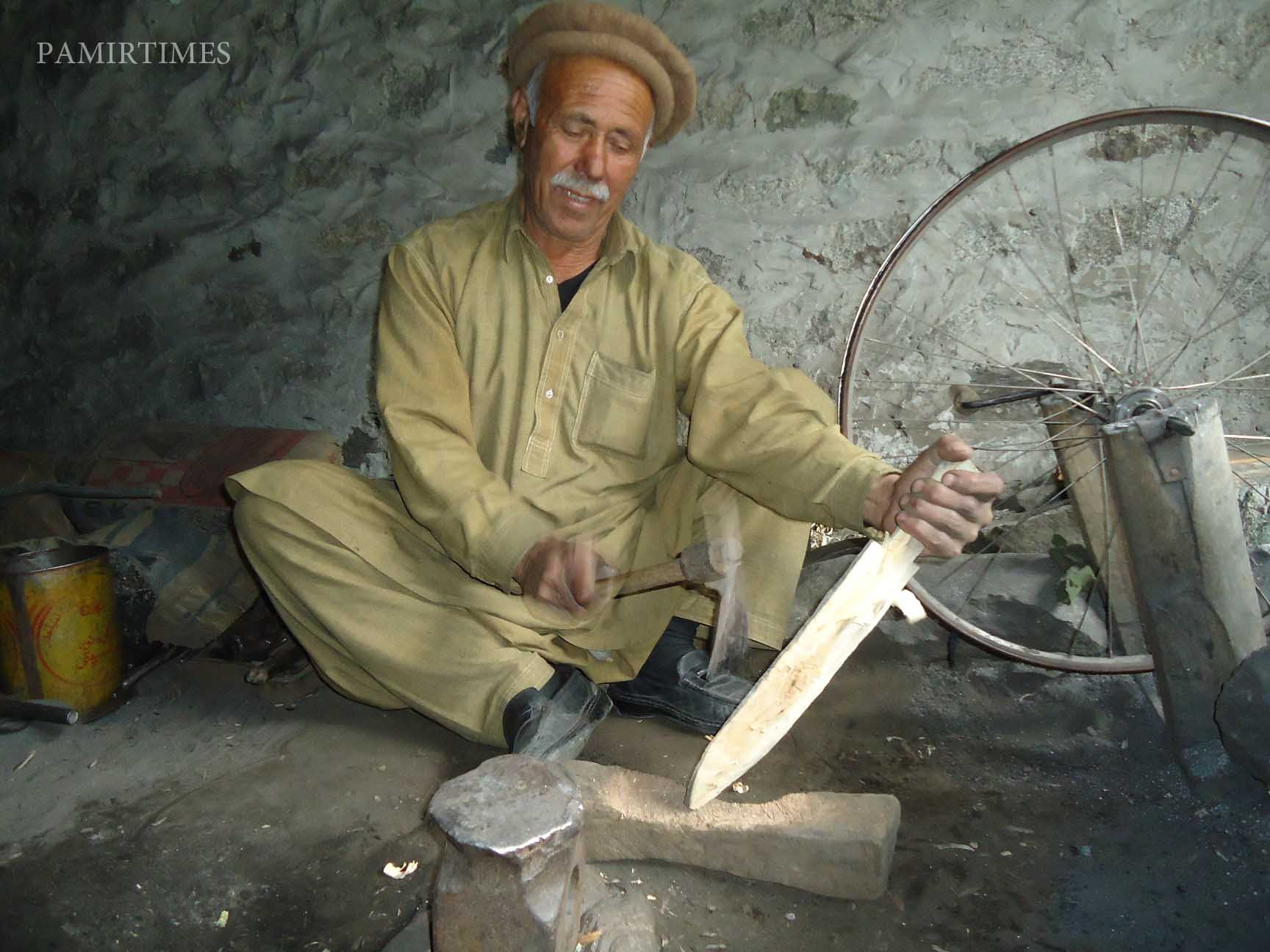 The local society, which is primarily a farming society, is abandoning traditional lines of practice of agriculture in the face of introduction of modern machinery in farming.  Referring to red coloured Messy Ferguson tractors and making a jocular comment, Shakur Khan said that the red bulls (red colored tractors usually used in GB) have replaced real bullocks used to plough the fields putting blacksmith community at a great disadvantage.
The shops, where members of this community manufactured and repaired different goods served as small factories, which were a sign of small scale and cottage industry, which provided self-employment to thousands of people of the same community all over Gilgit-Baltistan.
In this modern technological era, no industry small or large would pass the test of time unless the manufacture of goods is characterized by modification and technological integration, to suit new trends and demands.
In the case of Gilgit-Baltistan, local manufacturers didn't introduce any modification and innovation in their work, resulting in the loss of interest of people in the manufactured articles.
Taking an example, traditional leather shoes were used to be made in GB which one would not find today anywhere. Modern trends could be incorporated in the making of these shoes to cope with the challenge it faced with opening of local market to the outside. People abandoned wearing these shoes which would have been famous shoes world over if they kept on being manufactured with modification according to changing trends.
Social stigma attached with the work of blacksmithing and other practices is another reason ascribed to abandonment of traditional practitioners of this occupation and increasing loss of interest in continuing it. Ironically, the work of blacksmith is taken as an inferior profession by the society.  And with opening of increased opportunities of employment in the expanded service sector and spread of education the new generation of blacksmith community finds it less attractive.
Nevertheless, a few blacksmiths have managed to bring modification and innovation in their work by employing new technology and modern techniques. Apart from this traditional work, they have become trained in similar other jobs like tyre repairing, welding, stove making etc.
The traditional blacksmiths, musical instrument makers, metal workers, musicians have a undeniable role in the making and maintaining of both material and social culture of Gilgit-Baltistan society. As this community is abandoning their traditional practices, the mountainous societies are also losing the architects and pillars of their rich culture too.
Similarly, traditional skills needed in the manufacture of goods even in other aspects of life are fast becoming extinct as they are not transferred to new generation. Rope and carpet making, manufacture of local handicrafts, local foods and dress, though not particular to any one caste, are already on verge of extinction, heralding the demise of local knowledge and wisdom.
Production, distribution and utilization of the goods and services at local level keep the circulation of wealth within a region. Contrary to the past, today goods are bought from down country in huge variety and quantity which in a way has made life very easy but it is also causing a subtle adverse impact on the local economy. People have become wholly and solely dependent upon outside for goods of different needs of life despite abundance of natural and human resources present at local level.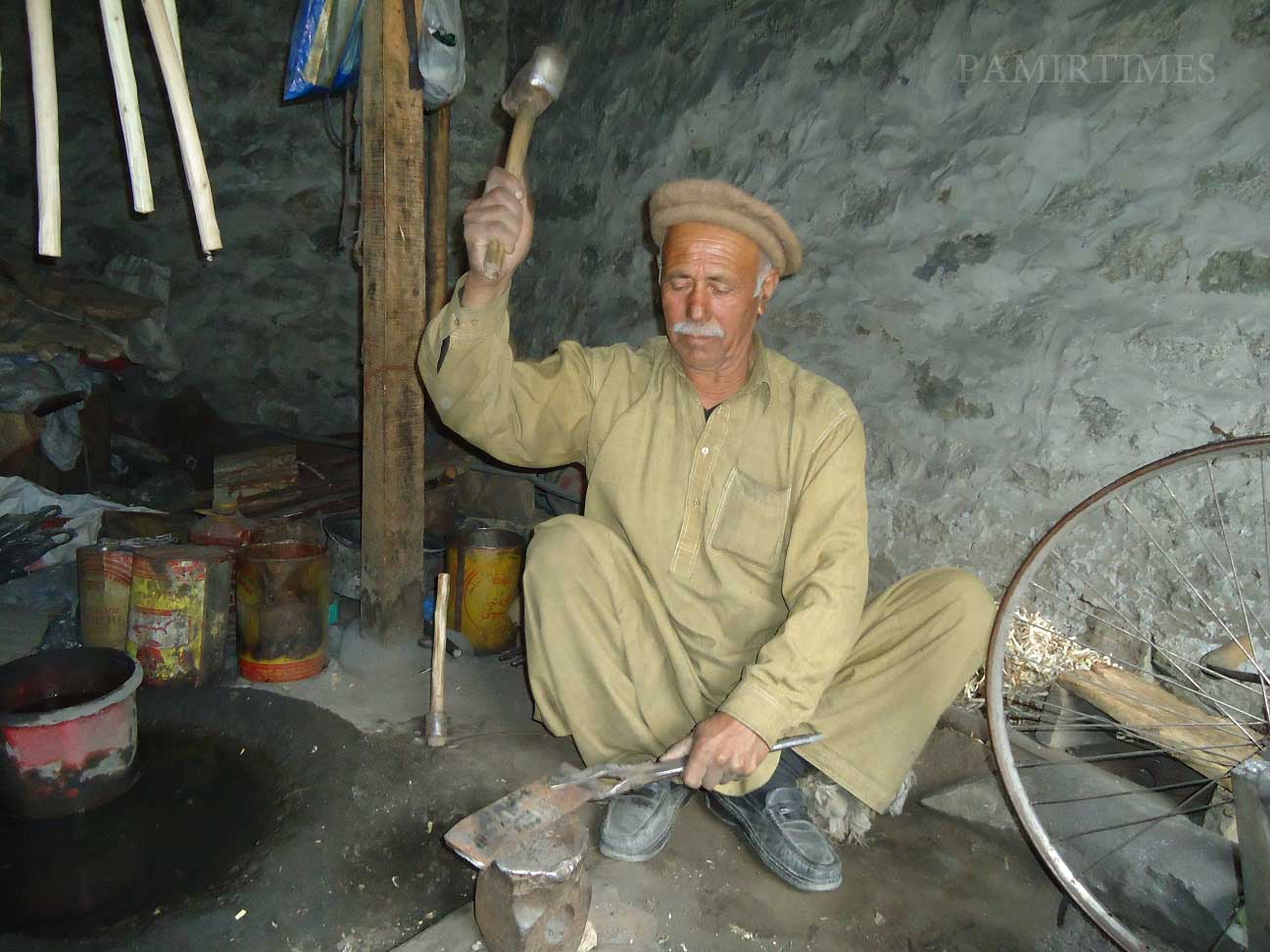 Against the backdrop of uncontrolled increase in population and diminishing resources, the loss of practice of work of blacksmithing as a source of livelihood for thousands of members of traditional blacksmith community will also be a great loss.
The new generation of the farming community is finding their ways into different other professions of life in the face of expanding service sector and educational opportunities. Likewise, the new generation of traditional blacksmith community is also making progress in new fields of life and has started contributing in the overall development of the society.
Nevertheless, for quite a long time the local economy will depend upon small scale subsistence livestock and crop farming.  This necessitates an efficient, updated and professional work of blacksmiths. Those abandoning it, without resorting to any better field of life deserve the attention of Government and NGOs to help them retain their work by taking steps for the promotion and development of this particular occupation.
Vocational training should be provided to present blacksmiths on modern lines for the production of quality goods and services to suit modern demands of the society. They can be provided with new machinery on subsidized basis to make it affordable. Micro credit loans on easy terms can also be provided to integrate new technology and modernize their work. The members of blacksmith community themselves should also come together to modernize their practice.
Blacksmith Community is an important part of our society. This community deserves appreciation, respect and support from the society so that instead of deserting their traditional practices, they could continue them with a sense of dignity.