Drugs awareness session held in Chipurson Gojal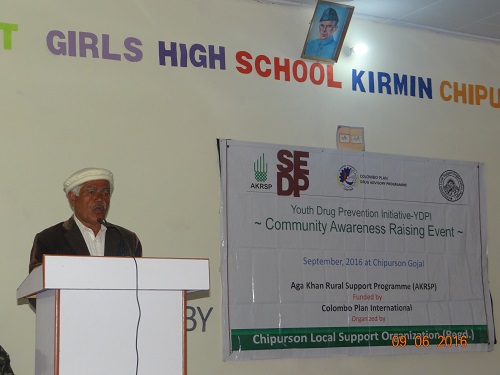 Chipurson, Gojal: AKRSP arranged a day long awareness session on drug abuse with the collaboration of Chipurson Local Support Organization (CLSO) at Government Girls High School Kirmin, Chipurson. Around 300 people both male and female were present at the session. The session was presided over by Mr. Dildar Baig Ex-President Local Council Chipourson and social worker while Mr. Jamil Ahmad, Mukhi Kirmin, was guest of honor at the occasion. Followed by the recitation from the Holy Quran Mr. Sahib Hayat, Chairmen CLSO, welcomed the audience and shared the aims, objectives of an event.
In the first session AKRSP team made presentation on facts of drugs, impact of drug on human body, psychological impact of drug use and mothers' role in drug prevention.
The second session started with a presentation on Socio Economic Development Project of National Council Pakistan by Mr. Haider Ali Program Coordinator. He made detail presentations of SEDP focus area. He also touched upon the drug issue in the valley.
Silamat Shah, a senior citizen and social worker shared his experience on the said topic. Chief guest and guest of honor both shared their thoughts on drug issue and responsibilities of youth. President local council Chipourson Taus Nama shared her views with the audience. She declared the event as the much needed step and request for such events in future on regular basis.
Asia student of Zoodkun D.J School Chipourson delivered a speech on menace of drugs she emphasized on new generation to come forward to call-down drugs at their houses as well as in society and maintain harmony and unity among new generations.
Mr. Dildar Baig discussed the teachings of Islam regarding drug abuse. He appreciated the efforts of AKRSP and Colombo Plan for bringing the communities together and educating them on the devastating consequence of drug abuse as well as motivating them to put their efforts together to fight this evil. He urged the youth to abstain from all kinds of drug in order to make their future bright. Mr. Jamil Ahmad also shade light on the negative trend of drug use among youth and strongly condemned those youngsters who start drug use as fashion or to fit in.
Boy Scouts Group enthralled the participants by their entertainment items and sent powerful message to the youth who use drug.
At the end of the session a resolution was passed unanimously in order to curb the drug flow and abuse in the area. Resolution consists on the following points.
1-      Relevant institutions i.e. the Ismaili Council and LSO will conduct more awareness sessions in region to stop the menace of drugs.
2-      They will act together to disrupt drug supply chain.
3-      They will form anti-drug committees in the region to deal with drug issue by working with the law enforcing agencies and other relevant organizations.
4-      They will cooperate with each other and will try their best to implement the all above points.
The event concluded with vote of thanks from Mr. Qurban Ali, member CLSO.