Rashid Ullah Khan 
 Our elders usually talk about their childhood. They mostly talk about the cloths they use to wear, their recreational activities in early 50's, and the way they use to walk miles to find some grass for the flock. What fascinates most people are transportation services of early 50's in Hunza. As before 1958 people in Northern Areas use to travel on the horseback, in 1958 few feet wide jeep road was built, from Gilgit city to Hunza. It was supposedly one of the deadliest roads in the region. . Nevertheless, despite of meager economic resources, Hunza remained centre of traditional architecture (1), rich culture and above all farming tools engineered by them were most sophisticated in the region . American geologist James Clark specialist on deserts and fossils in 1950's visited Hunza and summed up living standards of the people of Hunza at that times in these words:
"Although we were spanning the earth by the most progressive methods, I knew that in reality I was headed back in time. This plane would take me half the world away to Karachi in Pakistan; then I would go north by train to Peshawar; then by plane further north to Gilgit; then on horseback three days to Hunza, a small country high in the Central Asian peaks and back five thousand years to the days before men knew how to make wheels" (Clark)
Despite of having lack of awareness and time to react to the change. Literacy rate of  Hunza boomed in few decades. Before 70's few members of ruling families were privileged to have higher studies. After 70's AKDN institutions pave the way for development. People of Hunza started to build community schools, thrift societies and heritage programs. James Clark distributed some gifts among local kids sent by his American students. H e writes in his book Hunza-the last kingdom,
"I counted out one pencil and four sheets of paper for each boy, and Hayat and Beg passed them around. I explained to the school that these were the gift of American boys their own age. The youngest schoolmaster respectfully put the question the boys were too bashful to ask; "In America, does every schoolboy have all the pencils and paper he needs?" I told them that American schoolboys were well supplied, and only too happy to share with their Hunza friends." (Clark)
He further added,
"Then I looked at their slates. Each boy had a piece of brown, polished apricot wood about a foot long and ten inches wide, on which he wrote with a stick dipped in lime water. As soon as a lesson was graded, it was wiped off the slate and a new one begun. There weren't enough textbooks to go around, so the boys had no way of reviewing what they learned. They studied by memorizing, and they all studied out loud, which turned the schoolroom into a droning bedlam by comparison with which a newspaper office is a monastic cell."
It's believed that today Hunza has above 80% literacy rate and considered as one of the most attractive tourist sites of Pakistan. What makes the people of Hunza different from neighbor communities is gender equality. It's worth mentioning that, first Muslim woman to climb Mount Everest, Samina Baig, is daughter of Hunza (2). Diana Baig, national cricket and football player also hails from a remote village of Hunza (3). The most important part of Human development gender equality is out there.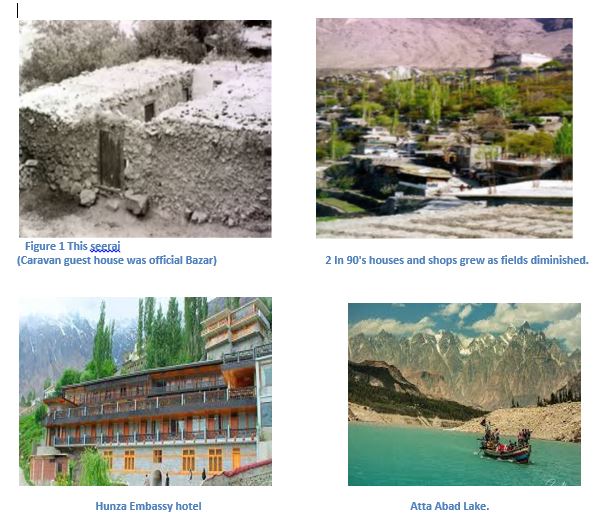 It's common belief among the people that establishment of Diamond Jubilee Schools by Aga Khan III, Aga Khan IV's visit to Hunza and completion of KKH completely changed the fate of the locals. (4) These factors were few of the driving forces which lead Hunza towards a prosperous region in the remotest area of Pakistan.
 Though Hunza has Geo-strategic importance as it connects Pakistan with Super- power China, but for trade, attitude makes more difference than latitude. Take the example of Mexico, it  shares its border with USA, but still millions live under the poverty line. (5) Statistically, this year millions of people visited Hunza, to see the natural scenery, to experience the life between the rendezvous of mighty ranges and to live with one of the pluralistic societies of the world.
On social media Amjad Ayub wrote, "Domestic tourism has grown at least ten folds and hotel business in Hunza is booming in this decade. Last two years especially this year was beat years for hotels and smalls guest houses in Hunza and Baltistan".
Tourism has potential to be the next Economic game changer for  Hunza. It should be noted that, what was demanded by tourists last year was not supplied. From the statistics collected,  Hotel business, tourism industry and service industry in Hunza is still  improving, but the pace is much lower than needed.
As talking about the absolute measures of economy and comparing it with Industrial areas of Pakistan is worthless for a region like Northern part of Pakistan, what we can only do is finding the rate at which our economy grew in past few years. What we are doing is finding the improvement in the living standards of people of the mountainous area.
The contributor is a BS (Eco & Maths) student at Institute of Business Administration, Karachi.