CPEC: Federal and provincial govts agree to complete homework on new project approved by 6th JCC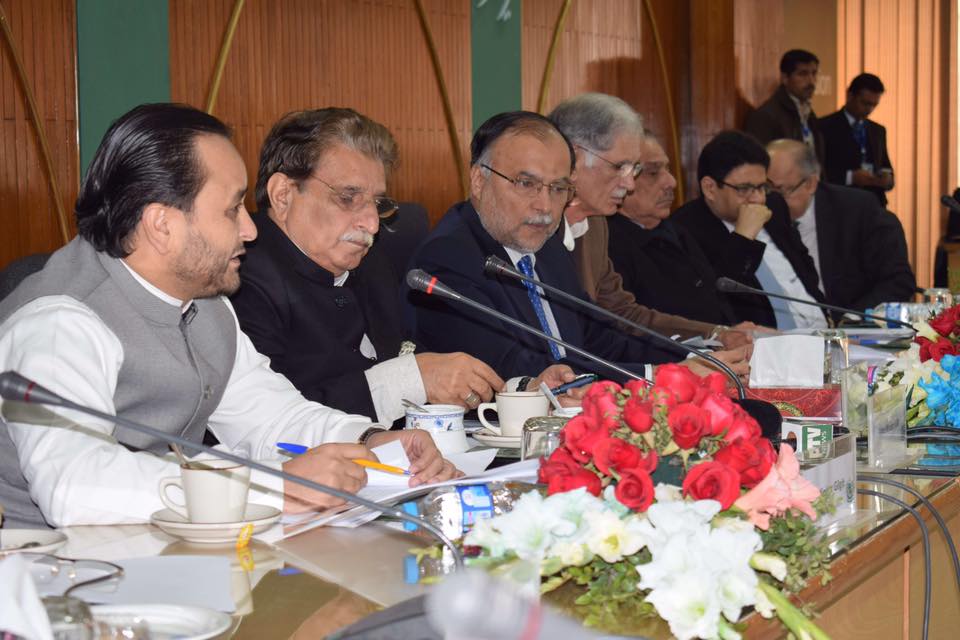 Islamabad: (PR) Expressing their full support to China Pakistan Economic Corridor, federal and provincial governments have agreed to complete homework on new projects approved by 6th Joint Cooperation Committee (JCC) to ensure its speedy and timely implementation. The decision was taken in a post 6th Joint Cooperation Committee meeting presided by Professor Ahsan Iqbal, Federal Minister for Planning, Development and Reform (PD&R) here at Planning Commission on Thursday.
The meeting was attended by Prime Minister Azad Jammu and Kashmir (AJK) Raja Farooq Haidar Khan, Chief Minister Khyber Pakhtunkhwa Pervaiz Khattak, Chief Minister Gilgit Baltistan Hafeez Ur Rehman and provincial ministers from Sindh and Punjab. Senior officials from federal and provincial government were also present in the meeting.
In a joint press conference, Professor Ahsan Iqbal, while highlighting decisions taken in the meeting, told that leadership has agreed to complete homework on new projects included in CPEC during 6th JCC in order to avoid any delay. He informed that Pakistani sides of the Joint Working Groups (JWGs) will meet soon to finalize new projects in energy, infrastructure and other sectors. On this occasion, he appreciated the role of provinces particularly Khyber Pakhtunkhwa on accelerating work on CPEC projects.
Ahsan Iqbal further told that participants agreed that along with projects in infrastructure and energy sector, procedure on Industrialization would be firmed up to ensure maximum benefits of CPEC. Federal Minister further urged on private entrepreneurs to come forward and fully utilize this opportunity to make Pakistan, a prosperous country.
"CPEC would not only prove a game changer for Pakistan but it would ensure connectivity of whole region. It would turn Pakistan into a trade hub if all the targets were achieved", said Minister PD&R.
Ahsan Iqbal said that participation of senior provincial leadership at 6th JCC, held last month in Beijing was evidence of provincial support to this billion dollars project "This participation helped in inclusion of new projects in CPEC portfolio, thus increasing its outlay up to 50 Billion dollars".
Minister PD&R, further appreciating role of Pakistani officials, told that with the hard work and commitment, a number of projects have been completed before its stipulated time.
Ahsan Iqbal said that some elements are spreading misconceptions and hatching     conspiracies against the harmony prevailing about CPEC in entire Pakistan. "Leadership has –
thwarted such plans by expressing their full support. All the reservations of federating units were addressed and everyone is now jointly working for success of this project" he added.
Minister said that certain circles are engaged in negative propaganda against Pak-China industrial cooperation but these conspirators will have to see failure for sure. He informed that Chinese leadership wishes to speed up the process of industrialization in Pakistan, thus ready to shift industries here due to expensive labor in China.
"It is illogical to say that a large number of expensive Chinese workers would come to Pakistan and would occupy the job market here" said Minister, hoping that jobs for Pakistani labourers would be multiplied with completion of industrial cooperation under CPEC.
He said that with initiation of projects in different sectors, construction material industry has witnessed a boom and now thousands of Pakistani engineers and workers have got jobs in CPEC projects.
Ahsan Iqbal further reiterated his stance, saying that CPEC is the most transparent projects in Pakistan and questions on its transparency is a baseless practice. "All the projects in energy sector or operating in independent power producing mode (IPP) where tariff is determined by NEPRA, an independent body, so there is no room for questions" he remarked.
"Infrastructure projects have been initiated with concessional financing, thus it is awarded through a clear and set procedure" Ahsan Iqbal informed, adding that Chinese Administration gives names of three companies for each projects where a lowest bidder is decided by Pakistan.
Answering to a question, Ahsan Iqbal said that India is suffering of CPEC phobia which would surely lead to its isolation in this region. "How India would keep himself isolated of a project where everybody wished to join" Minister questioned.
Earlier, in the meeting all the provincial leaders have reiterated their full support to CPEC and assured to take immediate steps for implementation of new projects.
Besides, the leadership agreed to jointly work against the conspirators. On this occasion, Chief Minister KP said that all his reservations have been addressed; therefore, his government is busy to maximize benefits of CPEC. He informed that his government would organize a road show in the month of March at China to attract investment for agriculture, mining and tourism sector in Khyber Pakhtunkhwa.