Enhancing Learning Experience by Encouraging Student Participation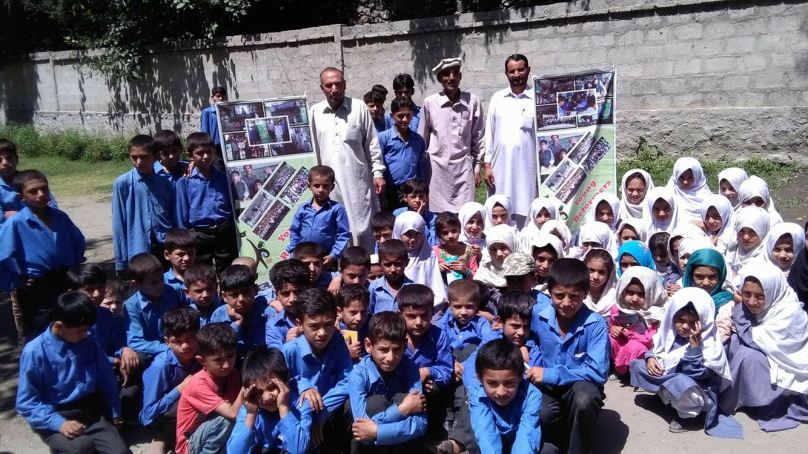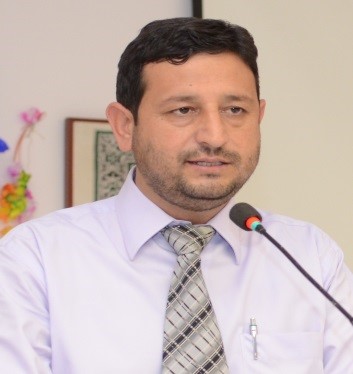 Students' participation in school activities is treated as predictor of academic achievement. My experience as a teacher reveals that students are not given due status and autonomy to share their ideas and thoughts in the context where I work. They are supposed to follow teachers blindly without asking any question and the silence observer treated as "obedient student".
While those who try to comment on teachers' ideas are given title "rude" or "بد تمیز لڑکا".
This paper explicates a pathway for a process to change this situation within the school, with a focus on given conceptual framework.
Overview of Public Schooling in GB
National education policy (2009) focuses on developing self-reliant individuals who are capable of analytical and critical thinking being responsible members of the society and global citizens. Having set this clear guidance, the policy is still not implemented with its true spirit in the context of majority of public schools in Gilgit-Baltistan (GB).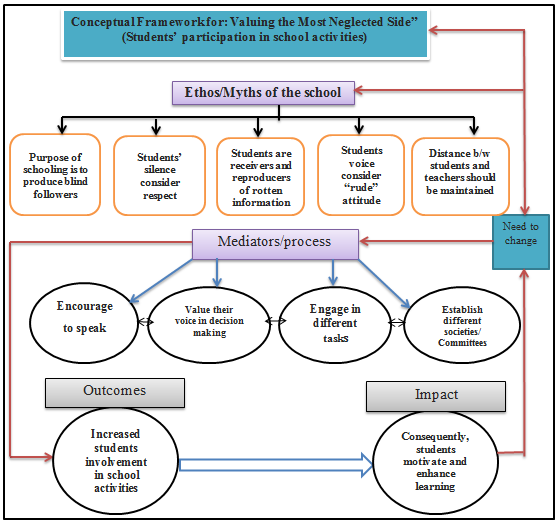 As per my understanding and observation, this situation of non-implementation has several reasons with respect to the specific context of GB.
The first reason is teachers-dominated traditional culture. The ethos of the schools reflect that the purpose of the schooling is to produce blind followers by treating that students are recipients of knowledge as empty vessels. Reproducing rote materials and getting high scores in annual examination is considered the key to success. Keeping distance between teachers to students as key value of the school is the common practice, as teachers consider this gap as symbol of status and honor.  Majority of teachers believe that students need to be constantly controlled and taught. Similar feeling has also been mentioned in Khan (2016) regarding teachers' perception of the said context as "children are immature, irrational and irresponsible; they cannot shoulder any responsibility to perform in the school affairs" (p.2). On the other hand, strategies for improvement required a way of thinking that cannot be captured in any list of steps or phases to be followed. However, though trying to change this culturally-embedded aspect is difficult but the situation is crucial in the way of students learning and urgent need to be reviewed.
How and Why to Change this Scenario?
Here I present a few suggestions which might helpful to initiate change of the miserable scenario:
Encourage students to speak
Among others aspects of student learning, an important one is class participation. Encouraging students to express their ideas though will take time since they groomed in such environment where keeping silence in front of teachers is considered as symbol of respect, but not impossible. Students learn to share their ideas when they are encouraged to ask question and appreciate on taking part in discussion. Changing silence culture into participation to show their full potential, the teacher or leader needed to show respect for students' contribution by giving thoughtful responses without interrupting them. Holistic development of the individual to impart creativity, dynamics and capability of rational thinking are chiefly stated in National Educational Policy 2009 as well. To make such environment, it is required to engage students in such responsibilities that require more communication. These responsibilities could be leader of small group, peer tutor, teacher assistant etc. so that they are encouraged to speak with teachers and other fellow students.
Value their voice in decision making
Student voice is understood as: working on issues they choose, that make sense to them, and in which they are valued. It is for students to know that they are valued; their expertise is acknowledged and included them in establishing school norms or policy relating to teaching learning activities in the school. Listening to students benefit in creative thinking and when they are listened and involved, they become more confident to speak and raise issues like bullying, harassment or learning related barriers. By valuing student voice, they provide feedback on classroom teaching and participate in developing strategy for the betterment of the school. Therefore, it is suggested such a culture where student voice flourish and in turn, it helps in fostering community of learners involving all stake-holders including teachers, leaders and students.
Engage in different tasks
Students' engagement in school activities is beyond the nomination for a certain task to perform. Engagement allows students to actively taking part in collective decision making process at school that included dialogue between students and other decision makers having some influence over actions being taken. Due to engagement in school activities students feel more connectedness to the school, more familiar with resources, get more experiences, more encouragement, enhance belongingness, and develop intellectually. Furthermore, engaging in different task students experience leadership, communication, and speaking skills which lead them a successful life in future. Students' active participation in school activities effects on self-esteem, social status, democratic skills, citizenship, student-adult relationship, and school ethos.  Engagement in different task is a great source of building community and enhancing motivation towards expected result because most of the students consider given responsibilities as a privilege and ensure to meet the expectation. Engagement by delegating task allows students to take turns leading and make them feeling that they are important and valued.
Establish different societies/committees
By establishing different committees and societies, such as subject society, student experience societies, clubs, and organizations, students are encouraged to take part in school activities. In the process of entrusting authority and responsibility students always entails the creation of accountability which leads them a sense of belongingness by saving time, developing people, grooming successor, and motivating sub-ordinates. Further, engaging in different committees need to consider the components of effective delegation like right task, right circumstances, right person, right direction and communication, and right supervision and evaluation.  By working in diverse interest group student learn time management, prioritizing, making contribution, building self-esteem and team work which lead them towards a successful life ahead.
To conclude, given conceptual framework has potential to claim that student learning is subject to giving them respect, valuing their ideas, and engaging in different task so that they could get equal opportunity to experience according to their interest and need.  It argues that learning does not happen just listening instructors silently or memorizing few questions and reproducing it but needs to relate to their daily life practices and inculcate in life experience. Taking students on board to accomplish school's desired goals found mostly depending upon how they are given value, respect, motivation, autonomy, and engagement in a manner where they own the objectives. By creating supportive environment with the belief that students can be successful, current ethos could be converted into encouraging culture where student engage in learning. It needs to craft opportunities for students to participate in learning experience such as celebrating small successes, encouraging volunteerism, promoting social interaction and timely feedback. Hence, it is realized that to bring changes in specific context and phenomenon, teaching needs to become highly intellectual and demands for great emotional intelligence. Similarly, it requires developing professionalism by relearning and reconstructing teachers' professional knowledge.
The writer is an M.Ed student at AKU-IED Karachi and teaches in Government Boys High School Shigar, GB and can be approached at nasirhussain79@hotmail.com.