Remembering a Role Model of Decent Politics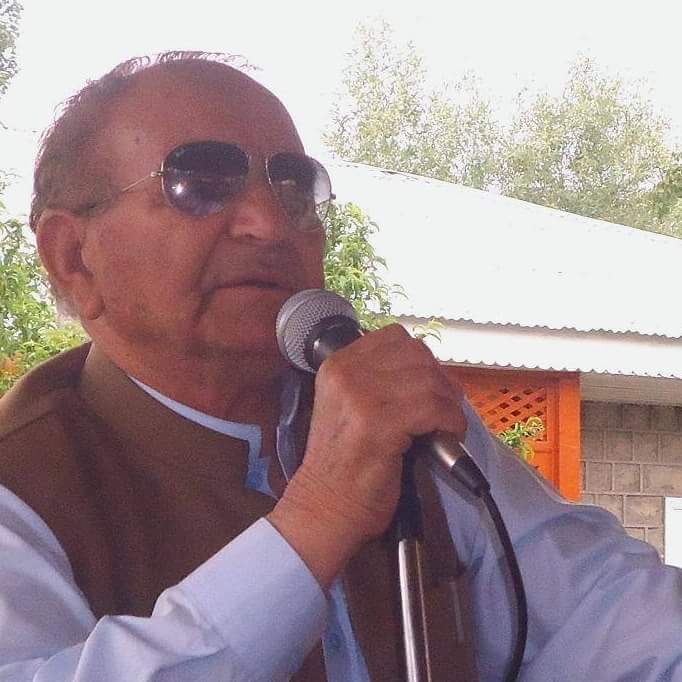 By Shmsud Din Booni chitral
Today we commemorate the second anniversary of a person who was part of people's lives in different ways. He was the one who made it norm of his life to ease others headache and forgot his own. He was friend of all and befriended all irrespective of region, cast, social status and creed.
Zain-ul-Abidin (late), the ex-MPA of district Chitral was a selfless political leader, prominent social worker, devoted volunteer, first-rate arbitrator, negotiator and a down-to-earth humanitarian.
He was born in 1932 in village Morder, Mulkho valley of upper Chitral, to the family of Sharafud Din Khan—widely known in Chitral as Modero Leften—as he enjoyed coveted positions in the ex-state of Chitral and retired as Junior Commissioned Officer (JCO) from Chitral Scouts. His services were so outstanding that he was re-commissioned in the Civil Service of the then Chitral State as Inspector of the Mercantile Affairs and Controller of Price of the essential commodities in Drosh, Chitral and Booni Bazaars.
Being one of the potential off-shoots of Chitral's ruling family, his ancestors enjoyed extensive privileges in terms of landed properties, social status, reputation and leadership at village, valley and district level.
His father was a strict disciplinarian, who upheld stringent code of conduct for himself, his children and the rest of the population in the valley. Reflecting high moral standard, his personal traits also confirmed the rich values of the indigenous culture of Mulkho—the valley researchers consider as a cradle of Kho culture.
After primary education, reinforced by valuable informal family training, the young Zain proceeded to Chitral town—90 kilometers to the south—for continuing his middle and high school education and did his metric. As a student, he happened to be an avid reader and perfect social worker.
He was good-natured and inherited delightful and amiable disposition. Gifted with wonderful tolerance and courage, he stood like a rock in trying moments and gallantly overcame the tragedies befalling his social and political life. Strong determination, patience and will power remained his handy tools, co-existence philosophy of life.
As a politician, he was an upright and honest one, who redefined politics as a tool to serve the marginal people, reducing their socio-economic vulnerabilities without succumbing to personal interest, foul play, exploitation or greed throughout his political career. "MPA Zain-ul-Abidin earned exceptional respect in the rank and file of party workers in his constituency. He knew each party worker and voter in person and pinpointed their issues and preferences', informed Nazir Ustad, a political worker and devotee from village Ayun. 'During meetings to address key party issues, he always viewed bright aspects and optimistically persuaded divisive opinions to patch up differences", he said. This was how his decisions and recommendations were well-received and carried weight in Pakistan People Party's central cabinet meetings.
He was a role model of decent politics that primarily stemmed from the family values he learned as a child. "We trace the traits of his social and political life back to what he had learned as a child within family under the supervision of his father and grandfather" said Maula Nigah Nigah, a renowned researcher, academia, poet and writer of Chitral. "His entire social and political life distinctly featured the traditions of Kho culture reflecting peace, love, hospitality, politeness, friendliness, honesty, trustworthiness and cooperation", he concluded.
His kindness to birds was proverbial and he was a die-hard opponent of hunting. "Once he came across a fatally wounded falcon in the village and managed to carefully rescue it, treated for over three months. When the bird was completely healed, it was released in the mountains", reported one of the villagers during an interview. It might be a minor initiative, yet it reflects softness of heart and mind, kindness of thoughts and actions towards God's creature—representing the true spirit of Islam.

He ardently pursued accommodative role and gave more space to inclusive, collective and constructive policies, particularly when it came to resolve the development issues of his constituency. When he got elected as MPA in 1993 under the PPP ticket, the seat of National Assembly went to jamaat-e-Islami's Maulana Abd-ur-Rahim. He took extraordinary measures to shape constructive relations with Maulana and successfully tabled the proposal to secure for district Chitral two seats in the provincial assembly—which was materialized in the subsequent years. Unluckily, recently the rights of Chitralis to have two seats in the provincial assembly has been reversed. This amounts to disfranchising them and will adversely impact the development of the already impoverished communities.
His personal priorities remained unchanged even after his election as MPA surpassing all Members of Provincial Assembly in terms of vote strength. This was largely so because the people of Chitral wanted to acknowledge and appreciate his character and manners through their votes. 'I spend much time with Zain-ul-Abidin during political campaign and observed him from close quarters', said Advocate Fida Ali, the ex-president of PPP from village Booni. 'He never became controversial in his political career as he did decent politics without resorting to political mud-slinging and never applied unfair means to justify any wrong doing as might be the case with other politicians', he concluded.
Education was his topmost priority. He devotedly worked to promote education as an alternative source of livelihood development in absence of other employment options for youth aside from considering it as a peaceful medium of positive change. With this plea in mind, he positively leveraged his linkages to motivate political leadership and government institutions for establishment of Degree College Booni back in 1983, meanwhile construction work on a vast college premises at Khandan, Booni, gained momentum after 1993 during his tenure as an MPA.
The success of his politics is attributed to applying a unique blend of socio-political strategy to expand and maintain enviable rapport with diverse people in his constituency, province and the rest of the country, which he tirelessly maintained till his last breath.
In the current political milieu, the people of Chitral, as it is somewhere else in the country, are weary of hallowed promises from politicians they are either unwilling or unable to keep. Voters expect their leaders to be effective, honest, trustworthy, fair, and greedless in delivering public services.
People want a political leader, who must not renege on his/ her words. He/she must set a clear goal and pursue it with great commitment.  Such a political paradigm could be fashioned by drawing on the political philosophy of co-existence, cooperation, voluntarism, tolerance, and a passion to serve humanity set by Zain-ul-Abidin.  May his soul rest in eternal peace!