AKU-EB partners with UNICEF for capacity development of Balochistan Assessment and Examination Commission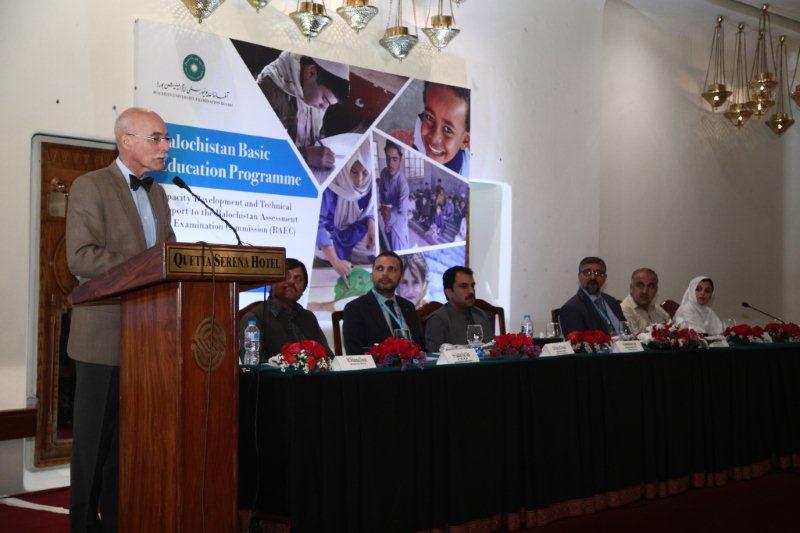 Quetta: (PR) The Aga Khan University Examination Board (AKU-EB) conducted a formal opening ceremony that cemented the agreement, titled "Consultancy services for capacity development and technical support to the Balochistan Assessment and Examination
Commission", that it has reached with the Government of Balochistan and United Nations Children's Fund (UNICEF) as part of the larger Balochistan Basic Education Programme funded by the European Union (EU).
Under the terms of this agreement, AKU-EB would take on a technical support and capacity development role for several governmental assessment bodies in the province, including the Balochistan Assessment and Examination Commission (BAEC), the Bureau of Curriculum,
Policy, Planning and Implementation Unit (PPIU), the Directorate of Schools, and the Professional Institute of Teacher Education (PITE).
Dr Shehzad Jeeva, Director, AKU-EB, welcomed the event's attendees and stated: "It is a privilege and honour for the Aga Khan University Examination Board to be in a position where it is able to impart good practices in education to institutions that function in an area of Pakistan that demands greater national attention. The work that we undertake today shall serve as the foundation stone that tomorrow's educational institutions will benefit from."
The project will see AKU-EB spearhead a series of training exercises aimed at empowering employees of the aforementioned institutions and helping to strengthen the public education system of Balochistan. A yearlong capacity development programme, to be conducted in Quetta
and Karachi, will center around student assessment consisting of four phases focusing on preexam activities, examination development, e-marking and post-examination activities.
Separately, a workshop focusing on best practices in both management and administration of student assessment will be conducted for the benefit of District Education Officers from all areas of Balochistan. The capacity development programme was developed based on the findings of a needs assessment exercise conducted earlier this year by AKU-EB.
Dr Naveed Yousuf, Associate Director, Assessment, AKU-EB, who is also the director of this project, highlighted the importance of good assessment practices. "I have high hopes that the participants will be better able to contribute to the educational development of Balochistan by the end of this project," he said. "Assessment is one of the vital components in any education  system, and I am confident that this endeavour will succeed in aligning provincial assessment with the curriculum in its true spirit, such that student's abilities are measured according to their full potential."
Ms Palwasha Badar Jalalzai, Education Specialist, UNICEF, emphasized the importance of measuring student learning: "Today we are embarking upon the achievement of an important milestone in generating evidence based empirical data about student learning to inform policy and good governance in the province. It is an opportunity for us all further build on the quality education at primary and elementary levels."
Ambassador of the European Union to the Islamic Republic of Pakistan, Jean-François Cautain, also addressed the participants. "The European Union and Pakistan have a very comprehensive and holistic relationship, which particularly focuses on development in areas such as education," he said.
"I would therefore like to congratulate all of you on your hard work, and believe that this represents a very good initiative that has been undertaken by the Aga Khan University Examination Board, government of Balochistan and UNICEF. It is important because people
must be able to trust and believe in the education system — and this is only possible when they know that the assessment process is transparent, fair and adapted to their needs."
Mr Hanif Shariff, Associate Director, AKU-EB, expressed his gratitude towards the various attending institutions. "I am pleased to see the tremendous amount of hard work that has already been put into this initiative," he said. "The effort that UNICEF and multiple provincial ministries have given towards seeing this project through stands as an example of their dedication and commitment towards its success. Together, we are capable of anything."
Additional Secretary Development and Focal Person PPIU, Muhammad Jahangir Kakar and CEO, BAEC, Professor Saad Ullah Khan Tokhai, were also present at the event.