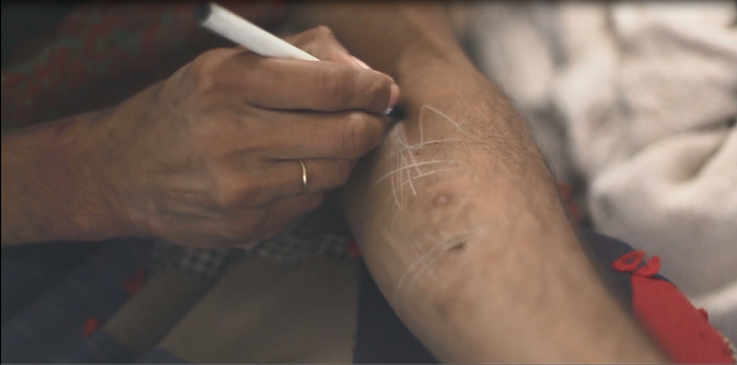 By Ali Anas
Ahsan Zia, a thin man, sits alone in a corner of one of the steel beds, hands folded across his chest, at the New Horizon Rehabilitation Center (NHCC). The ward is flooded with sunlight, and Ahsan is staring at the opposite wall of the room. The ward has 7 more beds, whose occupants are attending a motivational lecture.
Ahsan has dark circles under his eyes and multiple syringe marks that are quite visible on both his arms, but these are just the outward signs of his inner decay.
The scars on his face make it quite difficult to guess his actual age. Upon asking him of his age, he chuckles and says "What do you think?" He looks 10 years older than his actual age which is 24 and he believes that taking drugs is the best cure to all his problems.
He was admitted to the facility by his family two months ago. He has made some progress since then but he is not ready to abandon his drug abuse habits just yet. He now sees that what he is doing is wrong and has agreed to stop using Heroin (one of the most dangerous drugs) but says that he can't leave Charas because finding Charas is as easy as having fast food delivered straight to your home.
"Addicts typically start very young, usually by taking up relatively less harmful addictions. They then slowly move up the addiction ladder as they start taking more potent drugs and develop a resistance of the previous addictions", says Dr. Sana Shah  who works at the New Horizon Rehabilitation Center.
Elaborating his point further Dr. Shah explains that drugs serve as a quick fix to one's problems. People sometimes take drugs for acceptance when they don't get the same from home. The addict is forced to join a group of people who give the addict a false sense of acceptance. Such groups unfortunately are the breeding grounds of drug addictions and all sorts of vices.
Some people start using drugs just to break the monotony in their lives. Ahsan is an example of such cases. Then there are people who take drugs out of curiosity. In every case these people try to justify their habits and keep on lingering with this life threatening habit.
Another important point to note is that there has been a certain level of tolerance with regard to substance abuse in Pakistan. Chalia, Gutka, Bhang have been used widely in the country since long.
While Addiction Therapist at Aas Recovery Centre, Muhammad Ali Rauf has a very unique approach on drug addiction "A person is addicted by birth nothing makes him an addict, drugs are just a symptom but the addictive nature there is by birth." he says.
Your Brain on Drugs: How the damage is done 
When a person takes drugs, the chemicals in the drugs enter the brain and disrupt the communication process, because of which their nerve cells stop receiving information, processing information, or sending information the way they should be.
Some drugs can imitate the natural chemicals of the brain, which will trick the body into reacting in a different way. Drugs also have the ability to over stimulate the part of the brain that feels it was rewarded and makes the person want to take more of it.
When asked if the damage to the brain caused by drugs was irreversible Dr. Ali explains that there are many parts of our body that can be replaced but our mind is such a part that can never be replaced. 
Withdrawal symptoms and the damage 
Addicts usually complain that when they do not use drugs they become very ill. The drugs they once take as a recreation become their routine and they are compelled to use drugs to stay sane. Life without mind-altering drugs seems terribly abnormal to them.
In extreme cases the changes caused to the brain can be permanent. These changes psychological changes make a person who is drug dependent stay irritated and angry most of the time then there is Paranoia, schizophrenia and psychosis.
"The initial levels of drug induced psychosis can be treated but if the psychosis reaches extreme levels then there is a high chance that it becomes irreversible" says Rauf.
Pakistan scummed in drug epidemic
The situation in Pakistan with regard to drug abuse is not very optimistic. According to the Anti-Narcotics Force approximately 700 people die every day in the country due to drug-related complications a figure equating to over a quarter of a million people every year. This number is greater than deaths caused by terrorism i.e. 39 people each day.
An estimated 860,000 people are regular heroin users and 320,000 are opium users while inhalant abuse is common among street children, according to a study conducted by the United Nations Office on Drugs and crime (UNODC) in 2013. The number of people who inject drugs (PWID) is estimated to be 430,000 nationwide according to the same report.
What is distressing is that the number of drug abusers has risen over the years and the response of the government has been minimal in this. Further Pakistan's drug treatment capacities were fewer than 100 clinics operating nationwide in 2015 according to the International Narcotics Control Strategy Report .Very few public hospitals offer drug treatment services over 90 percent of Pakistan's detoxification centers are operated by NGOs.
Admittance to a rehabilitation center is considered a social taboo especially among women. Men have higher rates of drug abuse than women but prevalence estimates for women are likely to be underestimated. While men are more likely to use cannabis and opiates, the use of tranquilizers and sedatives and prescription amphetamines is higher among women says the 2010 UNODC report on female drug users in Pakistan 
Drug addiction to recovery
In spite of the lack of an infrastructure and awareness there are many inspiring stories of people who have battled drug addiction and have come out victorious.
While there are people like Ahsan, there are others like Zohaib Kamran. He is doing quite well at the rehab. Once an addict he says that social stigma forced him to change. With teary eyes he narrates how his mother used to hide her money whenever he used to come home. But all that is a part of the past now and Zohaib now wants to integrate back into the society. To hang out with friends, have a decent job and a family.
"The worst thing related to drugs is friendship.If you want to quit drugs you have to leave your friends" says Zohaib.
When asked to share more success stories with us Dr. Sana says that "Karachi is full of success stories of people who are recovering from their addiction and living a superb healthy life."
She further shares the case of a fellow therapist at her organization; who wished to remain anonymous to protect his privacy. The said therapist was an advertising professional and once a drug addict. He did not want to be treated, he ran away from a rehabilitation center several times. But said that he became fed up with his addiction. He says that there comes a low point in every addict's life where they decide to rid themselves of this curse and this point came to his life when his family mounted enormous pressure on him. Not only did he come out of his miserable condition, once he had fully recovered he went to London to study and became a therapist. He now works alongside Dr. Sana helping addicts overcome their addictions.
In the end the only way of recovery from addiction is self realization, it's all about exposing and healing the darker side of being a human. What must be understood is that recovery from drug addiction is a quite painful process, both mentally and physically.