MMA's Abdul Akbar Chitrali threatens Kalash community during press conference in Peshawar.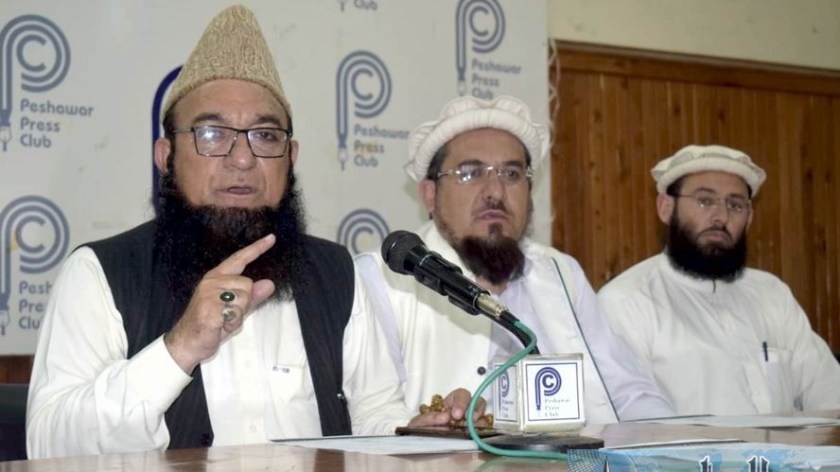 ---
PESHAWAR/CHITRAL: MMA's Abdul Akbar Chitrali has threatened the minority Kalash community with violence during press conference in Peshawar.
Flanked by MPA from Chitral, he said that the "minority lawmaker" referring to Wazirzada Kalash, is interfering in "our departments". He warned that if MPA Wazirzada Kalash did not 'stop his interference' there will be "Sunni-Kalash" clashes in the district.
During the press conference, Chitrali initially said that there is risk of "law and order situation". He then corrected himself, saying it is not just a risk, but a certainty that there will law and order issue. He explains the threat by saying that if the 'minority member does not stop interference, the Sunnis will not tolerate it".
He then goes on to say that "till now we have treated the innocent Kalash as our brother. Lest there be a tussle between the Sunnis and Kalash."
MPA Wazirzada, the first Kalasha community member to function as a legislator, is a leader of Pakistan Tehreek-a-Insaf, the party ruling Islamabad, and the KP provincial government.
---
---
Meanwhile, PTI Ulema Wing's Vice President Qari Mir Fayaz Chitrali has condemened the statement of Abdul Akbar Chitrali, terms the threats of sectarian violence an effort at 'political blackmailing'.
Qari Mir Fayaz has said that MMA's lawmakers want to appoint their people on different posts and they are using these tactics to blackmail the provncial government.
Wazirzada Kalash has said that the allegations of interference are baseless. He has demanded a transparent inquiry into the hiring process.