Farmers from Baltistan trained in 'modern agriculture technique'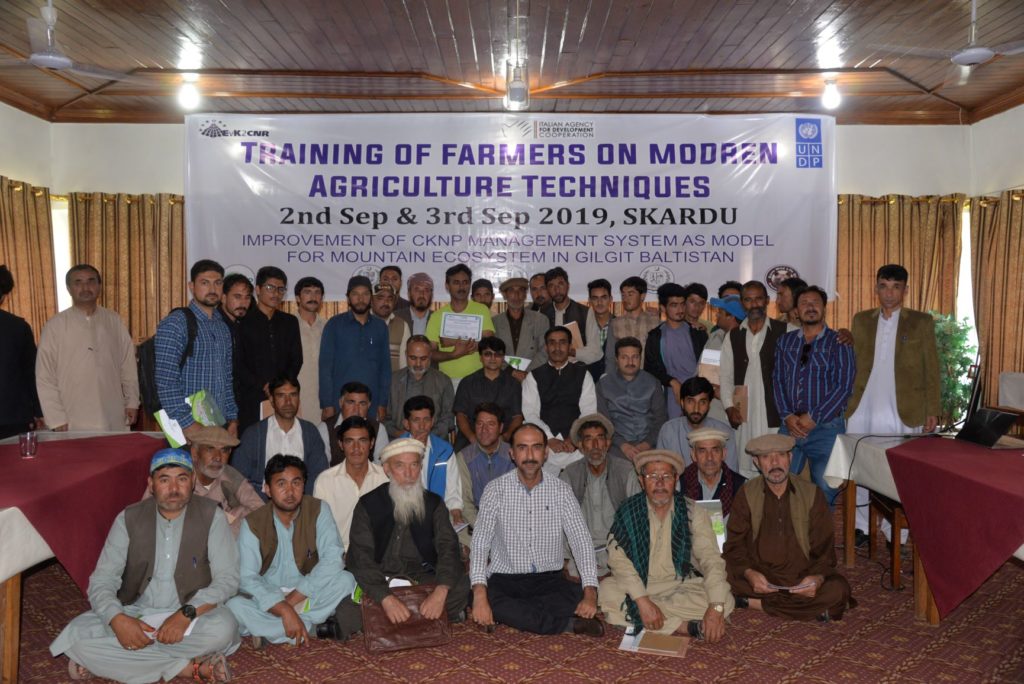 ---
GILGIT: (PR) EvK2CNR with the support from the Government Agriculture and Livestock and Fisheries Department  Baltistan organized a training for the farmers of the buffer zone communities of CKNP and DNP Baltistan region. Participants were from Shilla, Sadpara, Dappa, Burgay, Shagar Thang, Gultri, Mehdiabad, Sirmik, Thallay, Kanday, Kharko, Upper Braldo, Lower Braldo, Stak, Satpara, Rondu, Shigar, Baghicha,.  The trainers from Government Agriculture, Fisheries and livestock department developed modules based on the need assessment that EvK2CNR carried out among communities under a project "Improvement of Central Karakorum National Park Management as Model for Mountain Ecosystem in Northern Pakistan funded by UNDP Pakistan.
During the first two days, the participants were trained on modern agriculture production including crop production, orchard management, soil nutrition, nursery techniques, value addition and processing of apricot, and buckwheart production and marketing along with field and demonstration activities including solar drying of fruits, fruits processing techniques, visit to soil laboratory, visit to integrated pest management laboratory, visit to tissue culture lab and field demonstration on vegetable production. Second module covered training on Livestock and Poultry Management.
The Directorate of CKNP and DNP also supported in terms of coordination with the communities. The training of a similar nature will be held in Gilgit for the farmers of the bufferzone communities of CKNP and DNP after Ashura, Muharram with the support of Government Agriculture and Livestock dept.