USAID funded project aimed at skills development of 100 special needs people launched in Hunza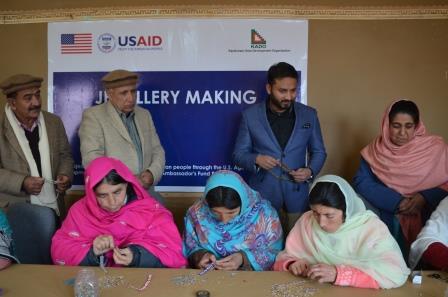 Hunza: The opening ceremony of the project 'Rehabilitation and Empowerment of Disabled People through Capacity Building and Entrepreneurship' supported by USAID-Small Grants and Ambassador's Fund Program took place in a local hotel in Karimabad Hunza on 31st December 2016 marking the commencement of 9 month skill development training of 100 disabled people.
The event was attended by 70 individuals including notables of the town, KADO management, local stake holders, journalists, District administration and the members of civil society.  The ceremony was chaired by the Deputy Commissioner Hunza Mr. Sami Ullah Farooqi.
Chief Guest Mr. Sami Ullah Farooqi while speaking at the event lauded the efforts of KADO and he expressed his hope that the PWDs in this Batch would develop a bread earning skills with the knowledge obtained from this training.
In his speech at the ceremony Mr. Kamal Uddin CEO KADO applauded the serious learning attitude and dedication of the PWDs while Project Manager Mr. Ejaz Ali made a presentation about the project.
In the latter part of the event the KADO Director, Mr. Ghulam Mustafa thanked American people and USAID-Small Grants and Ambassador's Fund Program for their unwavering support.
Preceding to this event was the ribbon cutting ceremony of the rehabilitation centers in Karimabad and Hyderabad Hunza where CEO KADO Mr. Kamal Uddin, Project Manager Ejaz Ali, Deputy Commissioner Hunza and Mr. Jan Alam president Muslim League District Hunza participated in the event.
At the end of the program lunch was served among the participants of the event.