Govt run schools' enrolement up by 11% within a month: Claims GB Chief Secretary's office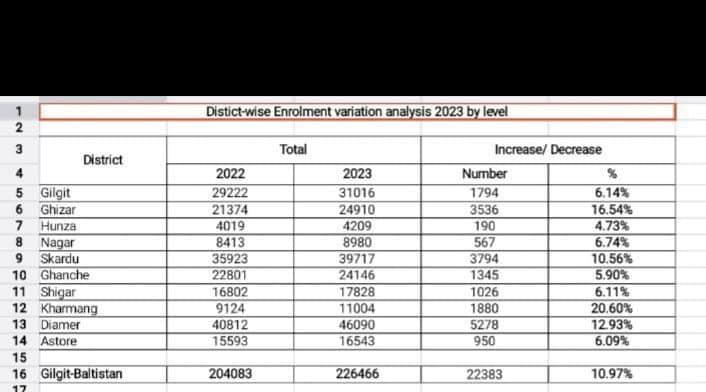 ---
GILGIT: The office of Chief Secretary in Gilgit-Baltistan has claimed that as a result of a recent campaign, enrolment in govt-run schools has risen by 11%.
"Efforts of the government of Gilgit Baltistan on making government schools as schools of choice for a larger strata of society comes true after one year's regorious work of the government", according to a statemnt posted on social media.
The enrolement has risen because of a "huge flow of out of school students and students from private schools to government schools".
"A total 11% increase in the enrollment has been recorded in one month and it is expected that this number will reach to approximately 25% or above as the admissions in class 6th & 9th will be geared up after announcement of results by the Board of Elementary Examinations and results of many private schools have also not been announced."
According to the above table, the highest increase in enrolement was observed in Kharmang (20%) while the lowest was in Hunza (4%).