Of writers who are woodcutters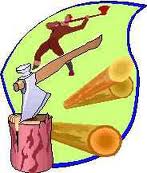 This is the story of how I stopped forcing myself to become a great writer. Perhaps it will also help you if you are trying too hard to be the next Picasso.
Jostein Gaarder, one of my favorite contemporary writers, says that good writers write only when they have to. At other times they may just chop up some wood. The point is, it is better to chop wood than to write when you have nothing to say. Of inspiration and technique, the former is simply indispensable for doing anything creative. For the latter, average writers can practice. Good writers don't have to, for they possess something better – style.
When we are young, how many times do we feel the urge to create a great piece of art, to compose a symphony that leaves everyone in tears of joy, to paint a masterpiece or to write the world's most original poem? Like some people who are in love with the idea of love, there are others who wish to become creators because the idea thrills them. But creativity is never about glamour, literature is not about a bohemian lifestyle and great works never result out of vain ambition.
This sermonizing about when not to write may create the impression that I am one of the wood chopping writers. No, I very much suffer from the obsession of becoming the only other Emily Bronte. Or at least, I did until recently. Some experiences thankfully revealed to me what I should always have realized; I do not have to pen another Wuthering Heights to enjoy writing. I stopped trying to create the next masterpiece of literature. Now I write when I have to, when I am brimming over with an emotion or an idea that compels me to summon words as conveyers of the experience. Sometimes it is to myself that I am conveying things, as cathartic intrapersonal communication. Sometimes I write for enjoyment, at others as an offering to people or ideas that matter to me.
Just because great names that inspire us and appeal to our imagination were master creators does not mean that we must be the next big thing. Most of us are meant not to create but simply to express. Genius is by definition rare. Talent is not. Yet sometimes I wonder if art school or creative writing classes can ever teach anyone how to paint or write. Everyone who has anything to say has a particular muse and a medium. Some write obsessively for days on end, others take years to finish a single work.
The question to ask is, why must you write? If the answer is because you just can't keep it in, then you will write. If it is because it would make you part of an intellectual elite, then you'd better quit writing and appear in the CSS exam (success in which will make you elite, sans the adjective). Creativity is not about making impressions. It is about doing what you must to exorcise demons or sing with joy, and leaving the business of making a mark to your finished product. If it is good, it will shout out to people who can appreciate it. If not, the world has seen worse. Even the Twilight series got published.
Now, if you will excuse me, there is a pile of wood here waiting to be chopped. Cheers!