Cabinet approves fee imposition plan for Gilgit-Baltistan hospitals



Our Correspondent
Islmabad, March 26: Cabinet of the Gilgit-Baltistan government has approved a fee structure to be implemented in the government run hospitals of the region. The decision was taken today at the meeting of the regional cabinet.
According to details shared Dr. Ali Madad Sher, Information Minister, the fee will help in improvement of health services and retention of doctors, by enabling the government to offer better salaries. Dr. Sher said that the new charges will be implemented from Wednesday (today).
The new fees are: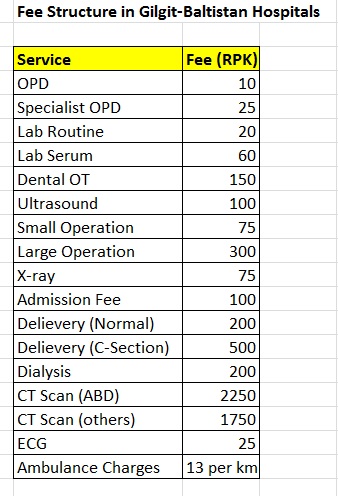 It has also been decided that the money collected from these services will be deposited in the national bank and a committee under the the leaders of Medical Superintendent will manage the processes.
The decision is highly unpopular among the masses because the government is being accused of fraudulent practices, corruption, nepotism and extravagance.
A similar announcement earlier this year had triggered a storm of condemnation across the region. People had asked the government to cut down the expenditures, bring an end ot corruption, create transparency and save money for utilization on essential services, instead of overburdening the already deprived segments of the population who visit public hospitals.