[Special Report] BADA celebrated "Meri Pehchan Pakistan 2013" in Karachi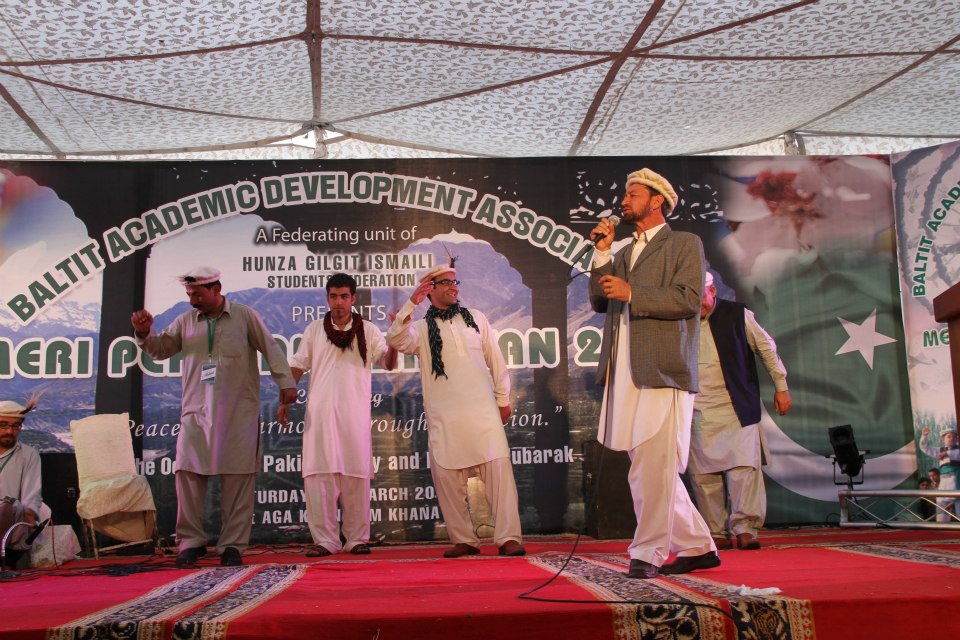 Karachi: Baltit Academic Development Association (BADA) organized a hugely successfulevent titled "Meri Pehchan Pakistan-2013" (Pakistan, My Identity 2013), with a focus on culture and traditional music of Gilgit Baltistan region in context of Pakistan Day and Navroz Mubarak on 23rd March 2013 at Aga Khan Gymkhana Karachi. The event was attended by around 1500 people from all walks of life. A similar programme had been organized by BADA in 2012 also.
The event was organized for people of Gilgit Baltistan with an objective to celebrate Pakistan day and Navroz Mubarak through promoting cultural music. This event also helped the association to generate resources for various social welfare projects.
General Secretary of the association Mr. Saleem Mansoor formally welcomed Chief Guest Mr. Hakim Ali Khan-Director Facilities Management AKU and Guest of honor Mr. Shamez Mukhi-Chairman AKYSB Pakistan. President of BADA in his audiovisual presentation shed light on the present and upcoming activities of BADA and the focal point of his presentation was proposed BADA development center. The President reiterated that the proposed development center will serve as a Coaching Center, Language Center and Test Preparatory center for students. Development Center will be unique in the sense that professional volunteers will be offering services in teaching thus students will benefit from these services at low costs.
Audience were thrilled by mesmerizing performances of famous Shina, Burushaki, and Wakhi singers of GB, renowned announcer Mr. Miraman Hunzai conducted whole program, people were elated to witness prominent performances by Abdul Ghafoor Chilasi, Ghulam Nabi Humraz, Jabir Khan Jabir, Naveed Tanha, Kashif Sakhi, Shouq Band, Salahuddin, Arif, Salimabad orchestra and many more. This was a unique opportunity for the people of GB to see spectacular performances of their favorite singers far across the distances from home.
Recreational events, musical programs, seminars, workshops, and many more such activities have been an integral part of its culture in all developed and developing societies across the globe today. But unfortunately in Pakistan today organizing such recreational events have been daunting & daring tasks being merely a dream for the audience. However under such an adverse & chaotic law and order situation within the country in general and Karachi city in particular organizing such an esteemed, remarkable and historic event was not less than establishing a milestone for BADA. The program organizer Shuja Alam and Program Coordinator Rehmat Amin played a major role in the smooth organization of the event.
An Overwhelming Participation of above (1500) audience in the event and their positive feedback and appreciation thereafter via (sms, email, face book updates, telephone calls) better reflects the unprecedented Success of the event, in addition enthusiasm, involvement and liveliness in the audience during the show was a considerable and seeable moment. Participation of honorable guests and their sincere encouragement has immensely strengthened the team of BADA (young minds) towards its commitment, determination and vision for its future endeavors aimed at contributing towards sustainable development of the region in general and GB in particular.