25,000 saplings to be planted in Lawari area of Chitral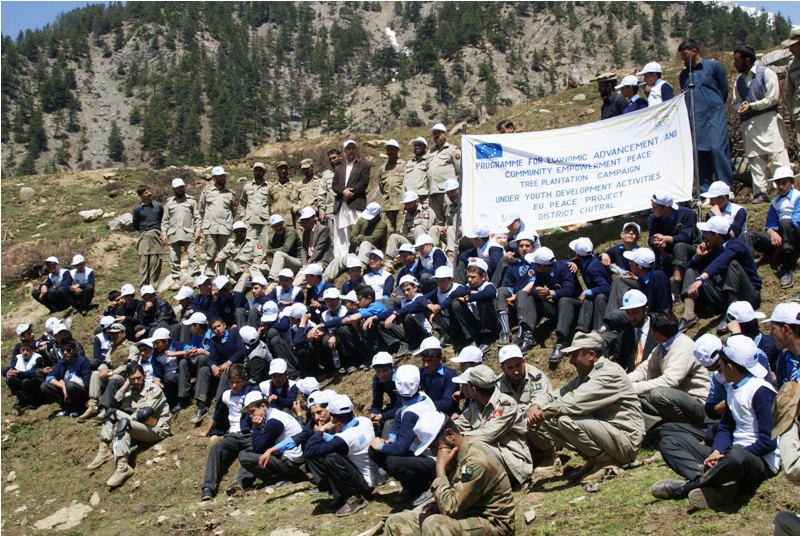 Gul Hammad Farooqi
Chitral, April 11: A major tree  plantation drive strted today at Lawari top area of southern Chitral. Around 25000 sapling would be planted at Ziarat and Lawari top area. Tree plantation drive has been started by Sarhad Rural support program (SRSP), a project of program for economic advancement and community empowerment (PEACE).
The tree plantation campaign was launched under Youth development activities of European Union Peace project. Commandant Chitral Scouts Col. Nasir Khan Jadoon was chief guest on the occasion while students of different schools from Drosh and Chitral town also participated in these biennial activities.
Talking to this scribe Col Jadoon said that the students have been invovled in the plantation drive to motivate and inform them about importance of plantation and harm of deforestation. He said that the Lawari top area had rich forest in the past but unfortunately the density of forests is decreasing day by day. "we want to restore forestation in this area and once again covert it into a green paradise", he said.
He added that some 12000 saplings were planted on the first day of the drive while the remaining would be planted next day to achieve our target of 25000 sapling plantation.
Tariq Ahmad district Program Manager of SRSP said that they have donated some 25000 plants to Chitral Scouts for the tree plantation campaign.
A student of class 9th said that he along with his school mates was participating in the campaign on volunteer basis so as to convey a message to masses as well as to other students of the country to plant trees every year. Another student said that the issues of erosion of earth, natural calamity , flood are caused by deforestation. "If every citizen of Pakistan participate in this campaign and plants a tree we will be very safe from these calamities", he said.