Day long workshop held for media under the aegis of Focus Humanitarian Assistance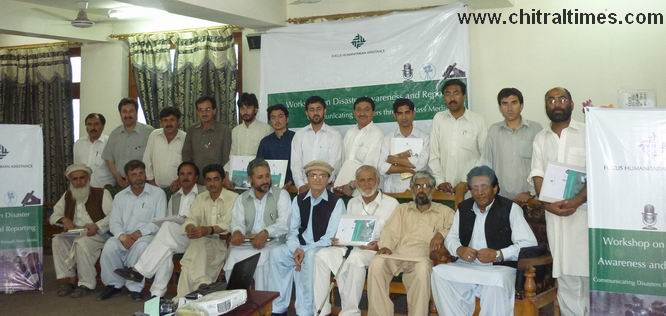 Zahiruddin
CHITRAL: The media has a commanding role in disaster risk management whose prompt and timely efforts are inescapable and crucial during, before as well as after the natural disasters and in the areas like Chitral the responsibility of media increases many times which is vulnerable to natural hazards due to its topography.


In the one-day training workshop for the local media persons held in Chitral Press Club under the aegis of Focus Humanitarian Assistance, an organ of Aga Khan Development Network, here on Sunday, the need of strengthening the local media persons in the field of risk management was over stressed.
The speakers said that the media's convergence with disaster risk management derives from the need to inform, educate and empower communities with relevant knowledge for influencing public action and policy towards disaster preparedness and mitigation.
"Through the disaster risk communication, multiple stake holders identify and analyze and further identify and propose solutions to reduce those risks", they said adding that it is through the communication that the stake holders share their concerns and options and come at a commonly agreed solution.
In the pre-disaster phase, they said that the primary role of the media is to emphasize the importance of disaster risk reduction and awareness which guides the decision makers and vulnerable communities to undertake appropriate actions to avoid further disasters.
It has been proven that in many cases that where information was adequately transmitted to the vulnerable communities through the media, they were able to take timely actions to avert considerable damages to the life and livelihood, they said.
Enumerating the main components of the desired agenda of the media before the disasters, they described them as analysis of risk sources and patterns, public information, early warning, preparedness information, encourage people's participation.
Regarding the responsibilities of the media during the disaster, it was said that the focus must be to save as many lives as possible and avoid the risk from any secondary hazards and in such situation, the media should rush to inform the public with timely and factual information and advice the public about the actions to be taken.
They added that during the disaster, the media must relay messages concerning the welfare of isolated or trapped groups, facilitate communications among affected people and their relatives, families
About the role of media after a disaster, it was said that the media can appeal for assistance from all parties, communicate about rehabilitation and reconstruction plans, encourage survivor participation in recovery and influence for integrating risk reduction and prevention.
Those who spoke on the occasion included regional program manager of Focus Humanitarian Assistance, Amir Muhammad Khan, Program officer Wali Muhammad, communication officer Noor Muhammad and local expert Islamuddin.
Originally posted at www.chitraltimes.com