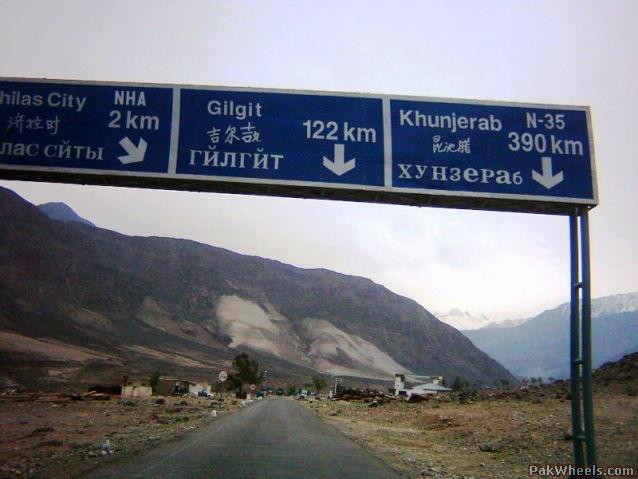 Aisha J. Khan 
As the whole world is taken aback by the horrific killing of the 11 tourists and their guides along the Bunar nala in Diamer Gilgit Baltistan region of Pakistan. We the people of Chilas (the nearest village known as the headquarter of Diamer district) condemn it as humanly as possible and our hearts go out the families of victims. If this is all not enough to shake the conscious of common Pakistani than what can?
Pakistan is undeniably in the whirlpool of chaos and violence now the very victims happen to be our foreign guests, the adventurous, fun-loving mountaineers who are a joy to have. My hometown the much-loved Chilas, spread out in a tiny valley across rugged mountains along the Karakorum highway of Pakistan en route to Gilgit is the place which is bearing all the heat, the circumstances there is as baffling for us as it is for anybody else.
When I came across a disturbing article in dawn online newspaper blog called" why I hate Chilas", in another situation I would completely disregard it, but since it is a spiteful attack on my village, region and people it's my moral duty to enlighten the folks who just make assumptions on mere heresy. I would think its natural to spend time in Chilas, get to know people, the area, environment then write, but the self-proclaimed journalist and environmentalist who proudly rants a whole list of biased accusations against Chilas, its people, does not even spare the children, and continues on a 3 page, half true ill-informed piece, based on frantic visits while passing through the area.
I am shocked at the approach of the 'civilized and educated' person who writes such a juvenile, maliciously intended article – which not only promotes hate but also serves as an attempt at polarizing the very sensitive region of Gilgit Baltistan. The piece of writing does not only give a distorted impression of a region and people, but although the tourist killing is not a sectarian issue but she has also tried to instigate sectarian disharmony by highlighting the Shia Sunni tensed past, which is particularly troubling and raises serious questions about her objective.
Diamer has a tribal culture, they live by their strict customs and traditions but that should not alienate them from rest of country, indeed we find similar cultural norms elsewhere in Pakistan such as Balochistan, KPK and parts of Sindh. Having an approximate population of 200, 000, the district has a challenging terrain with pockets of population living inside mountainous landscape called Nalas. Rampant very poor and backward area, which is prevalent everywhere. It is of the essence to mention that the two high-profile figures of Diamer have been awarded the Sitara-e- Imtiaz (highest Medal of Honor by Pakistan) by then foreign Minister Rehman Malik for their peace efforts in the region namely Inayatullah Shumali and Qazi Inayatullah.(The only two to receive it from GB).
The grand peace jirga of Diamer consisting of the elders of community, the political, religious and civil society all have stood together assisting government in finding killers of the recent incidents including the Nanga Parbat incident and killings of passengers on KKH. The tragic incident of tourist killing has been an eye opener to the people of Chilas. We do not overlook the possibility that a few people might have acted as facilitator for which whole community cannot be condemned. There are always criminal elements in every society. Today there is a growing perception among the public is that there seem to be efforts to drag G-B in the wider war on terror. For that purpose local people are being used in a series of heart breaking events over the past 3 years.
Who resisted Taliban infiltration into GB?
Diamer is neighbor to Kohistan, which is part of Khyber – Pakhtunkhwa. In the past when Taliban insurgency was in full swing in Swat valley, who stopped militants infiltration into GB? Was it police, GB Scouts or any other force? It was the people of Chilas and Diamer who stood rock solid and blocked Taliban access to GB. If they had a slightest of cooperation, the situation of GB would be different today. We should therefore owe this to Diamer. Bad things should be condemned irrespective of where they are and who does those. The GB should also not forget the feat of Diamer people when they protected, nourished and safely transported 300 men, women and children stuck in Buner das last year after mob killed 10 passengers. The violence erupted when a rally in Gilgit was attacked by hand grenade, leaving 5 dead and 60 people injured critically. Except for the two major incidents, Lets us have an honest look whether in 65 year of history of Diamer has ever been foreigners been attacked. The answer is no.
My country has endured the challenges of prolonged dictatorships-martial laws, The 71 partition from Bangladesh, the afghan war, the shaky and fragile episodes of democracy and then the very fruits of war on terror that has victimized Pakistanis more than ever. We don't need more suffering or more defamation in international community by acts of terror.
As the peace-loving and the exceptionally loyal people of  GB, we shall not allow any tragic incident as a pretext to legitimize extremism in Gilgit Baltistan neither shall  GB be pulled in any fanatic agendas which we do not advocate nor promote in any way. The region must be uplifted and brought into national or regional realm to diminish the radical ideas flourishing there. Let's not be quick to judge an entire population on the basis of a few tragic incidents and let the harmonizing ideas and endeavors prevail.
And when in Chilas, the nights are especially beautiful, the stars brighter, the sky more lucid and the peace that surrounds it more cherished.
The contributor is a "Human rights and peace activist" belonging to Diamer district of Gilgit-Baltistan. She can be reached at ayesha_gpp@hotmail.com.