I do not favor the PM loan scheme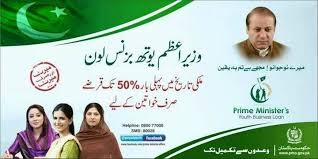 Naseema Parveen 
If any country wants its youth to progress; there must be adequate provision of publicly provided goods.  They must be given opportunity, money is mere a medium of transaction.
Due to inefficiency of the concern authorities, Pakistan is facing severe crisis in energy sector moreover various power projects are pending for decades. As a consequence, in summers the country face 12 to 16 hours of power outrage in areas where the average energy consumption is at a minimum level.
Well in case of Pakistan politics and economics are two separate fields, politicians do whatever they want to do, irrespective of whether its policy implementation is appropriate or not. However for the economic prosperity of country you have to consider all aspects and a combine effort is required. Unfortunately in Pakistan there is a huge gap between politics and economics.
Prime Minister aims to provide loan to the youth so that they will earn through entrepreneurship and they can launch small scale industries. To be realistic, may I ask Mr. Prime Minister that if I don't get enough power security to operate my laptop how I can run a small scale industry? It has been observed across the country that many of the industries including both small and large have been shut down due to power outrage, and the resulting unemployment has increased the existing rate.
The sustainability aspect of the project is another issue. I am doubtful whether it is going to be sustained provided the current economic situation of Pakistan, or we need to expect the same result as that of the PM laptop Scheme, which were sold back to the market probably due to the power outrage or may be youth did not take interest. What so ever was the reason this project was not worth appreciated because prime minister wanted technological advancement without power security.
Even a lay man can understand that giving out money without adequate environment is not worth appreciated decision. Given the current situation, I am not going to apply for the loan, because for the proper utilization of the loan we need some pre-requisites which our country lack and I would suggest Mr. Prime Minister to think over the decision again.
In a nutshell, this project needs a proper review by policy makers and politicians together. The decision must be finalized after reviewing its sustainability and consequences in the long run. Additionally there is much more to talk about the current situation, better next time, else you would get tired!
The writer is a student of Economics.