KIU students, among others, to get French scholarships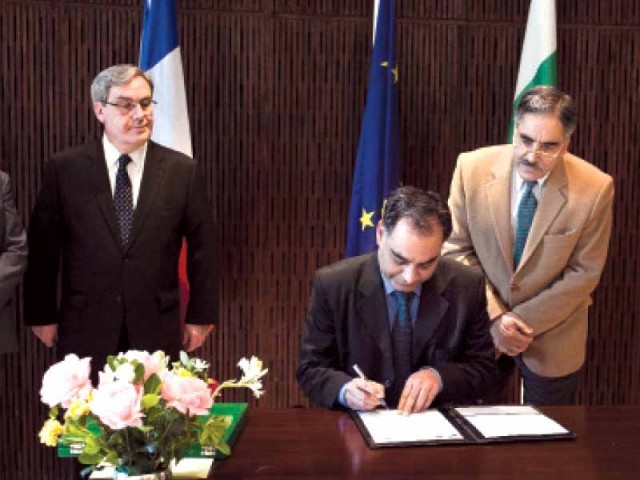 Monitoring Desk 
Islamabad (Myra Iqbal): While almost all Pakistani universities have failed to make it to the top on global listings, attending a good university abroad is a dream for most Pakistani students due to financial constraints.
Two days after another European country announced scholarship for Pakistani students, the French embassy too followed suit by announcing its second round of scholarships to the tune of Rs40 million for needy and deserving students from 10 Pakistani universities.
The scholarships would be awarded to around 200 graduate and undergraduate students in collaboration with the Higher Education Commission (HEC).
"Our scholarship programme hopes to engender cooperation not just with the students but also with their families and immediate communities," said French Ambassador Philippe Thiebaud, while speaking at a MoU-signing ceremony here on Friday.
The envoy feels the scholarships will empower both men and women and will encourage gender balance, and bring both the countries closer.
"Those in Pakistani tribal and borders areas need to be educated. Otherwise, they cannot be blamed for choosing a wrong path," said HEC acting Chairperson Syed Imtiaz H Gilani, who feels that western countries should continue to invest in education within Pakistan for future security and stability.
"I say bombard us with books, with scholarships and schools," Gilani maintained while adding that such investments had the potential to bring more people to classrooms and that it is the right time to push the agenda forward and save the nation from becoming toothless against extremism and obscurantism.
Within the rugged and antagonistic terrain of Turbat in Balochistan, 20-year-old Ahmed Munir once dreamt of being an ethnographer, dusting off the vestiges of his rich cultural heritage to preserve it. His dream has indeed come true as he is studying the one at the Quaid-i-Azam University in Islamabad under the need-based scholarship programme.
Thirty-year-old Madiha Ejaz is pursuing an MBA at the Institute of Business Management in Karachi and resonates with gratitude at receiving one of the 200 scholarships offered last year.
Her mentor and senior manager of the institute, MW Jahangir, describing the revolutionary change that such assistance can bring said "It does something for their character.
"Madiha will now have more job opportunities, greater options in choosing the right partner and will be able to nurture her children better."
Assistant registrar for admissions at the Shaheed Benazir Bhutto Women's University Peshawar Hina Tariq has a similar testimony. With over 5000 female students hailing mostly from underprivileged and insular backgrounds, the possibilities created through scholarships are invariably a positive force of change within them.
"We have students who attend college in the day time and work as domestic helpers in the evenings," she shared, in a bid to explain the level of their commitment to education. "At Swabi campus, we have students who are widowed with children and embracing education at a much later stage. This is a heartening change, one that is made possible through greater funding and investment."
The scholarship would be given in the fields of social and basic sciences, architecture, information technology, telecom and business administration  for the students studying in universities including the Quaid-e-Azam University Islamabad, the COMSATS Institute of Technology Islamabad, the Lahore College for Women University Lahore, the Forman Christian College Lahore, the Institute of Business Administration Karachi, the University of Peshawar, the Institute of Business and Management Karachi, the University of Haripur, the Shaheed Benazir Bhutto Women's University Peshawar and the Karakoram International University Gilgit-Baltistan.
Published in The Express Tribune, December 21st, 2013.