GISAK organized an interactive session for students and professionals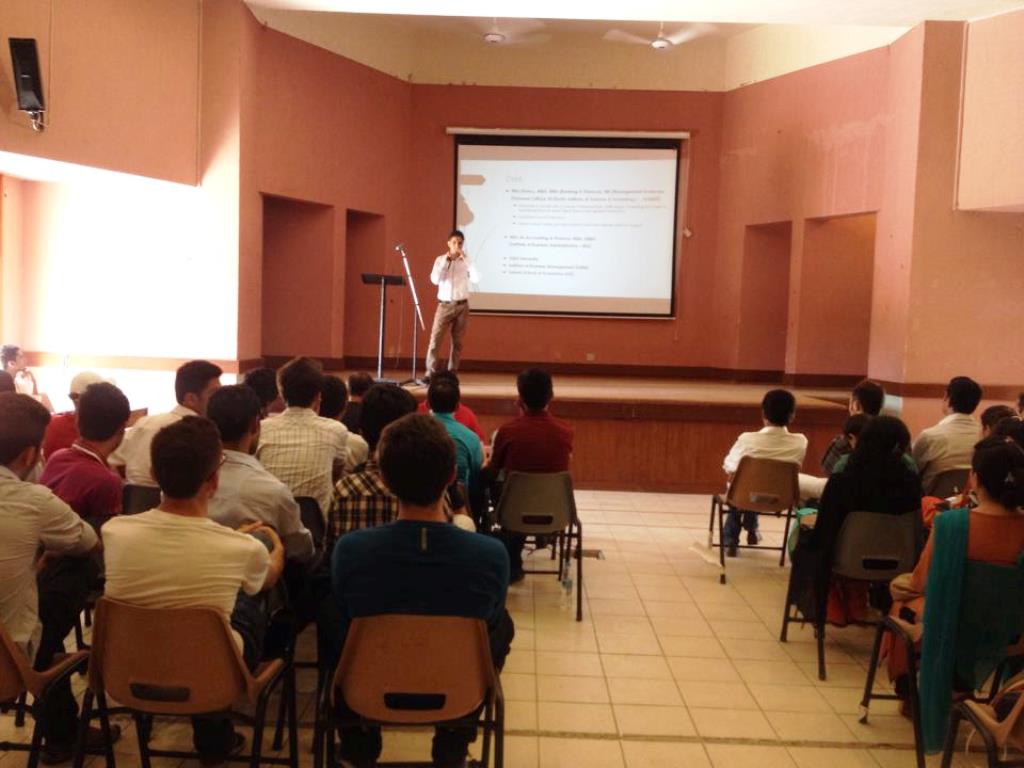 Karachi: (PR) Gojal Ismailia Students Association Karachi (GISAK) organized an event named "GISAK Youth Experiencia'14" last week at at AKHSS, Karimabad Auditorium.
The event aimed to provide a platform for the youth of Gojal to meet students and professionals from Gojal who have succeeded in there career paths and have successfully achieved scholarships or other mediums of resources to go abroad or study within Pakistan among some of the best institutions. It was a program where these young students and professionals shared their experiences with the Youth of Gojal. The idea was to explore the areas of opportunities and mediums available to get to a certain level of achievement. Moreover, we want the Youth to know what it takes to be a high achiever.
The speakers included successful students and professionals who have excellent academic track record and have secured scholarship for their studies. More importantly they have been in areas of studies which are vital to be looked for as we always look for conventional fields of study like medical or engineering; the idea was to give youth a different perspective and let them explore other field of study including Agriculture Studies, Business Studies, Law and Liberal Arts, which are usually not so common fields of study among our youth.
The speakers included Safdar Ali Shah – AKESP Scholarship Holder for Masters in Agriculture Studies from, University of Karachi and currently working with Ali Akbar Group, Aisar Ali Harri – Distinction Holder AKU-EB from AKHSS Gilgit, Business Graduate from SZABIST and received SZABIST Need based Scholarship & Ali Bhai Trust Scholarship, currently doing MBA from Karachi School for Business & Leadership (KSBL) on a Full Scholarship, Habiba Ahmed – LLB from SM Law College, a distinguished and best law college in Pakistan, currently working with a Karachi based Law Firm, Mehreen Inayat – Scholarship Holder for Bachelors in Liberal Arts with majors in Politics,
Philosophy & Economics from Asian University for Women, Bangladesh, and Reshma Ali – Doing PhD in Education from University of Queensland, Australia, previously she has been affiliated with Aga Khan Higher Secondary School at both academic and administrative levels.
The speakers shared their life's stories, details of their respective fields of study, including application process and documentation, details of scholarships and funding, criteria, experiences. They also talked about the important steps needed for being in a programme a clear understanding of why someone should pursue a particular field of study.  Moreover they also shared details of their professions and the resulting challenges and opportunities.
It was the first event organized by the newly elected cabinet of GISAK and a successful opener to the series of events and initiatives the new cabinet  has on its mission statement as reiterated by Jameel Rumi, Chairman GISAK in his welcome speech. The future programmes are celebrating GISAK Golden Jubilee, launchign of GISAK Magazine Initiative, creation of Student Endowment Fund, establishing an Advisory Board, among others. Naveed Ullah Baig, VC GISAK, thanked the villages organizations for their support in his concluding speech.
GISAK was founded in 1965 as a body of students and professionals from Gojal who were at that point of time residing or working in Karachi. It is a registered institution with Regional Council for Pakistan. For the last 5 decades, despite ups and downs GISAK has always strived to be a platform for solving the educational issues and problems of Youth of Gojal. It has also been a key link between the Jamati institution and the Youth of Gojal.