Fulbright scholar, Dr. Haji Karim Khan, returns to his roots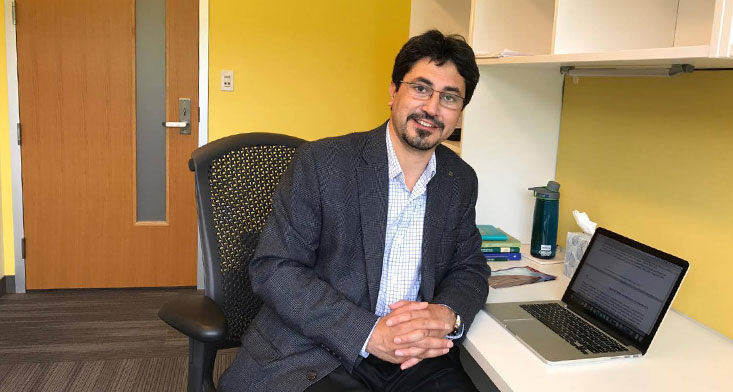 From a remote village in Gilgit-Baltistan to Oxford University in England and the University of Massachusetts, Amherst, (UMass Amherst) in the United States; Dr Haji Karim Khan has travelled the world to become a better teacher.
Dr Khan, a Fulbright scholar, recently completed his postdoctoral programme at UMass Amherst and has returned to Skardu, Gilgit Baltistan, to teach at a public sector university.
"I am glad to be associated with a public sector universities in my country, Dr Khan, a PhD alumnus from AKU's Institute of Education (IED), says. "I know that most of the students in public sector universities come from low-income backgrounds like I did. I believe that I owe it to the people of this marginalised region to do what I can to help them reach their potential as I've been fortunate to have many opportunities."
Dr Khan's research at UMass Amherst saw him explore best practices in teacher education and he's keen to share the valuable lessons he's learnt abroad to help young researchers in education.
"One of the main changes that I want to bring about is collaboration between educational institutions within Pakistan. In the United States I observed how different universities would work together on research. Pakistan has many internationally recognised universities, but they rarely collaborate on research."
Dr Khan's passion for education can be traced back to his childhood in the Yasin valley in the Hindu Kush mountains in Gilgit-Baltistan. Born in a small hamlet called Maruk, Dr Khan's interest in education was sparked by his father.
"My grandfather was one of the few educated people in the village," he explains. "People would come from great distances to learn from him and his work inspired others. Unfortunately, he died when my father was very young, because of which my father was unable to complete his education. My father was thus determined to ensure that his children got the education he missed out on."
Dr Khan would go on to work as a teacher with the Aga Khan Education Service, Pakistan before coming to the IED for his masters in 2000.
"AKU-IED enables you to 'learn how to learn'," he recalls. "The institution provides students a space for intellectual development by engaging students in inquiry-based learning opportunities. They emphasise critical thinking and this allows you to put theories into practice and to learn from that​ experience."
Beyond academics, Dr Khan says it was the pluralistic, diverse atmosphere that he loved most about his time at IED. This led to him returning to IED to pursue his PhD, during which he received the 
Charles Wallace Pakistan Trust ​Visiting Fellowship
​ at Oxford University. He then went on as a Fulbright scholar to the US.
"Given the vast and diverse learning expertise here in the US, and elsewhere, I am optimistic that I will play a key role in the educational development of this remote, mountainous, and marginalised region of my country. I believe that institutions are not built by bricks and walls; rather they are built by human beings!," Dr Khan concluded.
Dr Khan is an assistant professor in educational development at the University of Baltistan in Skardu, formerly known as the Karakoram International University Gilgit-Baltistan. He has been teaching at the institution since 2012.