Workers welcome Rehmat Ghazi, the District Convener of PTI Chitral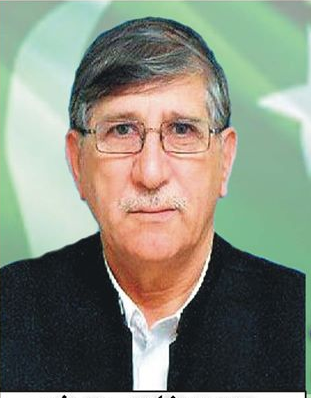 By Gul Hamaad Farooqi
Chitral, April 1: Workers of Pakistan Tahriki Insaf (PTI) welcomed and expressed trust on Secretary retired Rahmat Ghazi, the new district convener of PTI. During PTI worker convention cum public meeting in a local hotel under the chair of Jinnah Lal a senior worker of PTI they welcomed and appreciated this decision by chairman PTI Imran Khan.
Addressing to the workers convention the speakers expressed their fully trust upon Rahmat Ghazi as convener of Chitral who was nominated by party chief. They expressed no confidence on district office bearers who not attended this  important meeting. The speakers said that they will follow principles of their party chief Imran Khan and will never allow anyone to involve in any corruption.
They lamented district leadership for not informing party workers on the arrival of provincial Minister Mahmood Khan to Chitral. They also alleged them for supporting timber mafia and determined to stop cutting of timber at Chitral.
They detailed a committee comprising over elites and senior worker to compromise among the party workers who disagreed and to unite them for upcoming local bodies election. They said that although Abdul Latif not attended this meeting but being a founder worker we will try to persuade him to join us. They also announce ally with All Pakistan Muslim League for local body election.
The speakers lamented timber mafia causing for defaming of the party and demanded to stop their way to save forest. They said that forest was cut in triple number as comparative to approved marked number of trunks. As well as the speakers expressed their grievances on recruitment of Chitral levies and they alleged of getting bribe from constables.
The workers determined to clean sweep in upcoming local bodies' election with hardworking and fully door to door campaign . Those who spoke on the occasion  were Rahmat Ghazi, Razitu Billah,  Abdul Majeed Qureshi,  Iltaf Gohar Advocate, Nabaig Kalash Advocate, Wazir Zada Kalash, Nazir Ahmad president ISF, Raziuddin, Sajjad Ahmad , Sajjad Ali Shah, Muhammad Islam and Jinnah Lal.
During the party convention the speakers also expressed their grievances on not nominating of Wazir Zada as minority member by PTI leadership. A large number of party workers including veteran politician and senior members of party attended the public meeting cum workers convention.