KP Chief Minister inaugurates 69MW Lawi Hydro Power project in Drosh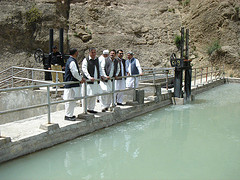 Gul Hammad Farooqi
CHITRAL: KP Chief Minister, Ameer Haider Khan Hoti, inaugurated the 69MW Lawi hydro power project in the Drosh Valley of Chitral, Malakand Division. Addressing the inauguration ceremony the Chief Minister said that Chitral has immense hydro power potential which needs to be utilized for the welfare of Chitrali people and the adjacent areas. He also said that 8 more hydro power projects will be initiated in the region to overcome the energy crisis.
He said that 240 million have allocated for completion of Abdul Wali Khan by pass road which will be completed at the end of this year. He also announced up-gradation of high school Arandu to Higher Secondary. He also announced upgrading two primary schools for girls to the middle level at Shahnigar and Kalkatak.
Realization of the 9 power projects would result in addition of up to 1200MW of power to the national grid.