Floods linked to retreating glaciers threaten Pakistan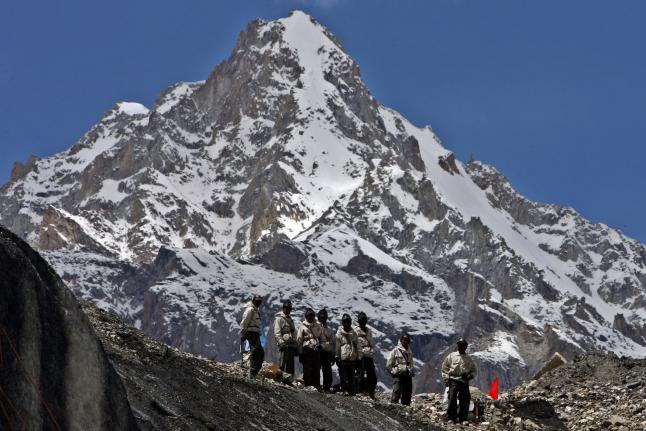 ISLAMABAD:  (News Lens Pakistan) — Retired Pakistani soldier Karim Khan's family was among 60 forced to leave their northern Pakistani village of Sundi in 2010 when a nearby glacial lake burst and raging waters swept away in minutes what he had accumulated during four decades in Gilgit-Baltistan, at the China border.
"It was the worst time for me and my family," Khan, 65, said. "It changes the meaning of life for us."
Khan was a victim of a "glacial lake outburst flood," caused when lakes left by retreating glaciers burst through their walls, which happens when pressure from river flow into the lakes builds up too much.
Pakistan's Northern Areas are reported to have more than 5,000 glaciers, many of which have developed glacial lakes.
The flood that destroyed Khan's village has environmental scientists concerned. More than 50 glacial lakes in the Himalayas pose a similar threat. Glacial movement has accelerated because of climate change, and Pakistan, sandwiched between highly industrialized China and India, is particularly vulnerable to global warming, Qamar Zaman Chaudhry, lead author of country's Climate Change Policy told News Lens Pakistan.
"We are lagging behind in terms of response to climate change," the scientist said, adding, "more research is needed as there is confusion among the stakeholders, and we do not have any specific study over melting glaciers."
Two years after the outburst in Khan's village, Pakistan launched a project to help vulnerable communities in northern Pakistan to respond to the threats from these floods. The four-year project began in 2011 and will end in December. It aims to help both government agencies and the communities understand the dangers presented by these flash floods and how to prepare in the event of a disaster.
"It will be a nightmare if all the glacier lakes burst," Khalil Ahmed, the national project manager told News Lens Pakistan.
"Around 27,000 people from 39 villages are direct beneficiaries of the project," Ahmed said.
Pakistan's war on Islamist militancy and its chronic energy shortages have forced the government to divert funds from other sectors, including climate change.
The government allocated $581,000 to deal with climate change through its Public Sector Development Program for 2013-14, down 56.4 percent from the $1.3 million allocated in 2012-13.
Still, some scientists are continuing to study changes in the pattern and speed of snow melting in Pakistan's extreme north along the Chinese border, according to Ghulam Rasul, the Pakistan Meteorological Department's chief meteorologist.
Rasul is heading a project under which 15 researchers are studying glaciers.
"We get nothing from the government," he said.
China is "giving us a lot of support," and "some international groups doing research on glaciers are also providing us funds and training," he added.
Seeme Mallick, a renewable energy expert at COMSATS Institute of Information Technology, an Islamabad university, said there was a need to change the energy mix in order to save fast-melting glaciers. According to Pakistan's climate change policy, energy is the largest source of greenhouse gases, contributing nearly 51 percent.
"The government perhaps does not want to touch the issue of climate change, as bridging the gap of demand and supply in power sector is the only priority," Mallick said.
She said that the use of coal for power generation by China and India is the major contributor of global warming and fast-melting glaciers and yet the government has announced plans to install coal-run power plants.
Original at UPI