GB people are equal stakeholders in longstanding Kashmir issue: AJK president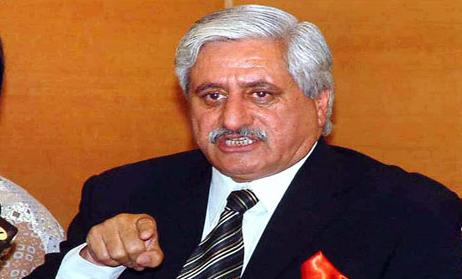 Mubashar Naqvi
MUZAFFARABAD: The AJK President Sardar Muhammad Yaqoob Khan on Wednesday said that the people of Gilgit-Baltistan are the equal stakeholders in the longstanding issue of Jammu and Kashmir.
In a telephonic conversation with newly elected Chief Minister of Gilgit Balitistan Hafiz Hafeez ur Rehman today AJK President felicitated him for assuming office of Chief Minster Gilgit-Baltistan and said that people of Azad Jammu and Kashmir and Gilgit Balitistan would have to equally participate in the referendum under United Nation Security Council's relevant resolution on Kashmir.
Sardar Yaqoob Khan said state government has increased the quota for GB students in AJK Medical colleges and universities and presently more than 500 students belonging to Gilgit-Baltistan are studying in the various educational institutions in Azad Kashmir.
Sardar Muhammad Yaqoob Khan said that had invited the former Chief Minister GB in his oath taking ceremony of AJK President and also visited the Gilgit-Baltistan to increase the mutual understanding and cooperation between the people of Azad Kashmir and Gilgit Baltistan.
On the occasion Chief Minister Gilgit Baltistan Hafiz Hafeez ur Rehman said that people of Gilgit Baltistan have great respect for him as he has raised voice for the right of people of GB at all available forums. He invited AJK President to visit Gilgit Baltistan.
Hafiz Hafeez ur Rehman expressed his profound gratitude to AJK President for felicitating him and inviting him to visit Azad Kashmir and assured him that he will visit the state at earliest.
Source: www.Kashmirwatch.com