World Space Week celebrated in Hunza Valley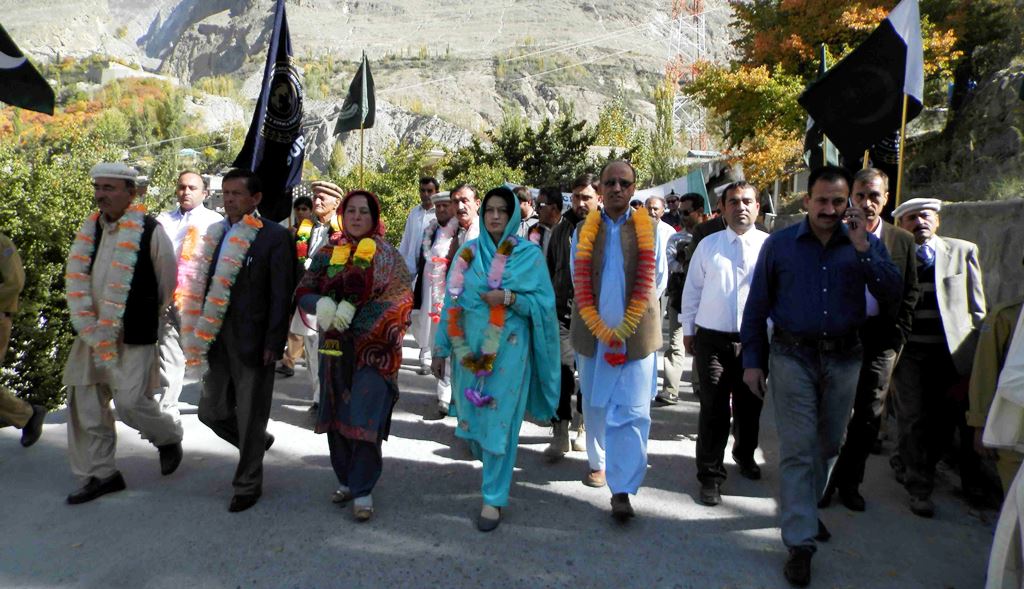 Hunza: Hasegawa Memorial Public School & College (HMPS&C) in collaboration with the Space Agency of Pakistan, Pakistan Space and Upper Atmosphere Research Commission (SUPARCO), celebrated World Space Week in Karimabad Hunza from Oct 5, 2015 to Oct 10, 2015.  Students from across Gilgit Baltistan, government representatives, civil society organizations, representatives of SUPARCO and general public participated in the programs enthusiastically. 
The opening ceremony of the celebration was observed on Oct 5, 2015 at HMPS&C. Mir Ghazanfer Ali Khan, Member GBLA graced the occasion as chief guest.  The students from across Gilgit-Baltistan got trained  in water rocket designing. On Oct 7, 2015, Water Rocket Launching Competition, Speech Competition and Art Competition were observed. The Deputy Director of Education for Hunza was the chief guest on this occasion.
 On Oct 10, 2015, the closing ceremony of the program was conducted at HMPS&C. The program was consisted of two parts; in the morning around two thousand students, 2000, from various schools participated in Space Walk. notables, civil society representatives, government officials and representatives of SUPRACO participated in the Walk. The chief guest of the program, Ms. Sobia Jabeen Muqadam, Provincial Minister for Women Development, Culture and Youth Affairs along with
accompanying guests participated in the Space Walk and later joined the academic and cultural show organized at HMPS&C.  Students from various schools presented different entertaining and creative program.

The principal HMPS&C, Mr. Nazim Aman extended welcome to all the guests. He explained the objectives of the program and stated that "in accordance with the mentioned resolution passed by the United Nations General Assembly, 4th  to 10th October has been declared "World Space Week" to celebrate the contributions of space science and technology in human safety, security and development.   
It is an event celebrated across the globe with the objective of educating students and creating awareness among public regarding the threats, challenges and opportunities posed by the developments in the regime of space technology with its ripple effects in various areas of human engagements ranging from economy and politics to culture.  It is an initiative of exposing students to new horizons of thoughts that may facilitate a paradigm shift from a geo-centric thinking to a cosmic approach and may help students equip themselves with the required knowledge, skills, aptitude and way of thinking required to live a meaningful life with dignity in contemporary era".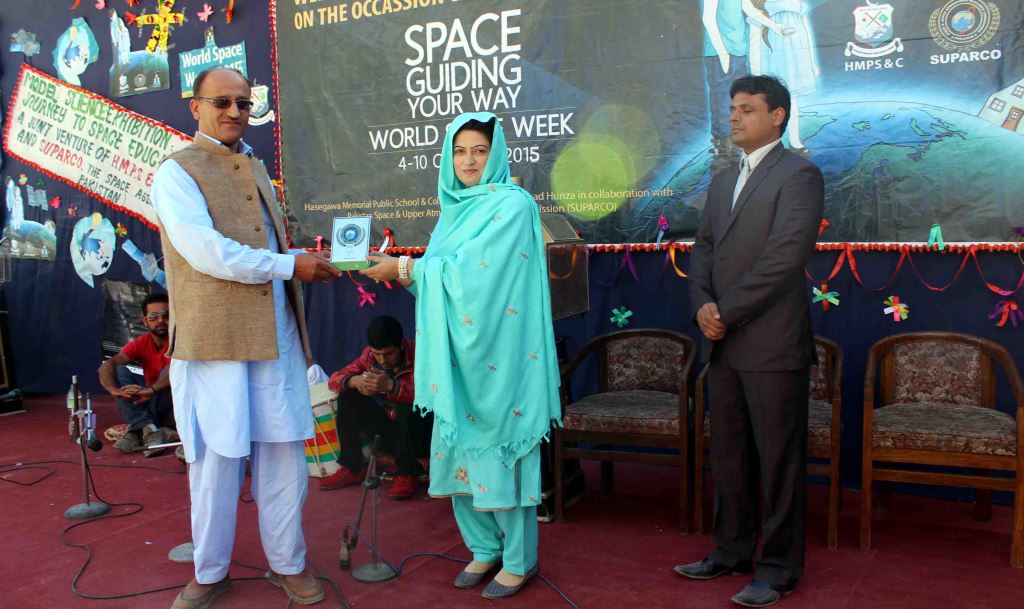 The chief guest of the program, Ms. Sobia Muqadam, provincial minister for women development, culture and youth affairs, appreciated the creative efforts of the students and stated that it is a first program that she has ever observed in Gilgit Baltistan with such a high level of quality.  She announced Rs.30,000- (Thirty Thousand) for all the participants of  the program. 
Lastly, Mr. Iqbal Muhammad, President Karimabad Welfare Association paid vote of thanks in honor of all the distinguished guests. He reiterated his commitment and that of KWA for quality education. He also highly appreciated the efforts of teachers and principal for arranging a memorable series of rogram. Moreover he extended his thanks for the cooperation extended by various institutions including that of police, education department, Ismaili boy scouts and media representatives. In all its respect, the program was an exemplary academic event and it set a precedence for other academic institutions.