[Travelogue] A voyage to Zuwudkhun, Chipursan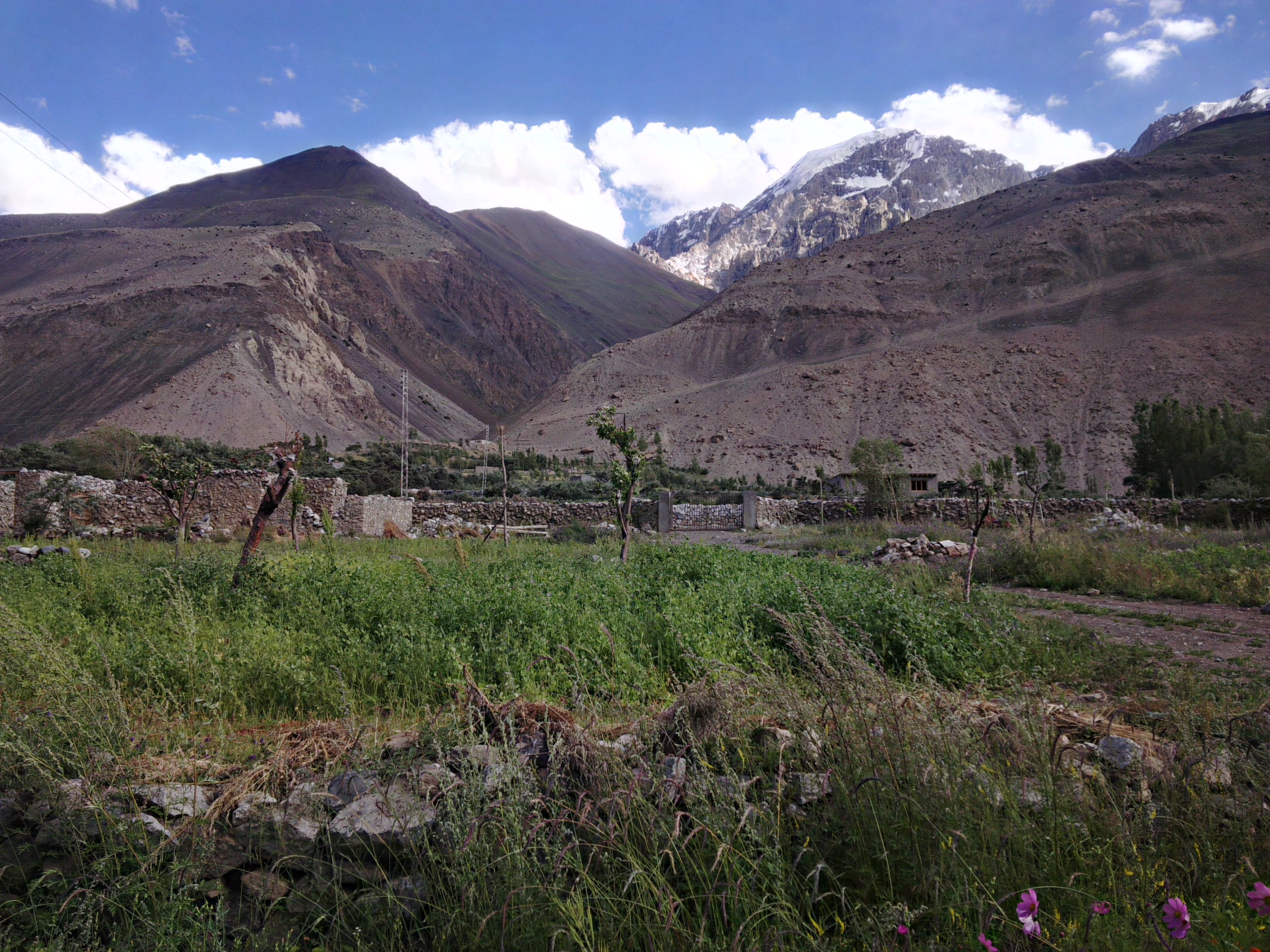 Minhaj Rehman 
This has been my long standing passion. Visiting the remotest and the furthest of the places I can reach. A place where I am a foreigner. Where life is simple, truth is spoken and nature is pure. Luckily Pakistan offers you everything, familiarity of the plains to surprises of the desert and of course the mysteries of the mountains. You will always explore someplace where you truly can be a foreigner. This time, I am heading towards the northern most village, the last before Afghanistan, Zuwud Khoon. The name itself means, 'First Village', ironically. From where they see it, it's the first from Afghanistan. Subtle humorous situation that puts a chuckle on one's face.
It's a grueling ride, the first leg of the journey to reach Hunza. Around 18 hours, give or take couple of hours depending upon your luck, driver's mood swings, traffic situation, landslides and any other thing that can happen and frequently does happen. NATCO buses take you to different destinations. Depending on where you are heading you can go to Gilgit, Hunza, Gahkuch, Astore and Skardu. In my case I had to reach Hunza, but Gilgit couldn't be bypassed. Passengers to Gilgit had to get off and luggage needed to be unloaded. For some weird reason, a Hunza bound vehicle had to have passengers for Gilgit. You can avoid what the softer and lazier among us call the hassle of taking a public transport by hiring private vehicles. There are two routes to Gilgit and beyond. A longer and preferred route by public transportation from Chilas. The other open only for couple of months a year, Babusar Top, a scenic high altitude mountain pass standing around 13000 feet. You can hire a private vehicle from many car companies in Rawalpindi to traverse through this stunning feat of road building. A hairpin road slowly going up the Kohistan Mountains among lush green villages passing through Naran and Kaghan.
Second leg is a rather slow one. Reminding our readers, my last journey to Borith, all traffic going beyond Aliabad, the de facto capital of Hunza, T Pamir Serai Zuwud Khoon 3300 meters 1 has to pass a 23 KM lake called Attabad Lake. An hour ride costing around 100 Rs. I had spent the night camping in a hotel site, in Karimabad, a touristic place close to both Altit and Baltit forts. I set off early in the morning to Attabad. Crossed the lake and took a hiace bus to Sost. Hub for trade to and from China. It has a dry port and custom inspection point. The barricade serves as a check post where all entries have to be made.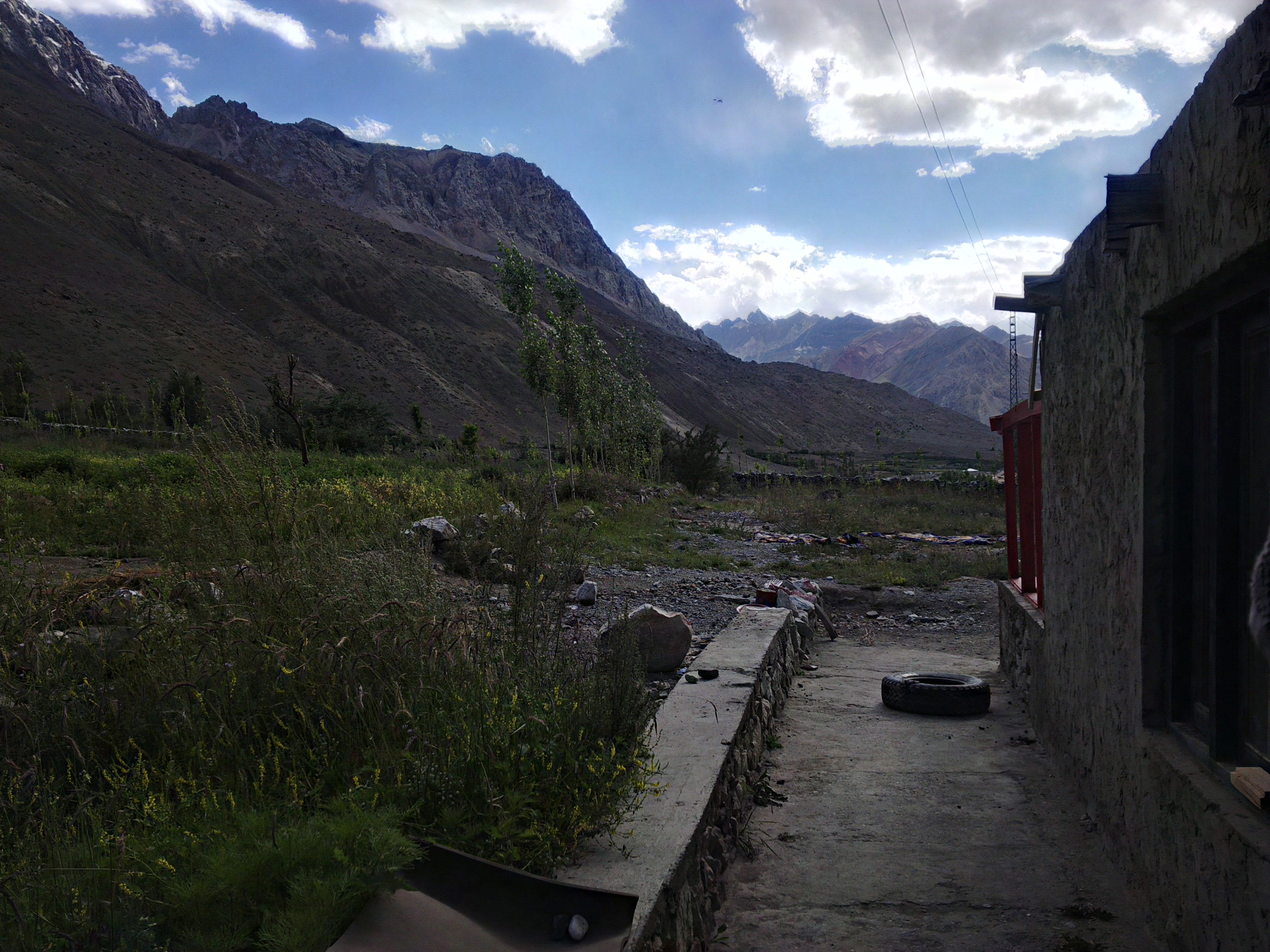 Final step was to find out someone I had been searching for months. The elusive and out of reach Alam Jan Dariyo the man who opened Chapursan Valley to tourism. A place where few dare to tread and even less like it there. Known as 'Pahari Bakri' the mountain goat, Alam has a story that stuns even the bravest and fearless among us. I had read a lot about him, and heard a lot from common friends. I tried to contact him on phone which seemed to be impossible. A few messages was all I could manage to communicate. It was only in Sost I realized how hard it is to communicate. Only a handful cellphone companies work there. There is a special telecommunication company setup by Army folks called Special Communication Organization. Sim card costs you around 150 which can only be bought in relatively bigger towns. It works in the remotest of the areas.
Wonderful about small towns and mountains is that everyone knowns everyone. All I knew about Alam Jan is that he runs a small hotel called Pamir Serai in Sost. This apparently was more than I needed to trace the man. I asked a shopkeeper for the hotel and he sent me to another who happened to be from the village of Alam Jan. He would point me to the direction of his hotel. Further ahead, I was happily guided by a workshop worker. Finally I stood in front of the gate. A building devoid of metropolis look, hue or even taste. A brick and stone monolith with a gate with a spinning strip lock, which was just a rite of passage not a real necessity. Seems like robbery and theft are for us the city dwellers who have precious things to lose. There was no crime in areas beyond Hunza except goats and fruits which is rather pilfering. I knocked the door. Out came a man clad in white Shalwar Qameez, standing over 6 feet with a pony tail tied loosely. His greyish eyes seemed to pierce the unknown visitor however with a kind curiosity rather than inquisitive suspicion.
He shook my extended hand firmly and introduced himself with terse 'Alam Jan'. I responded with 'I know. My name is Minhaaj. I am from Lahore'. Name rang the bell as we had communicated a little and he lunged forward for a hug. 'Hey Welcome. So you found me' laughed Alam Jan. 'Yes, I did'. 'Come on, get in'.
High Altitude Sickness is a common issue among travelers. It is absolutely necessary to take proper rest and diet to acclimatize before you plan to trek or climb a mountain or places at high altitude. Always take a local with you to take care of you and guide you if you don't have experience travelling in mountains.. Take necessary medicine with you and don't over exert yourself. Train properly for your planned activity and make sure you are in top fitness before the day. Travel Tips. As I eased into the gate with my colossal backpack ready for all calamities nature could possibly throw my way, I looked into the building. Walls and room fortified the courtyard with a sidewalk bridging the two sides of archway entrances of multiple rooms. A building his late brother Sarfraz built to promote tourism in the area. I got rid of my shoes and perched on the thermarest mattress spread amidst maps of the area. Alam Jan, evanesced into the kitchen to make some tea. I went through some maps. Official maps by survey of Pakistan, rather less detailed than the Swiss maps that I often use for my travels. Lost in the maps and plans of the days to come, I was only brought to presence by Alam Jan, holding a Kettle that oozed the smoke from hot tea. He sat at brink of a wall by the archway and we started talking.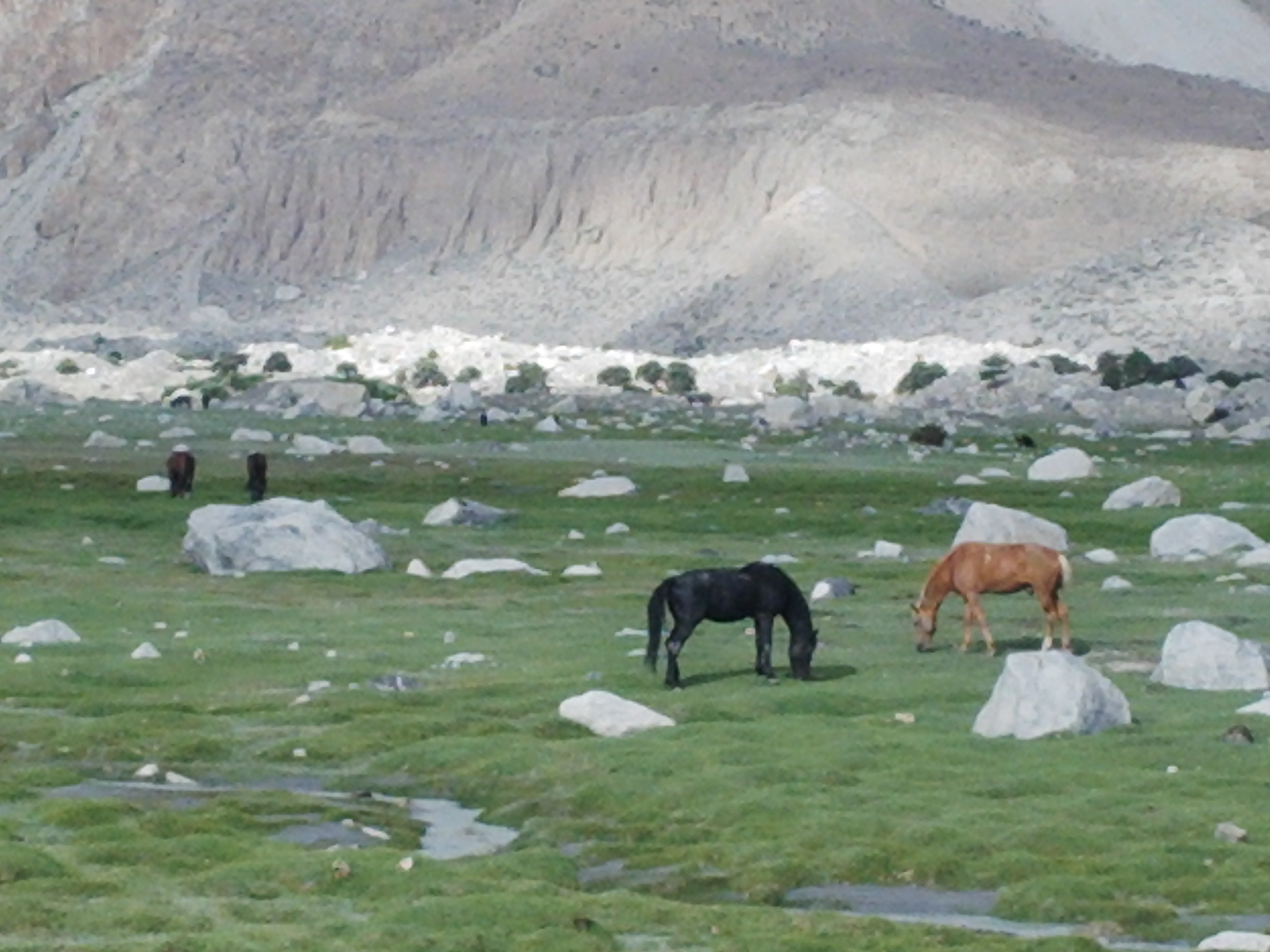 I had met a couple of Wakhi men before. Name of the language spoken in upper Gojal comes from its neighboring Afghani region called Wakhan. A region strongly guarded by all the stakeholders. Pakistan, China, Afghanistan and Tajikistan. Men with less words and bigger deeds to share. A very pragmatic and upright way of talking. I honestly find them more a kin to their colder cousins in Sweden and Russia. Concept of hospitality is relative here. You don't expect the king-like glory as a guest you normally get in Tribal Areas and KPK. Do it yourself seems to be the moto for most of them. Life is as harsh as it gets. Little kindness goes a long way here. One of the reasons many people find it hard to enjoy what the place has to offer is the kind of life we are used to. In areas this remote, survival precedes the niceties in life. Alam Jan was an embodiment of that. A rebel from the beginning of his times, he came from a family of equal bravo. His father was a Robin Hood of his era. In utter poverty and brazen landscape, he venture out weeks hunting Ibex to bring back meat for the poor and the have-nots. For 25 years he was the unofficial guard of Pakistan-Afghanistan border up north. Mir of Hunza being a close friend, he was held in high esteem for his gifts and achievements.
The legend passed on to the sons. Alam, was born for bigger things. In Late 80s he headed out to Karachi to study. A place surprisingly famous among these highlanders. The reason I am told is its openness to poor and the needy. In Karachi they say everyone found a way to feel at home and make their living. He came home and taught for couple of years in a school in 1989. He taught middle class and Fsc. He soon became uneasy with what he was doing and headed for a career a bit more adventurous than teaching children. He went to Skardu to work as a porter. His strong stature and penchant for mountains made him a good cut out for the crazy foreigners heading towards gigantic glacier treks and 8000ers. He would carry ridiculous amount of weight and walked days without wavering. It was good money. He picked up English very quick and become very conversant. His astuteness and knowledge was relied upon.
The word got out and he became famous. To the point where, Lonely Planet, travel guide authors for Pakistan came down to meet him. He helped John Mock write one of the most comprehensive book on the area taking them to Afghanistan and cross into Pakistan through mountainous passes. He took several journeys on horses and yaks to Tajikistan. He speaks numerous regional languages and has somewhat princely status among the rest. He went on with his stories in a modest manner sipping through his tea, something he is very fond of. He drinks around 25 cups a day. A tea with no sugar at all but salt. Everyone in the region takes tea with salt a rather challenging but nice change for me that I readily accepted. On being asked if there was a moment in life when he felt that this was his last, he took a deep breath and pondered over for a few moments. Out came both a funny and scary response. Around 1997, he worked for Nazir Sabir, the famous mountaineer in his expedition company. He was assigned to take a group of Japanese mountaineers to climb Seckr Sar, a 6200 meter unclimbed peak. Upon reaching the basecamp he was asked to join the climbers to the summit. He had never worked a high altitude porter and had no experience using climbing equipment. The dilemma was huge. If he did join them, it could be lethal. If he didn't, the company's reputation was at stake. He made an impromptu decision. He was going to the summit.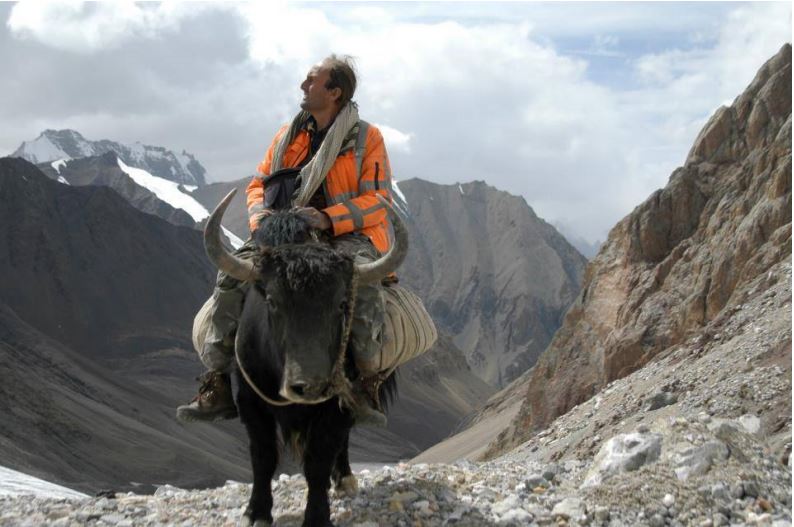 They say many deaths happen on mountains because people are over confident and less trained. The glory belittles the realistic dangers of the summits. In case of Alam Jan it wasn't the case. He was accustomed to mountains and the terrain but he didn't know the art of the trade he was dealt in. He learned to fix ice screws, tie ropes and use carabiners by looking at the Japanese right away. He slowly ascended leading the team with zero experience. Around 6000 meters, he stopped and let the Japanese make it to the summit first. Once the tourists were done basking in their glory, pictures were taken and the proverbial Carpe Diem was done, it was time to get down. 80% of the deaths on mountains take place during descending. It one thing to go up the mountain, it's another to make it back alive. A combination of both is called a success. Alam Jan helped them rappel down to base camp 3. He was to throw the ropes down now and make it back to the camp.
High Altitude Sickness at 6000 meter slows one down considerably. Simple tasks as wearing shoes and jacket takes around half an hour. Alam's task was a bit more than that. He had to get down using ice axe and crampons without rope and anchors. He was a pure amateur. He had undertook a task bigger than his being. He sat there afraid. Fear is a unique emotion. Out of all the things we feel it takes over even the best and fiercest. He didn't know if he'd make it alive down there. Wind gales were getting worst. He had to muster energy to do it from somewhere. Then a thought crossed his mind. He talked to himself about how he had everything he needed to get down. People do it every day. No matter first or last, it's the first step that takes travelers to home. To the comforts of friends and family and the lights. An image of his children must have flashed in front of his eyes. I didn't dare ask. Slowly he fixed his ice axe in snow couloir. Kicked the crampon into ice wall and descended. Step after step he came down, each time unsure if he'll make it. Life has its path and decisions. He made it alive. Sitting in front of me telling this story alive. This was his destiny.
Next day I was to travel to his homestay in Zuwud Khoon. A deadly 2-3 hour drive with steep slopes and narrow path along leading to a ruthless river filled with huge boulders and glacier torrents. One wrong turn and your chances of survival are minimal. Icing on the cake is how they pack up the hiace with crazy loads. Oil canisters, gas stoves, sugar, and anything they find it pleasing to have in their remote homes. My timing it seemed was quite bad also. Recent floods had taken down many bridges. The first leg was to get to the first broken bridge in Reshit. A remote village, quite close to Raminj, birth place of famous Nazir Sabir. We unloaded the hiace on this side of an angry cataract and crossed to the other side with the load. Another hiace waited on the other side of the block. Loading started again. We drove to small villages, unloaded their supplies. Everywhere I was asked to come in for a tea, no one spoke perfect Urdu but language seemed to be of less importance among these people. I couldn't see a reason for them to be so cheerful for some bizarre reason. Between narrow valleys, scarce wheat fields, potato plantation and apricot trees lived these people who laughed all the time. Children passed by saying 'Salam' to everyone known or unknown. They didn't have cleanest of the dresses and shoes and accoutrements but the way they talked was rather comical. Extremely passionate and cajoling. Women of older age like old times took deep breath and sulked at the inclement river and how it had broken the bridge to make it worse for them.
We finally made it to Zuwud Khoon, after crossing another block. I was handed over to Farishta, a strange name for a kid, Alam Jan's 4th grader son. No one was home as everyone went to fields in the morning and came back in the evening with their spoils of the day war. Farishta was a just a younger version of Alam Jan. A driven and curious little fellow with rather stern demeanor for a kid. I couldn't blame him for that. This place can carve a soldier out of a writer. Sometimes both. I was to camp out in the pasture in Yashkuk, where villagers left their horses, goats and sheep. A rather strange request they received from either the foreign guests or a crazy Pakistani like myself. It was getting late and I had to make it their in daylight to set up my camp and catch some views. Farishta leaded me to a 30 minute walk through the villages. Along the way, we were joined by two of his friends who deemed it equally unimportant to ask their parents if they can join us. So the four of us set out on tortuous paths cracking jokes. They insisted on making my camp and camp did they set up for me. It was getting dark and I asked them if they needed a torch to head back home. I was having a deep remorse for bring them out here. Surprisingly they find it hilarious to use a torch to make it back home and they left giggling.
In the morning I got up, made ablution with freezing water, said prayers, read Quran and Yashkuk Pasture at 3500 meters 1 took some snaps of the freely roaming horses and sheeps around me. Carpet green pasture was such a stunning place to be. There definitely was something that made these people live here for centuries without moving into our crazy plains. Something spiritual, something beyond material and fame and glory. A stillness and serenity that surpass our superficiality. The profundity that outsmarts the smartest and most philosophic of us. Around 7 I was back in Zuwud Khoon again. I was served with Yak butter brought here by Kyrgyz Nomads a heavy commodity that I couldn't consume more than a few bites. I have had the Yak meat in Sost the other day and saw a huge Yak head in front of the butcher shop, a rather heroic brand image for butchery. I spent the time until noon going through great collection of books in Pamir Serai. It was only then that I realized I was in for a treat bigger than what Alam Jan had sold me. I was skimming through his collection when I stumbled upon a publication by Central Asia Institute, founded by the infamous Greg Mortenson of the 'Three Cups of Tea' fame.
What I didn't know was that the man who helped him setup literally everything from the bottom up was Alam Jan and his brother Sarfraz. That edition of CAI magazine included an obituary of Sarfraz Khan who died in 2012. A man of stunning agility and mental prowess, a former SSG commando who was also the director or remote-areas-project. I couldn't wait to get back to Sost and get Alam to speak about that. With my mind still on CAI, I climbed the mountain infront of the Serai in the evening halfheartedly. A 4000 meter moraine face with a glacier behind that. Views were stunning and so was the weather. Farishta was supposed to accompany me but he got chastised for his lead last evening and had to stay home so I made a solo ascend.
Next day as I entered in the hotel, the first thing I did was to invade Alam Jan about CAI. The guy chuckled with a disappointed recklessness. He didn't expect anyone to read all the books and papers in a day. That did take a pot of tea to get him talking about that. Alam Jan on Yak from Tajikistan. 1 In 1999 Greg Mortenson first came to Fazal Beg in Zuwud Khoon to get to Afghanistan via Irshad Pass. He was denied entry and was headed back south when he met Alam Jan. His first reaction was to help him out and used his connections to get him the NOC. That was what became the bond between two men for over a decade. Along with Sarfraz, Alam Jan revolutionized the whole project. Setup schools all over Gilgit Baltistan and Kashmir. He bought property in Tajikistan and Afghanistan, set up vocational training institutes and schools. He instrumentalised what Greg visioned as development for the region.
The pains were great however. Sarfraz was diagnosed with terminal cancer and Alam Jan had a knee replacement. Lucky for Sarfraz that he got paid something for a life of serving as payment for hospital bills. Alam Jan has to bear it himself. There was no contract made by CAI in the first place so no pension and retirement sum was paid to either of them. The book 'Three cups of tea' states a lot of facts that simply don't jive in. Alam says 'I was in Kilik Pass with some Japanese tourists on 9/11. He wrote in his book that I was guarding him on the eve of 9/11 attacks to keep him from the reaction that might appear. This is forgery of facts'. Today Alam has to defray expenses of his 4 children on scanty income of Pamir Serai and little agriculture. Problem is worsened by governmental regulations that prohibits foreigners to go beyond Yashkuk Pasture for security reasons, part of it because of people like Greg. As huge corruption allegations have surfaced against Greg and his institute and irregularities have been found the question is, was the quest of education, equality and fairness was genuine? Are NGOs inherently helpful in building a foreign country? What is there in it for them? Since government fails to acknowledge our heroes, will we always let men like these fade into oblivion and their generations into utter poverty and ignorance.
My final question was a bit more on the retrospective side. I asked him, if there was anything he wanted to do in life and couldn't achieve. He mused over it for a while and responded, "Along my friend Fazal ul Rehman, who is a drummer and pianist, I wanted to sing my poetry travelling from Zuwud Khoon to Karachi on bicycle, stopping by all shrines to pay my regards. I started and made it to Sost only to realize Moharram has started. It wasn't a great idea singing in Moharram around Pakistan. So I wish I could complete the journey". I bid my farewell to Alam Jan the next day. Like they say I left some part of me there, taking some part of it with me forever.