Solar-powered tubewells revive farming in drought-hit Soan valley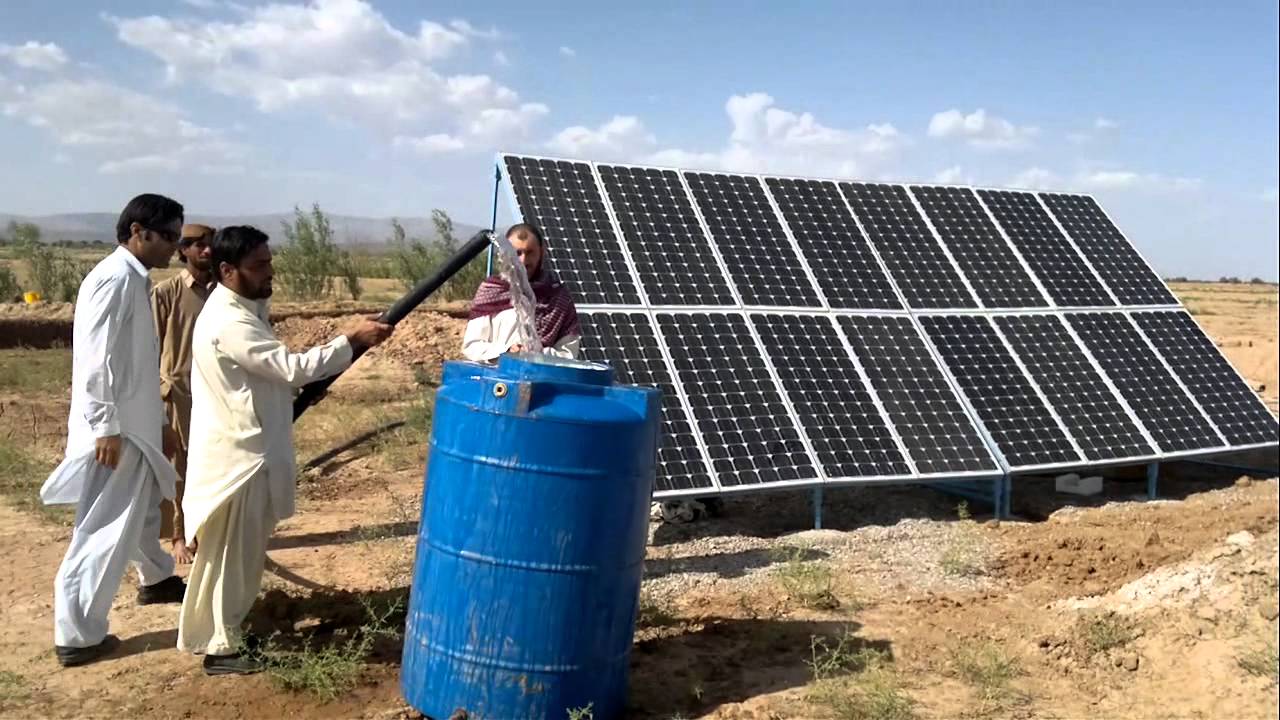 Water-centric adaptation in drought-hit Soan valley transforms socio-economic lives
By Saleem Shaikh
In a remote rural community on the fringes of the Uchhali village in the scenic Soan Valley in the Khushab district of Pakistan's Punjab province, Rab Nawaz has survived several years struggling with the agonizing effects of a prolonged drought.
But this year he was lucky for being able to reap good produce from his crop this year because of solar-powered tubewells.
"Thanks to the solar-water tubewells planted recently in different areas of the Soan valley, we were able to pump groundwater and irrigate our fields despite poor rains this year, a situation we have been facing for the last several years. As a result, almost all of the farmers were able to reap a robust output from vegetable and wheat crops this year," he says, smilingly.
With just 4,800 hectares of irrigated farmland, the valley is home to several saltwater lakes that dominate its drought-hit landscape, which borders the hills of Punjab's famous Salt Range, is suitable only for small-scale farming.
For local residents, rainwater is only source of drinking, irrigation and groundwater recharge. When it rains, around 3,000 community dugwells replenish.
But locals say these dugwells have hardly replenished over last seven years for want of rains. Rains have become extremely rare in recent years, posing great risk to the lives and livelihoods of the farming communities in the valley, they add.
A vegetable farmer in Sakesar village of the valley, Ismael Ahmed recalled, "Half a decade of drought in the 1990s had brought farming to a halt and plunged the area's 165,000 inhabitants into the whirlwind of poverty, hunger and joblessness."
Most of the farmers hold less than four hectares, respectively and cultivate crops like cauliflower on flat land as well as terraces. They sell their farm produces in Punjab's big cities like Lahore, Faisalabad, Sargodha and Gujrat.
Situated at the western end of Salt Range, the total area of Soan Valley is 737 square kilometers, mostly mountainous with 25 per cent area consisting of plains.
The average elevation of this valley is 2,297 feet – ranging from the highest mountain Sakesar of 5,197 feet to lowest height of 1,283 feet at Jaba.
Due to this topography, only 22 per cent of the land is cultivated. Some 38 per cent area comprises forests and the rest is rangeland owned by the communities.
Water is a scarce commodity in the area not only due to the landscape, where establishing water supply system is difficult, but also because the whole area has underground salt deposits, making the water reserves brackish.
"Potable water is a valuable commodity in the valley and we need to understand water conservation and its optimum usage," Ismail Ahmed said.
He recalled that residents of the Soan valley and the farmers in particular suffered a very heavy blow in 2002 when all the 3,500 dug wells in the valley went dry in wake of a five-year drought cycle that started in 1997.
"To improve the ground water resources through recharging, the local NGOs have helped develop small infrastructures like check dams, delay action dams and the rain water-harvesting ponds to mitigate water woes of the area and reinvigorate agriculture and cattle rearing," said Malik Farman Ali, of the village Siddiqabad.
Given the feel-good impacts of such initiatives, Farman Ali calls for scaling up the same to other villages of the valley to fight the persisting water woes.
The rain-fed ponds in remote and isolated parts, mainly in forests and rangelands, have been the main source of water for the grazing animals, wildlife and even the wandering humans to cool off in summer days.
Besides, these spots have for long supported the growth of vegetation at the surrounding land.
"Using the indigenous wisdom in watershed management has helped significantly improve the water level in whole valley," he highlighted, and added, "We have learned a lot from the 2002 drought and nobody wants to see that situation repeat again to ruin our lives and livelihoods."
Local farmers recalled prior to the squeezing drought, a farmer like him could earn a net profit of Rs.70,000 to Rs.100,000 in a 70-day cropping period in a year.
Pushed by terrible situation of persisting drought, farmers found themselves compelled to resort to use of tubewells for pumping out ground water to fend for their lives and agriculture-based livelihood.
"As the rains became increasingly rare, farmers started to bore tube wells, some of them as deep as 300 feet. But this required investments in turbines to pump out the water, which in turn generated huge energy costs, as the 26-horsepower machines guzzles gallon after gallon of diesel," Ismael Khan bemoans.
Unable to afford the necessary investments, farmers sold their animals or other assets or borrowed money from private moneylenders on inflated interest rates of as high as 25 percent to continue farming,Gulbaz Afaqi, director of the Soan Valley Development Programme (SVDP) said.
Driving down the mud track to Uchhali, the tranquil and almost picture-perfect pastoral scene is now popular by solar panels.
Villagers describe them a great source of solace and hope of sustainability of farming in the area.
Owned and operated collectively by 12 families, the three-kilowatt panels are helping to pump out water that has injected a new life into the farmers' fields.
Following the advent of the sun-harvesting technology that powers water pumping machines, the landscape is back alive with cauliflower, coriander, chillies and potatoes.
"Credit goes to the Pakistan Poverty Alleviation Fund (PPAF), which brought this technology to mitigate our water woes and brining new life to the area," Farman Ali said.
PPAF's senior official Zaffar Pervez Sabri said that determined to avoid the worst-case scenario of locals being forced to sell their livestock or migrate from the valley, his organization developed a "water balance model" to manage and conserve remaining resources and address the impacts of climate change.
He said that villagers themselves also raised some of the money for the solar panels that pump the water and we just provided them technical support in arranging and installing the solar-powered tubewell technology.
"We collected 600,000 rupees from the village, and the fund provided the other 600,000 rupees for the operationalistion of solar-powered tubewell project," Sabri told this scribe.
He said by getting rid of diesel pumps, the panels have enabled us to save over 200,000 rupees annually in the Uchali village.
For farmers like Ali Akbar, the project has literally helped him and his large extended family.
"I have dropped my plan to migrate to Rawalpindi in search of livelihood. I am sure thanks to solar-powered tubewells, I have been able to revive my ancestral farming and have no fear of seeing my family suffer from hunger again," exuberant Akbar said.
This story was done under the ICIMOD Media Fellowship Pakistan 2015.