#GBfor5thprovince trends in Pakistan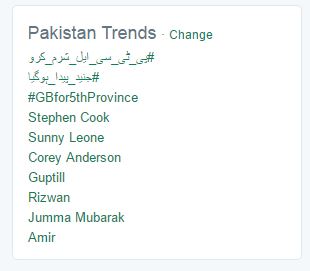 Islamabad: A large number of youth from Giglit-Baltistan and other parts of Pakistan took to the micro-blogging site, Twitter, to demand that Gilgit-Baltistan be made the fifth province of Pakistan. They used hash tag #GBfor5thProvince, and other hash tags, to voice their demands and aspirations.
At around 11:45pm on 22nd January 2016, #GBfor5thProvince was one of the top twitter trends in Pakistan.
Reham Khan, famous television anchor and ex-wife of PTI Chairman, was among the people who tweeted to demand provincial status for Gilgit-Baltistan.
I support #GBfor5thProvince https://t.co/qDRaY5Ovbh

— Reham Khan (@RehamKhan1) January 22, 2016