Passing Out Parade of NLI's rew recruits held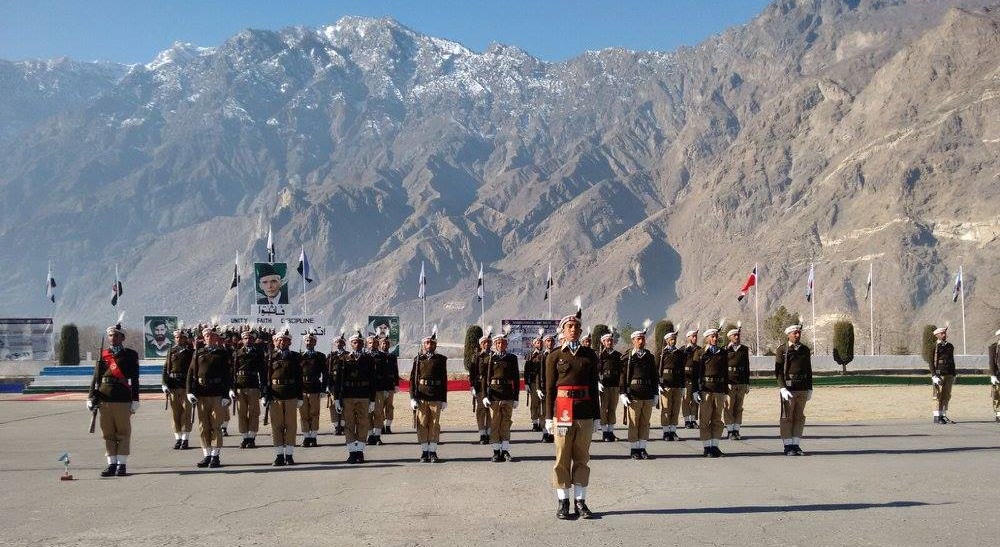 A new batch of NLI recruits completed their six-months long training recently. In this connection a passing out parade was held today at the NLI Regimental Center Bunji, during which 202 new soldiers took oath to serve the country with their sweat and blood.
The ceremony was attended among others by Major General Asim Munir, FCNA Commander, was participated as the chief guest. Commandant of NLI Brigadier Ibrar Munawar was also present. Prizes and awards were presented to the high achievers during the ceremony. In his speech the FCNA Commander said that soldiery is chosen by those who are ready and willing to sacrifice their lives for the protection and glory of the country. He appreciated the new recruits and the officers for their excellent performance, and wished them well for the journey ahead.
Watch Abdul Rehman Bukhari's report about the passing out parade. Camerman: Munawar Hussain Nagri
NLI Passing Out Parade [Watch HD]A new batch of NLI recruits completed their six-months long training recently. In this connection a passing out parade was held today at the NLI Regimental Center Bunji, during which 202 new soldiers took oath to serve the country with their sweat and blood. The ceremony was attended among others by Major General Asim Munir, FCNA Commander, was participated as the chief guest. Commandant of NLI Brigadier Ibrar Munawar was also present. Prizes and awards were presented to the high achievers during the ceremony. In his speech the FCNA Commander said that soldiery is chosen by those who are ready and willing to sacrifice their lives for the protection and glory of the country. He appreciated the new recruits and the officers for their excellent performance, and wished them well for the journey ahead. Watch Abdul Rehman Bukhari's report about the passing out parade. Camerman: Munawar Hussain Nagri

Posted by PAMIR TIMES on Thursday, 21 January 2016