Determining the political status of Gilgit-Baltistan – Future perspectives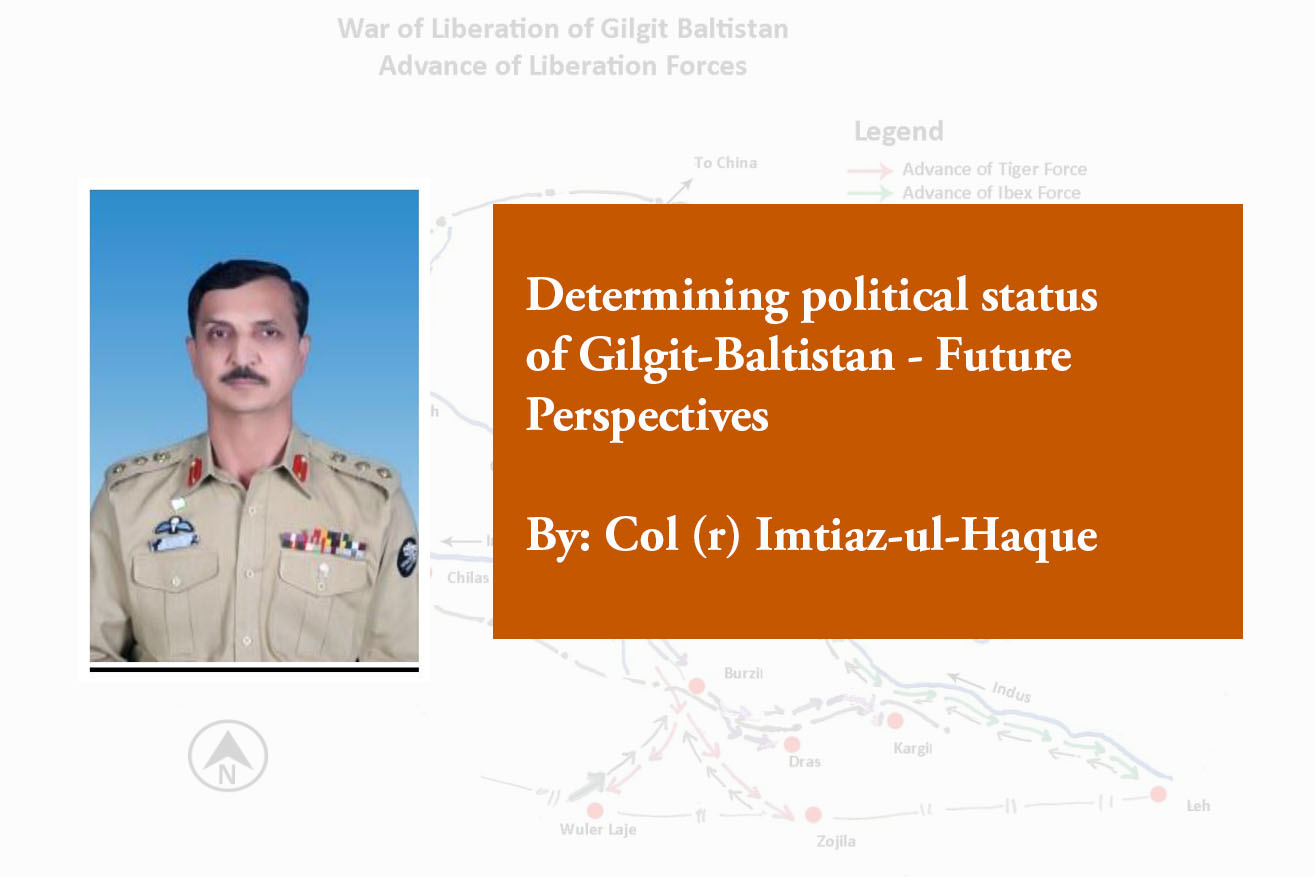 By Col (r) Imtiaz-ul-Haque
Determination of political and constitutional status of Gilgit Baltistan is an important and sensitive national issue, having far-reaching effects. The same has been kept in a hang on position since independence in 1947. As a national policy in principle, the future of Gilgit Baltistan has been linked with Kashmir Issue, considering it a part and parcel of former State of Jammu and Kashmir. However, since November I, 1947 Gilgit Baltistan is being governed by Government of Pakistan and since then the region enjoys a special status under Federation of Pakistan. This prolonged indecisiveness regarding determination of political status has resulted into sense of political deprivation and identity crisis to the people.
The determination of political and constitutional status of Gilgit Baltistan is a complex and multi-dimensional issue. It involves and demands a thorough study of historical perspective, relevant treaties and agreements relevant to the subject, the proceedings and decisions of the apex Courts of Azad Jammu and Kashmir and Pakistan on the and public opinion. An objective and analytical study of all these factors reveal that the issue so far has not been given due importance and considered in the desired perspective. With reference to history, post 1840 history of Gilgit Baltistan from a narrow angle has been considered while deciding its political status. The public opinion which is the most important aspect in determining the future of nations has been ignored and the area has been administered through the instrument of bureaucracy. The case has been tried in the apex courts of Azad Jammu and Kashmir and Supreme Court of Pakistan without any conclusive outcome; rather the Supreme Court of Pakistan has left the decision regarding the determination of its political and constitutional status at the disposal of the Parliament and Executive bodies.
========================
The text above has been exceprted from a research paper written by Col (r) Imatiaz-ul-Haque as part of his post graduate study at NUML, in 2012. Col Imtiaz was one of the members of a committee formed to make recommendations for the constitutional status of Gilgit-Baltistan. The paper is being published with his permission.
Click on the link or image below to download the complete research paper.

DOWNLOAD THE RESEARCH PAPER (PDF)
A Power Point presentation based on the research is also available on Slideshare website (appended below).
[slideshare id=57411140&doc=politicalstatusofgilgitbaltistan-futureperspectives2003autosaved22-160123182617]