KPDN and Culture of Resistance join hands to provide warm cloths to children of the Kalash Valleys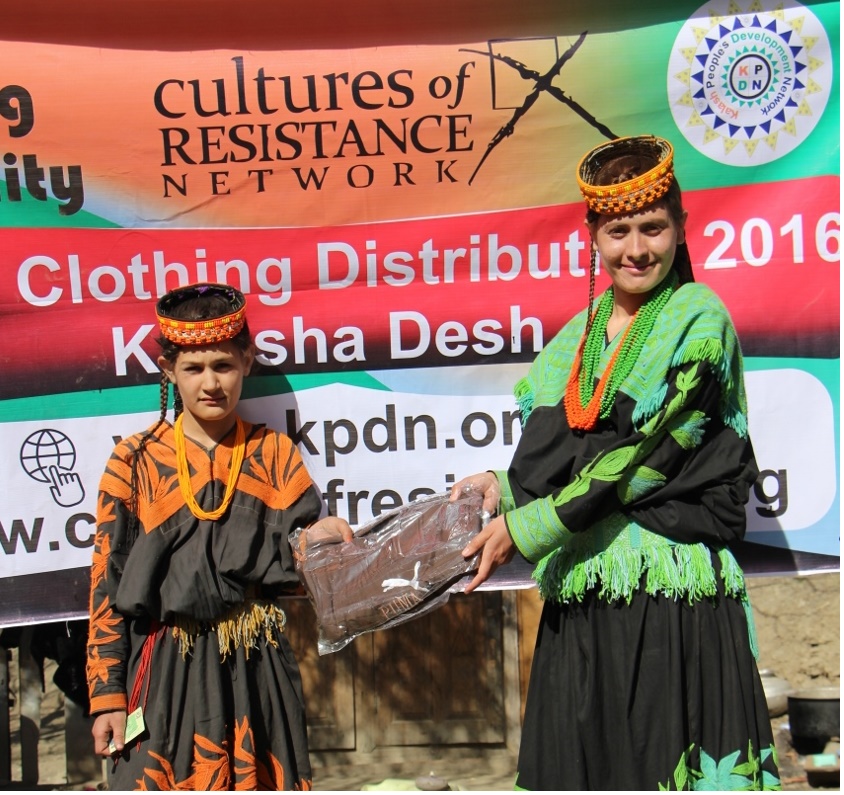 Chitral: Kalash People's Development Network (KPDN) has distributed winter clothes in Kalasha valleys with the help of Cultures of Resistance Network, an organization that 'aims to promote and support organizations, activists, and artists who seek a more peaceful, just, and democratic world.'
KPDN is working since 2005 in Kalasha valleys and it has played a very positive role in almost all aspects of social development, including education, health, culture preservation, traditional sports development, youth development, tourism, women empowerment, media initiatives and disaster response.
While talking to this scribe, the founder and CEO of KPDN Luke Rehmat said, "'We have mobilized and utilized our meager resources to help flood affectees and become their voice in hard times. It was a very tough time for the mountain dwellers.''
He further shared said that  organizing community at grassroots level is indeed very difficult job for the organization working with limited resources..
Mr. Rehmat expressed gratefulness to Culture of Resistance, CoR, for providing winter clothes for eight hundred kids in Kalasha valleys, and helping in rehabilitation work in the valleys.
While sharing community response and appreciation Mr. Fazal Azim, a senior KPDN activist, said, " The community members are very happy that we reached more families in the valleys. He further said that many organization generally ignore the needy families, because they don't understand the local contexts. He said that KPDN has run effective campaigns in the valleys, and has won accolades from the community for the effective work.
KPDN's volunteers both male and female remained very active throughout the difficult times and remained with their people to encourage and support them while they were feeling alone and in trouble.
Chairperson of KPDN, Ms. Gul Nazar, talking with community in Biriu valley said, "we are working on ground to help our fellows and we hope to work for the betterment of valleys and different communities in future as well''.
"Together we would be able to achieve development and preservation goals, with support of AKHUAT clothes bank. We have distributed five hundred family clothes and two hundred sweaters and now eight hundred warm coats among  kids with the help of Lara Lee, head of the Culture of Resistance," she added.
KPDN under its initiative Natural Disasters Management Programme, NDMP played vital role during 2010, 13 and 2015 natural disasters that have been parlayed Kalash valleys in particular and Chitral in general. The organization mobilized communities living in the valleys and work day and night to help the people in their difficult times.
The valleys remained disconnected from Chitral town and of KPDN and media partner Ishpata News took responsibility to help the people indeed, KPDN did first assessment in the valleys and shared assessment report with stakeholders. The assessment was jointly done by NDMP and village council Mumuret (Bumboret), while Ishpata News handled reporting for national and international media.