Compassion: Volunteers help save lives of patients in Gojal Valley, Hunza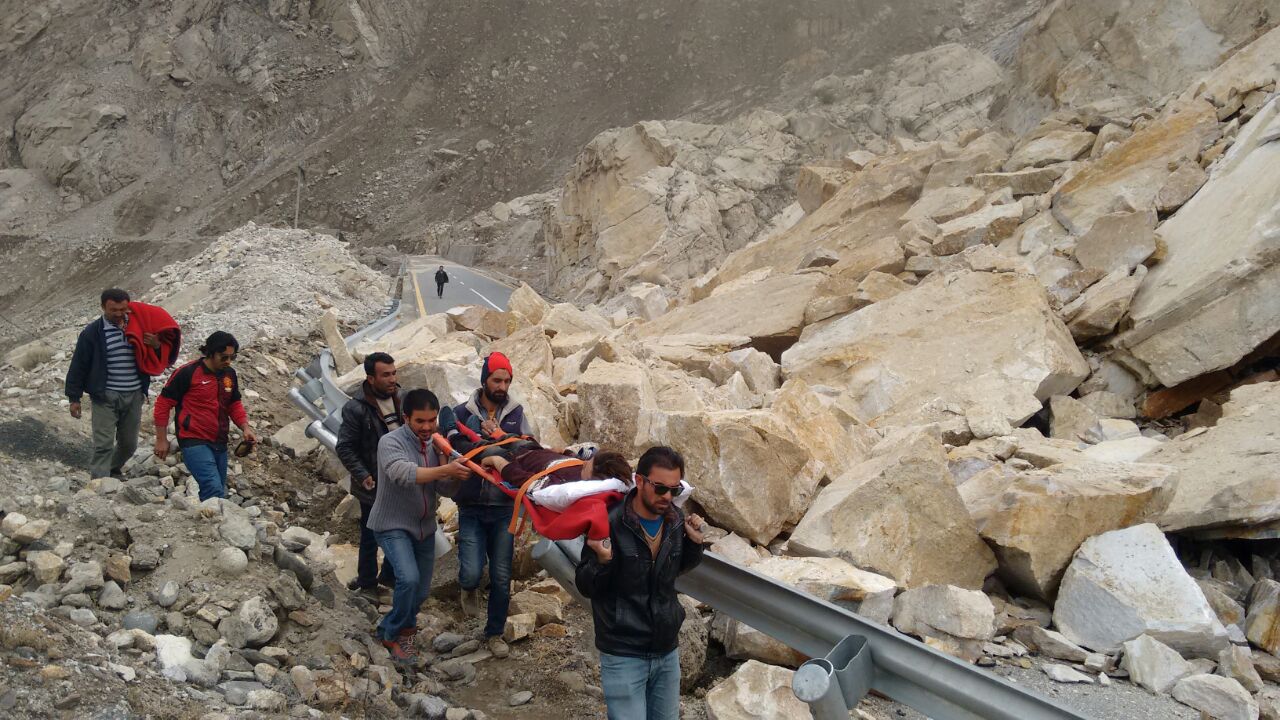 On World Health Day, a group of people could be seen carrying a patient, wrapped in a red blanket, on a stretcher, walking across debris of landslides and avalanche, to be able to reach Aliabad, Hunza.
There was no other option.
The Gojal Valley, where the group of volunteers belong to, lacks secondary care health facilities, and the roads have been blocked for almost a week after incessant rainfall caused massive landslides and avalanches, blocking the Pak-China Friendship Tunnels inaugurated last year.
Hussain Ali, a shop keeper from Gulmit, village of Gojal, had suddenly felt severe pain in his stomach yesterday. He had to be rushed to Aliabad, for onward shifting to Gilgit, more than a hundred kilometers away, where better health care facilities are available.
These photographs show the journey of the volunteers, most of them members of the Community Emergency Response Team (CERT) trained by FOCUS Pakistan, who carried Hussain Ali along treacherous roads and tracks, because human life is important, and needs to be saved. They had to walk for miles, before finding a vehicle near Ganish village.
From Aliabad, Hussain Ali was shifted to Gilgit in a chopper operated by the Pakistan Army specially for stranded tourists and patients. Hussain was operated on and is reportedly out of danger in a hospital in Gilgit. If not for the valor and hardwork of the volunteers, this may not have been possible.
Last week, a group of volunteers from the Hussani village of Gojal Valley had carried a young female patient to Aliabad in a similar manner. She has also recovered well from the ailment. These volunteers have set shinning examples of sacrifice and bravery, and defied all odds to save lives of people.
Nevertheless, the need for enhancing the quality and quantity of health facilities in remote and geographically vulnerable areas is higher than ever, especially because the frequency of natural hazards has sharply risen during the last decade.
The government and other relevant organizations need to join hands to develop mechanism and facilities to help ease the sufferings of the communities during such hard times in the future.
Photographs by Ali Ahmad for Pamir Times