Connecting Communities by Adapting Rapid Disaster Response Strategy in Gilgit-Baltistan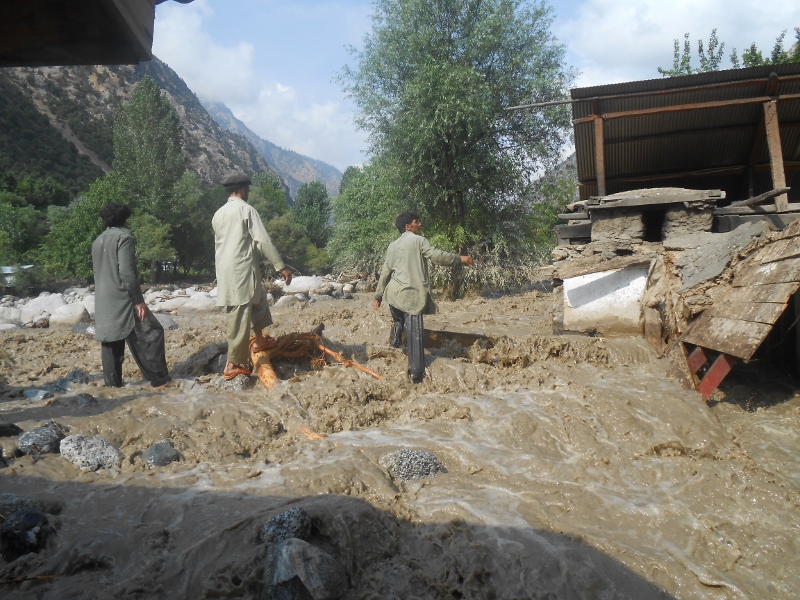 By: Prof Ejaz Ahmed Khan
As we know that the monsoon floods and flash floods are posing serious threats to the fragile ecosystems and vulnerable communities in the mountain areas of Pakistan, keeping in view the topography of Gilgit-Baltistan, our natural ecosystems are susceptible to flooding. The melting glaciers, ascending habitats, land erosion, rock movements and migrating species are a stark reminder of the fragility of natural ecosystems to temperature and precipitation changes caused by global warming. Glacier retreats, surges and outbursts have the potential of causing catastrophic flooding up to hundreds of kilometres downstream with serious damage to life, property, forests, farms, Govt. Infrastructure,  community infrastructure and hydro power industry in entire GB. As we are continuously observing that the mountain communities living in the proximity of glaciers, and downstream of the rivers all around Gilgit-Baltistan are facing different types of flood disaster time to time. In the months of June, July and August the level of flooding, incidents of debris flow and landslides increase due to high temperature coupled with heavy rains in Gilgit-Baltistan.
As Gilgit-Baltistan is prone to many disaster and it has faced many hazards that may change into disasters at any time and cause damages to the lives, livelihood sources, basic infrastructures and environmental scenic location of Gilgit-Baltistan. Debris Flow, Flash floods and monsoon floods are the major unexpected disasters which may happen any time in summers with torrential rains in the region and can cause large scale disruption.
But unfortunately the recent torrential rains during 1st week of April has badly affected the living and life of people at entire GB level, especially the local population suffered a lot due to blockade of Karakoram Highway for more than two weeks, KKH is being the only supply line to GB is considered as lifeline for this mountainous region. Off course it is a reality that GB is a seismic zone having difficult terrain and location prone to disasters, but the matter of  concern is that due to mismanagement, ill planned strategies, lack of accountability mechanism, lack of coordination among line departments and Lack of human capacity to deal with disaster management double the sufferings due to mishandling and untailored performance of administration responsible for that emergency supervision. The common man who was roaming around in search of food commodities especially wheat, flour and fuel (petrol and diesel) was complaining  about mishandling and the inappropriate methods of distribution of fuel at petrol pumps under the supervision of local administration was termed by public totally ill-planned mismanaged and failed, while the availability of flour and wheat crises is not yet properly managed.
Another major issue caused by recent rains was breakdown of hydro-electric system which was severely damaged by mud floods caused by recent torrential rains that was partially restored a couple days ago, in this regards our disaster response strategy to cope with alarming situation of above mentioned sectors must be improved on priority basis, we all know that the present elected government is not totally held responsible for the worsen situation of our mechanism and management, of course all the previous governments and decision making authorities are equally held responsible for non adaptation of effective disaster response strategy and accountable mechanism to cope with such emergency situation.
Due to some natural conditions like accessibility to scattered population for relief operations is also a big hurdle for relief and support initiatives, especially the patients movements from remote areas to hospitals was a challenge, but army helicopters helped the civil administration  in rescue and relief operations in remotest and inaccessible areas..
lack of awareness & information, make the people of Gilgit-Baltistan (GB) most vulnerable to risks of natural hazards. Another major issue of the region is that the majority of glaciers in Karakuram Hindu Kush region are retreating fast. Thirty-five destructive glacier outburst floods (GLOF) occurred in the Karakuram during the past two hundred years.
Keeping in view the ongoing tradition of disasters in Gilgit-Baltistan Paving the way for delivery of assistance in disaster preparedness, designing and setting up of early warning systems, disaster response and rehabilitation of communication networks are some of the important areas need to be considered while devising a disaster preparedness strategy. for disaster prone communities like us that struck by disasters, should make effective disaster mitigation strategy  with the aim of strengthening their response efforts including search and rescue operation, coordination of humanitarian operations for food and medical distribution, setting up camps and other facilities aimed at saving lives and property.
During the recent rains some of far-flung valleys were badly affected by flooding, resulting in the destruction of  major supply routes that serving different towns and villages were cut off by severe flooding, which caused numbers of people affected by humanitarian crises. but we could not responded more quickly by avoiding mismanagement by aligning needs and resources more closely in our region during emergencies. Coordination mechanism can reduce duplication of efforts. accurate planning and timely information helps the management to respond quickly and appropriately,
It is necessary here to mentioned that, rapid opening of connecting essential supply routes in the aftermath of a disaster is very critical to recovery and enables the delivery of key food materials and fuel supply. First step in this regard should be deployment of road engineers  and machinery to reconstruct roads to reconnect communities for restoration of vital lifeline and ensure the support system for disaster relief. Due to the recent torrential rains KKH was entirely damaged and destroyed which not only seriously hampered the relief efforts while the entire communities in GB became stuck fast, cut off from needed relief goods and even unable to access many basic and much needed resources including flour, petrol, diesel, LPG and vegetables from down cities of Rawalpindi, Hazara and Swat. However after two weeks with rapid efforts of Pak Army engineers efficiently worked alongside the National Highway authority by providing technical and engineering support, reconnected the North with rest of the country that helps in restoration of life in Gilgit-Baltistan by re-establishing the Karakoram Highway which is in real sense is the lifeline for entire GB province.
The contributor is a Commonwealth professional fellow on disaster management. He  can be contacted at; pen_gilgit@hotmail.com