CASA 1000 power project launched in Dushanbe, Tajikistan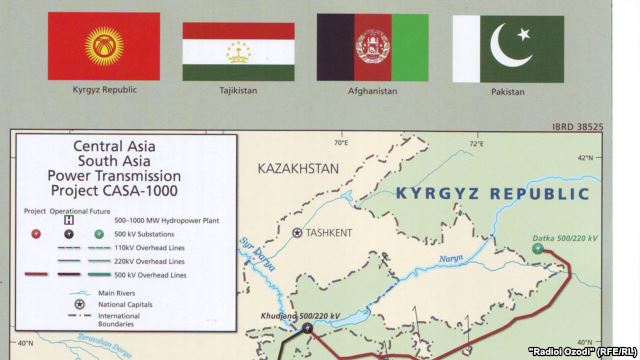 Islamabad: The Central Asia South Asia 1000 power project was launched near Dushanbe in Tajikistan on Thursday. The CASA-1000 is a flagship project, and the first of its kind that will link Pakistan, Afghanistan, Tajikistan and Kyrgyzstan through electricity grid.
Prime Minister Nawaz Sharif, Tajik President Emomali Rahmon, Chief Executive Afghanistan Abdullah Abdullah and Kyrgyzstan's Prime Minister Sooronbay Jeenbekov jointly launched the project at an impressive ceremony.
Speaking on the occasion, Prime Minister Nawaz Sharif said that the mega project is a win-win situation for all the stakeholders. This, he said, will not only provide economic, social and environmental benefits but also reduce energy deficit, create jobs and improve business activities in the region.  He reiterated Pakistan's full commitment to early completion of this project.
The Prime Minister said the project will also contribute to regional integration and promote friendship amongst the participating countries.
He said it is a matter of great pleasure that after many years of conception of this project, we are entering into the implementation phase.
Nawaz Sharif said Pakistan welcomes start of flights between Dushanbe and Lahore as this will facilitate travelling and enhance economic relations and promote tourism.
Leaders of Tajikistan, Kyrgyzstan and Afghanistan also spoke on the occasion and said the project will enhance economic integration and bring prosperity in the region.
In her remarks on the occasion, World Bank's representative said the bank will provide assistance for the project which will help produce cheap and environment friendly electricity.
Under the project, Tajikistan and Kyrgyzstan will supply 1000 megawatts of electricity to Pakistan and 300 to Afghanistan. The project is likely to be completed by 2018 at a cost of 117 billion rupees. Via Radio Pakistan