Gilgit: Taxation debate turns ugly as legislators scuffle, trade profanities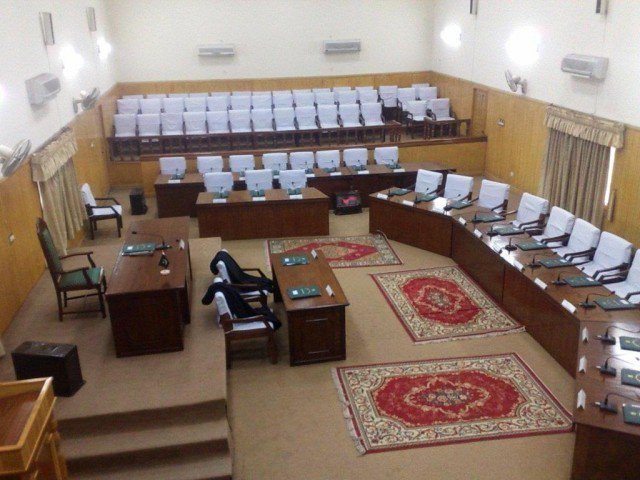 Gilgit: The debate over taxation turned ugly Thursday during an official briefing when three legislators indulged in a short scuffle, following hot exchange of words.
According to details, Health Minister Dr. Iqbal, Food Minister Haji Janbaz Khan, BNF leader Nawaz Khan Naji and Islami Tehreek leader Captain (r) Shafique created ruckus during a briefing session called especially to discuss the taxation debate, and possibly woe the opposition members who had yesterday walked out of the assembly and joined a protest demonstration. The briefing didn't work according to the anticipations of the organizers.
The situation started when Dr. Iqbal and Nawaz Naji exchanged some unpleasant words, drawing in Haji Janbaz and Captain (r) Shafi. Janbaz reportedly threw a cup full of tea at Naji, but missed. When the situation escalated, other legislators sitting around sprang into action, separating them, and sending Naji and Shafi outside the briefing hall.
Later, the Speaker arranged a truce between the legislators. Fines were also imposed on Janbaz, Naji and Dr. Iqbal. The punishment is not only unique, but also a good news for members of the regional assembly; each of the three feuding legislators has been punished to pay for a meal for all members of the assembly. The legislators have agreed in principle to abide by the punishment.  Members of the assembly, for sure, can look forward to enjoying free meal thrice in the coming week!
There's strong resentment against the imposition of withholding and income tax in the region. Two massive strikes have been arranged across the region, while rallies have also been organized in major towns and cities by leaders of the Anti-Tax Movement during the last two months. The protesters maintain that since Gilgit-Baltistan does not enjoy constitutional rights within the federation, therefore the federal government cannot impose taxes in the region.
The regional government, on the other hand, maintains that taxation is vital to ensure better governance. They also say that common people will not be affected by imposition of taxes in the region.